For all my fellow K&W Cafeteria Baked Spaghetti brothers and sisters…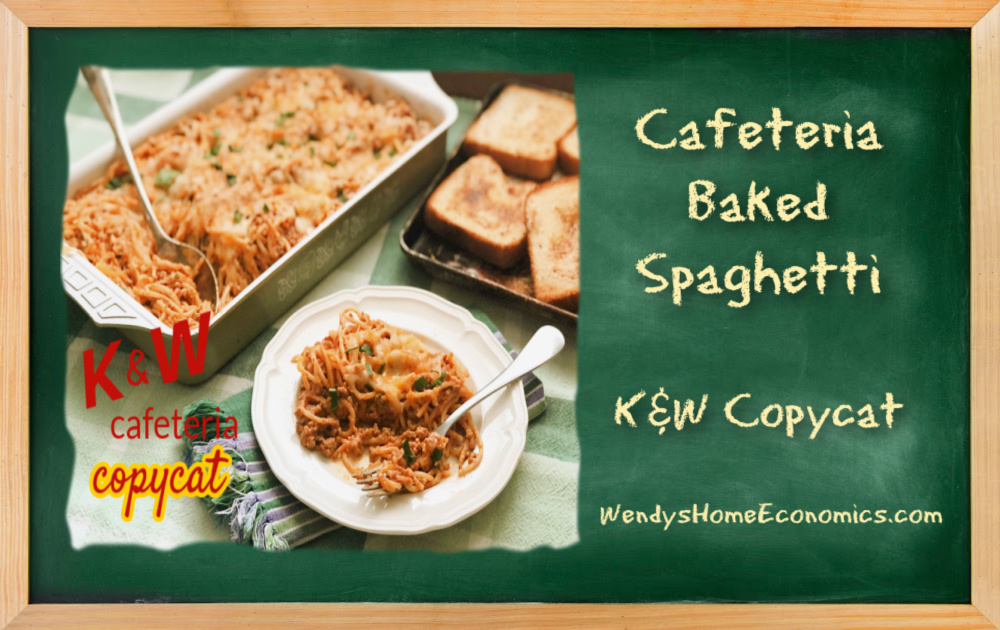 It's a rarity to find folks who don't like baked spaghetti.  For many of us, one of the worst happenstances of covid has been the closing of some of our favorite restaurants… like K&W Cafeterias!  A few still remain, but for many of us, our local K&Ws are no more.  And that's a very sad thing.  No more turkey and mushy flavorful dressing with creamy golden gravy (that copycat recipe is on the way!)… or liver and onions, one place those of us who love that could get now and then…
or jiggly jello in cute little sundae glasses for the little ones dolloped with whipped cream…
and oh so many sides to pick from… and baked spaghetti!  I can't say as I can name one other place that offers that.

And ain't baked sketti just so GOOD?
I just love a good challenge in the kitchen, so I decided it was time for me to create my own rendition of this favorite of children and us old farts too, who have grown up eating it. 
I rode to the closest one to me still open some time ago, ate baked spaghetti and brought some home to dissect too.  (Along with some dressing and gravy I'm also playing with.)  According to my guinea pigs, this spaghetti is pretty darn close and most couldn't even tell which was which when I offered a side-by-side tasting.
So if, like me, you are a K&W Baked Spaghetti fan… I hope you'll make some and let me know what you think.  I also recreated their garlic bread to enjoy alongside too.
As for dessert… I polled facebook friends to see what dessert they most often enjoyed with their baked spaghetti at K&W. Without any close second, chocolate cream pie was "it."  So I have also offered my mama's chocolate pie to round out a nostalgic meal to make at home!  Which, for some unknown reason, she always served us with dill pickles!
PS… for my "real" spaghetti, just jump over here to Wendy's Spaghetti Sauce with "Meatballs!"  Best.Spaghetti.Ever!  It will take a little time and prep, but you'll end up with a whole bunch of sauce in your freezer for many tasty spaghetti suppers to come.
Do throw some together soon, and let me know in a comment here or in my social media communities what you think… if you liked or not… tweaked any ways… do tell the good, bad and ugly!
This recipe created for and published in Carolina Country Magazine October 2021.
Food propping/styling and photography (copyrighted) by Wendy Perry. 
Disclosure:  I only use and recommend products here I use myself. I may receive a small commission from affiliate links on this or other posts on this web site at no additional costs to you.
CLICK HERE TO SUBSCRIBE TO MY TABLE SCRAPS E-ZINE NEWSLETTER!
Be sure to visit my online stores:
Aunt Dee Dee's Kitchen for my seasonings, dried goods, pickles, jams, preserves, kitchen linens and more!
And for the best budget-friendly MADE IN THE USA by folks like you and me, my Rada Knives and Kitchen Tools online store.
THESE LINKS CAN ALSO BE FOUND ON SIDE MENU OF MY BLOG HOME PAGE.
Cafeteria Baked Spaghetti (K&W Copycat)
Sadly, many of our beloved K&W Cafeterias have closed, taking their popular baked spaghetti with them. Enjoy my version of this comfort-food favorite at home. Cut the recipe in half if you like, but you can freeze any extra.
Ingredients
12

ounce box

thin spaghetti

1

8-ounce

cream cheese with chives

2

tablespoons

oil

1

large

onion,

diced (about 1 1/2 cups)

2

pounds

ground meat (meatloaf mix)

1

teaspoon

salt

1

teaspoon

black pepper

2

tablespoons

chili powder

2

cups

shredded cheddar cheese, divided

(I like Velveeta Cheddar Shred)

5

teaspoons

worcestershire sauce

1

cup

ketchup

2

teaspoons

prepared mustard

1

cup

beef broth

1

cup

pizza blend shredded cheese

paprika

minced parsley
Instructions
Preheat oven to 350 degrees.

Cook spaghetti according to package directions. Drain.

While still warm, put pasta into bowl and stir in cream cheese.

Heat oil over medium high heat in a large deep skillet or Dutch oven and sauté onion for 2–3 minutes until tender. Add meat and cook until done. Drain off excess oil.

Reduce heat to a simmer and stir in salt, pepper, chili powder, 1 cup of the shredded cheddar, Worcestershire, ketchup and mustard. Simmer while stirring for about 5 minutes.

Remove from heat and stir in broth and spaghetti. Pour into a 9x13-inch prepared baking dish.

Scatter with cheese blend and remaining cup of cheddar. Bake about 25 minutes until hot and cheese is melted.

Garnish with paprika and parsley.