Now you know you want some of this Chunky Monkey MoonPie® Ice Cream Cake, eh?  Well them make one.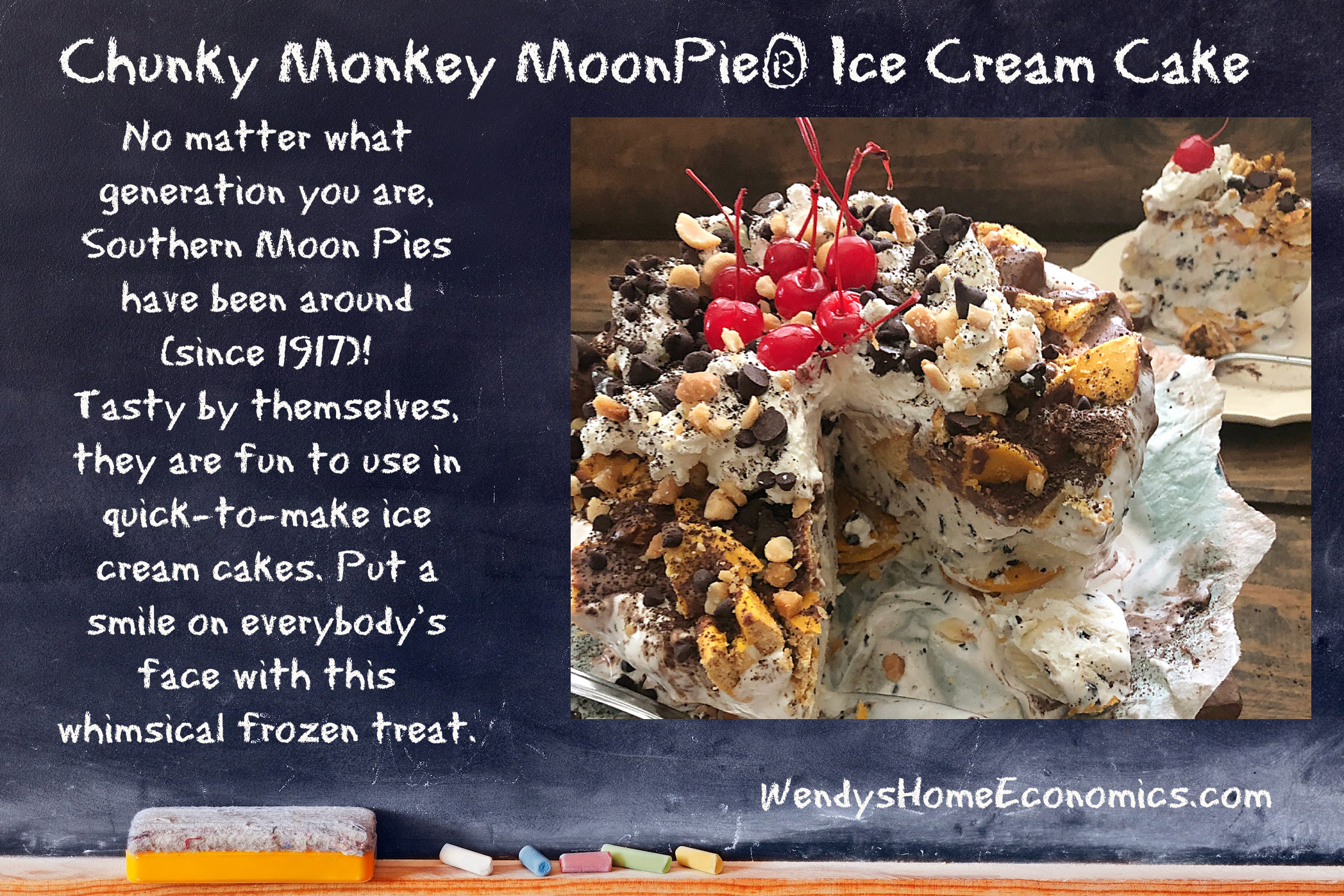 Fun Food!  That's what MoonPies are.  I am lucky to be a country gal and grew up running around "playing grocery" in my granddaddy's country store.  Of course he had MoonPies, and of course, I got many as treats when there at his store.  I also was "fortunate" to have had the experiences of barning tobacco for several summers as the "trucker."  For those that don't know, that's the tractor driver that pulled trailers through the rows for the "primers" behind to fill up… to then be taken to the barn for stringing and hanging in the barns.  
When break time rolled around, we'd be brought snacks out to the field where we'd enjoy MoonPies along with our drinks.  Around here, not soda. Not pop. But drinks.  Back then, I only remember there being one kind of MoonPie. Now there are lots… 
Banana MoonPies are what make my ice cream cake "chunky monkey!"  All your little monkeys with a sweet tooth, and big ones too, will dig a chunk o'this monkey. This scrumptious cake would be a fine birthday cake… or one to make to just keep in the freezer to enjoy when you take a notion for something sweet.  And for your young aspiring chefs, this is something they can make with ease but get such a sense of culinary accomplishment.  The fun part about using MoonPies is that you can mix n'match all the different flavors with all sorts of ice cream to concoct something to suit anybody's favorite tastes!
I challenge you to make this Chunky Monkey, but also, a combo of your own!  When you do, please drop by my facebook community and share with us!
There are lots of fun things on the MoonPie web page… jump over and check 'em out!
This recipe created for and published in Carolina Country Magazine  September 2021
Food propping/styling and photography (copyrighted) by Wendy Perry. 
Disclosure:  I only use and recommend products here I use myself. I may receive a small commission from affiliate links on this or other posts on this web site at no additional costs to you.
CLICK HERE TO SUBSCRIBE TO MY TABLE SCRAPS E-ZINE NEWSLETTER!
Be sure to visit my online stores:
Aunt Dee Dee's Kitchen for my seasonings, dried goods, pickles, jams, preserves, kitchen linens and more!
And for the best budget-friendly MADE IN THE USA by folks like you and me, my Rada Knives and Kitchen Tools online store.
THESE LINKS CAN ALSO BE FOUND ON SIDE MENU OF MY BLOG HOME PAGE.
Chunky Monkey MoonPie® Ice Cream Cake
No matter what generation you are, Southern MoonPies have been around (since 1917)! Tasty by themselves, they are fun to use in quick-to-make ice cream cakes. Put a smile on everybody's face with this whimsical frozen treat.
Ingredients
parchment paper

½

gallon

chocolate chip ice cream

1 ½

cups

milk

½

small 3.9 ounc box

instant chocolate pudding mix

1

dozen

mini banana MoonPies® 

divided

4-5

small

ripe bananas

3-4

cups

whipped cream

2

tablespoons

cocoa

½

cup

chocolate chips

¾

cup

crumbled, salted nuts,

(your preference; we used macadamia nuts)

cherries with stems
Instructions
Line deep, 3-quart bowl with parchment paper.

Soften ice cream for about 10 minutes.

Add milk to pudding mix and set aside.

Cover bottom of bowl with half of the MoonPies. Roughly chop the other half.

Spread half the softened ice cream over the pies. Cut bananas into ⅓-inch slices over the ice cream. Cover bananas with remaining ice cream. Scatter with pie pieces. Spoon the pudding over and around pieces and around edge of the bowl. Slide knife down edge of bowl so puddIng will drip down.

Freeze several hours or overnight. Remove from bowl and top with whipped cream. Dust with cocoa, then scatter with the chocolate chips and nuts. Top with cherries.