Good old garlic bread!  Crispy and toasty… light? or almost burnt?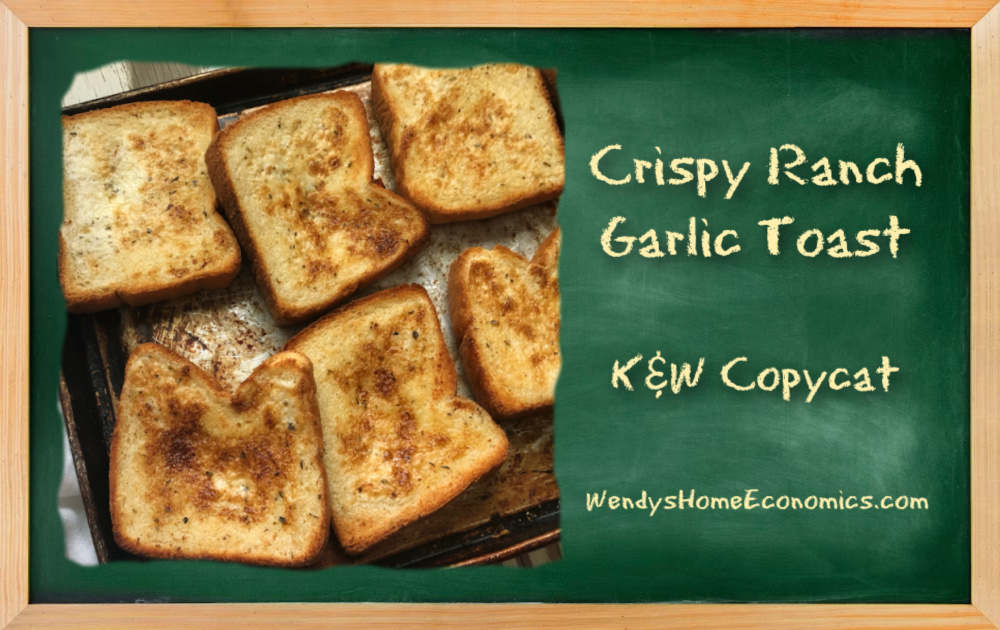 I personally like mine bordering on burnt, so when I would get garlic bread at K & W, I'd always point out the darkest one and tell the bread lady… "I want THAT one!"  
K & W cafeterias, for the most part in my vicinity, were a covid casualty.  There is still one not too far from me, in Rocky Mount (NC), and I do trek there every now and then.  
I have fond memories of cafeterias from my childhood. As a little girl, me and mama and her mama would do periodic trips to Raleigh to shop. We would go downtown to places like the Mother-Daughter Store and Brittan's Shoes.  A few blocks down, we would either have lunch at the Hudson Belk Capitol Room Cafeteria… or across the street from there at the K&S Cafeteria.  From there, we would go over to Cameron Village to shop at Boylan-Pearce. 
Years later, we'd go to the Picadilly Cafeteria at Crabtree Valley Mall, but their food was just "different" than the others… not as "southern" from what I remember, so we didn't go there very often. For some reason, the one thing I especially remember about there was how much mama loved their carrot salad.  And when we did go there, she would just get a little bowl of that and cornbread.
Over the years, there came to be a K & W Cafeteria at "Cam Vil." That came to be one of my favorites (my other fave K&W was in Wilson). Both of those succumbed to the damn covid!  Just like many Golden Corral's too.  And what a shame… as there's something you can get at a cafeteria you just don't get just sitting at a table… and I'm glad I grew up in the era of them.  I guess the "new" cafeterias are all the food halls popping up… a new-fangled cafeteria.
Personally, I long for the days of hearing that lady at the end of the line in K & W saying, before I even got past the veggies and desserts… "braad? can i git you some braad?"  lol  Do you remember her? I think every K&W had their own "braad" lady!
I always would get garlic toast at K&W, no matter my entrée. It was so good… perhaps my first introduction to garlic since mama surely didn't cook "fancy" like that!  Salt and pepper were about the extent of her "herbs and spices." That "braad" was some good shit, and I wanted to know how to make it! What was that magical taste?  
Most often, that entrée choice would be the cheesy baked spaghetti… and since most of my K&W options are now a memory, I created a copycat recipe to make at home and share. It makes a humongous dish full… but I divide into single portions and put in my freezer to enjoy anytime… in 5 microwaved minutes! I just spiff it up with a fresh scattering of cheese and it's as good as fresh baked.  It's nice to share with single friends and seniors who enjoyed it there too! 
So do make yourself or your family some… it also a nice "funeral food" to take grieving friends who have been inundated with boxes of fried chicken!
And if you are a chocolate-pie-for-dessert kinda people, cook up my mama's chocolate pie too!
Enjoy… and let me know what you think about this garlic toast and baked spaghetti down below in a comment or in my social media communities! 
Join my social media communities:
Wendy's HOME EConomics! Facebook
@culinaryadventuristwendy on IG
CLICK HERE TO SUBSCRIBE TO MY TABLE SCRAPS E-ZINE NEWSLETTER!
This recipe created for and published in Carolina Country Magazine October 2021
Food styling and photography by Wendy Perry. 
Crispy Ranch Garlic Toast ~ K & W Copycat
Who doesn't love garlic bread? Especially with my Cafeteria Baked Spaghetti! You can easily double this spread and keep refrigerated to pop a slice or two into your toaster oven whenever the notion strikes you.
Ingredients
¾

cup

whipped butter,

softened

2

tablespoons

ranch dressing

2

tablespoons

mayonnaise (I only use Duke's!)

½

teaspoon

garlic powder

½

teaspoon

Italian seasoning

8 slices

Texas Toast bread
Instructions
Preheat oven to 375 degrees.

Blend dressing, mayonnaise and seasonings into butter. Spread generously on slices of toast. Place on a baking pan and toast in oven for about 10 minutes until lightly browned … longer if you like yours darker.