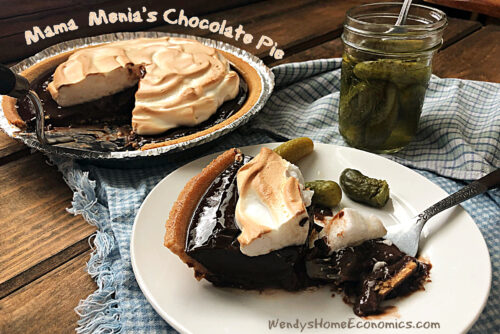 Published in Carolina Country Magazine October 2021
It is well established around here that mama wasn't a cook. But one of her few specialties that she could make flawlessly was her chocolate pie! I can see her now, standing over that old Wear Ever pot, stirring and watching the creamy chocolate goodness making sure not to scorch it. Mama had a tendency to cook most things on HIGH to get it over with, but she did nurse her chocolate pie.
She probably got the recipe off a box or somewhere similar as she wasn't a creator so many women of the 50's may have made this same pie. I especially love the meringue on this pie since so many times, a meringue seems to have a mind of its own, and what stood up nice and tall and fluffy last time doesn't the next. This meringue, with marshmallow fluff, always seems to sit up and play nice consistently so I use it on other pies too.
Something else mama did was put her chocolate pie filling in a graham cracker crust. Now I didn't particularly care for that and would beg her to "next time PLEASE make me a pie in a regular pie crust." However, over time, I have come to love the graham cracker crust and usually make it that way too. I'm not sure if it's because I do like it more, or if I just want my mama's pie since I don't have her anymore.
I have NO idea where the notion of having dill pickles along with a slice of chocolate pie came from as I've asked lots of folks, none who have ever heard tell of such. But if there was chocolate pie on the table, there was also a jar of little dill pickles… cute little midgets I believe. It must have been a "Menia thing" but I do declare, the tangy saltiness of the pickles does taste right good with the rich chocolate.
So pickles or not, do give this pie a try. I'd love to hear from you if your mama or grandma made this pie too!
I invite you to come over and join my facebook community too!
Mama Menia's Chocolate Pie with dill pickles
My mama was no cook. Of the handful of dishes she did cook, this was her version of chocolate pie. And when she made chocolate pie, we always had dill pickles with it. Crazy as that sounds, the pairing works, so give it a try!
Ingredients
1

graham cracker pie crust
Filling:
1

5 oz. pkg.

cook and serve chocolate pudding mix

1

teaspoon

vanilla extract

1

tablespoon

sugar

2

eggs,

separated

2

cups

milk
Meringue:
2

large egg whites (from separated above)

half of

7 oz. jar

marshmallow creme
Misc.
1

jar

little dill pickles
Instructions
Preheat oven to 375 degrees.
Filling:
In a heavy saucepan combine pudding mix, vanilla, sugar and egg yolks. Whisk in the milk and stir. Cook over medium heat to thicken. Stir constantly to prevent sticking and scorching. Once thickened, pour into pie crust.
Meringue:
Whip egg whites until soft peaks form. Add marshmallow cream and whip until firm peaks form. Spread over pie filling and bake in oven for about 5–7 minutes until lightly browned.
Serving:
Let the pie "set up" before cutting.
Notes
Serve with dill pickles (optional, of course!)