Posts Tagged by
gluten free
January 21, 2019
Posted by Wendy Perry

under

Blessings & Life Lessons, cook & eat nekkid, crock pottery, slow cook'n & instant pots, gluten free, here's the beef!, Mindless Mutterings from the Teacher's Lounge, soups, stews, chilies chowders and such, St. Patty's Day
Okie Dokie… so my blog is getting a sloowwww start!  Life has a way of keeping us bizzzzy, which is one reason I even contemplated doing a blog for a couple of years (!) before heading into blog fog.  So don't worry about my posts becoming invasive and 'too much' because I don't think THAT is gonna be an issue… 
This week, St. Patty's Day to be exact, is a special day for me.  Nope, I'm not Irish, but it is a day of celebration for me because…
March 17th is my Personal Day of Freedom Celebration!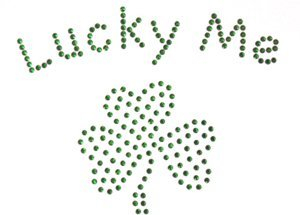 This March 17th, I'm dance'n a jig as I look back on being a 'former' smoker… my QUIT DATE was March 17th, 2005!
WoW…6 y.e.a.r.s it's been!

My precious little nephew Wyatt came into my world the previous September, and as much as I wanted to quit before he arrived, I just couldn't (or more like "didn't").  But as he grew, I didn't want his little senses to be subjected to something even I found disgusting!  I didn't want him to SEE me smoking… I didn't want him to SMELL the nasty stinch on my clothes… so I did it!  Just six months after God blessed our family with him,
I QUIT!
  And haven't had or wanted so much as a puff since that day…  So St. Patty's Day will always be 'my day,' the day I started smelling better… breathing better… living better… and tasting foods 'more better!'

Speaking of tasting… I found this recipe, or some form of it, years ago visiting the home of a personal chef colleague in Dallas, TX.  While hanging out in Donna's kitchen and browsing through her cookbooks, I came upon this soup in a book I made note of as "Sensibly Thin."  So that's the best I have to offer in terms of giving credit where credit is due… but the picture is my own.  It was taken before I started learning 'more better' food photography tips… so 'scuse the poor quality!
This week, grocery stores have the usually expensive Corned Beef Roasts on sale, so it's a great time to pick one (or a few) up and crock pot tomorrow while at work for a tradtional Corned Beef and Cabbage supper tomorrow night.
Then, in a few days, stir up a pot of this really DEE-lish soup with the leftovers! (And y'all know I'm a 'throw cooker' so throw leftever cabbage into this soup too…just yet one more layer of flavor.)  It's incredibly easy and fast to make and probably not a soup you've made before…  Sooooo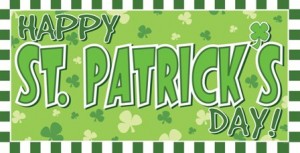 … celebrate something… if nothing but simply being alive with a roof over your head that a big fat wave didn't just swoosh over, taking away everything you treasure and need to live each day, including loved ones.
With the events this past week in Japan, this Irish Blessing seems to be the appropriate one… so let us all stop to count our blessings today, and every day!
Blessings to your and yours…
Bless This House
Bless this house, o Lord, we pray.
Make it safe by night and day.
Bless these walls so firm and stout,
Keeping want and trouble out.
Bless the roof and chimney tall,
Let thy peace lie over all.
Bless the doors that they may prove
Ever open to joy and love.
Bless the windows shining bright,
Letting in God's heavenly light.
Bless the hearth a-blazing there,
With smoke ascending like a prayer.
Bless the people here within…
Keep them pure and free from sin.
Bless us all, that one day, we
May be fit, O lord, to dwell with Thee.
Speaking of GROCERY stores… gotta run now… our *new* Piggly Wiggly store opened in town today (wheeee doggies!)… headed there right now!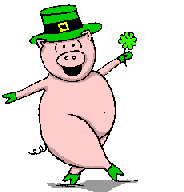 Stay tuned… may be a blog post over there somewhere…. hope y'all enjoy this soup, just perfect for chilly winter's eve on the doorstep of SPRING!!
This is the original recipe I created, but like my makeover one even better… that is the one you'll find on the "Print Recipe" page!  Enjoy one, the other or both… or one you create with a little of both!!

Cream of Reuben Soup (original recipe…see edited below)
Serving Size: 8
1      small        onion — chopped
2      cloves       garlic — minced
1      large         carrot — shredded
3      T.              cornstarch*
6      c.               chicken broth
1      c.               skim milk (I use 1/2 and 1/2)
10    oz.              corned beef brisket — chopped
…from some you cooked or deli sliced
(more is a 'good thang')
8      oz.              Bavarian sauerkraut — drained and rinsed
(I just 'throw in' an entire can)
1/2  t.               thyme (I throw in a bit more)
1/4  t.               white pepper
1/4  t.               tarragon
1         t.              Old Bay Seasoning
1/3  c.              water (only if needed for consistency)
8      oz.               shredded Swiss cheese
Rye or Pumpernickel Bread (for croutons) – omit or sub for gluten free
…broken into pieces and toasted**
Cook onion, garlic and carrot in microwave-safe bowl on HI for 2 mins.  Drain.
Blend in cornstarch.  Add broth and milk.  Cook on stove over med. heat until thickens.
Add remaining ingredients and cook until cheese melts.
Serve with rye bread or croutons.
* Use a pure gluten free cornstarch to keep GF.
** I love breads, but living alone, I never eat an entire loaf.  So when I buy a loaf of rye or pumpernickel, I put some in freezer to have on hand for a change of pace sandwich or for croutons for soups like this.  If wrapped well, bread will last a longggg time in your freezer.  These breads also can be used in recipes that call for bread crumbs… think outside the usual box and use a different kind of bread to give your recipe needing bread crumbs a new and different layer of flavor!
Cream of Reuben Soup (edited)
As a throw cooker, it's rare that things are the same any 2 times… that is especially true when it comes to soup.  I just made this recipe again, but with the following changes… basically an entirely "same but different" soup!  Both recipes are DEElish… but I think I'm partial to this one.  Just make some, and if you don't have any one or more of these ingredients, as long as it is similar, you'll be sure to enjoy the experience!
NOTE:  This recipe is Gluten Free if croutons are deleted or subbed with gluten free bread or cracker!  Also, use a gluten free pure cornstarch to thicken if desired.

What to throw together...
4 tablespoons butter
3-4 tablespoons oil (I used garlic oil but use your fav)
1 large onion, chopped
1 large turnip, small dice
4 leeks, washed and sliced into thin rings
2 Granny Smith apples, (not peeled) small dice
3 tablespoons garlic puree (I use the puree in tubes from produce dept)
1 14.4 oz can Bavarian Sauerkraut
1 fresh corned beef (3-4 lbs.), cooked and chopped )I cook in crock pot overnight)
2 tablespoons dried thyme
1 tablespoon white pepper
Shredded Swiss Cheese
8-12 sliced rye or pumpernickel bread (I use rye/pump swirl bread), cut into cubes and toasted
How to throw together...
Cook onion, turnip, leeks and apple in butter and a bit of oil until tender and starting to brown and caramelize in saute pan.
Pour into heated crock pot.
Stir in garlic puree, kraut, corned beef, thyme and white pepper.
Fill kraut can with chicken broth x 2 and with half and half x 2.
Stir to blend and cover.
Heat in crock pot on HIGH until hot and dried thyme is tender.
Scoop into serving bowls. Top with grated Swiss and toasted croutons. EAT!
Notes
If preferred, make a cornstarch slurry with a bit of the juice and stir back into the soup to thicken. To keep gluten free, use a pure/gluten free cornstarch or thickener.
Recipe Copyright Wendy L. Perry, Inc. 2010. Share with credit/linkback please.
Goodness gracious, February has evaporated!  My grandmas surely were right about that "time flying" thing when you're "seasoned."  (I strive to abstain from using the word old, older or any derivative of it.)  I surely don't wish my life away, BUT, I cannot tell a lie (doesn't that have some sort of relationship with cherry trees?)… I'm mighty glad to be seeing winter quickly moving into the rear view mirror.
I'm a Spring Chick!  The R A I N BO W spring brings makes me giddy.  I love looking upward to see GREEN buds on a palate of BLUE sky… and gazing down to see YELLOW buttercups already making their debut in my yard… I start looking forward to cute little roadside signs, often hand-painted, letting me know it's time for RED strawberries…  and grin when I see Lavender chive blossoms burst open for my salads (although I mostly enjoy chomping on them right out there in the yard).  But there is one color I dread come spring… the glaring WHITE on my winterized legs!  Now I've never been a sun worshiper (boring!) and I do make sure to use sun protection, but I must admit that I do feel a little better with a tad of color when debuting shorts, skirts and skorts come Spring.
Soooo, back to saying buh-bye to February.  Being that it's National Cherry Month AND being that cherries in any shape, form or fashion are about my FAV fruit, I couldn't "march' forward without some sort of cherry treat.  My foodie friends know I'm the quintessential NON-baker, so as I looked about for inspirations, "no bake" recipes screamed w.e.n.d.y.! I'm also not one of those folks who cannot exist without sweet stuff, so this concoction realllly got me out of the proverbial 'box.'   But when I started digging to see what I had on hand to create a new masterpiece, a "no bake sweet treat" is what emerged.  I hope you enjoy making these FAST goodies as much as I did…
("fast" + "EZ" + "no bake" = My Kind 'o Throw Together Goodie)!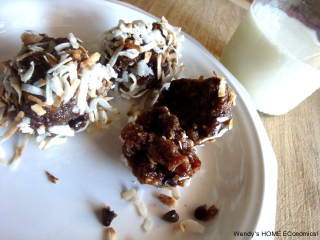 "A Date With Cherry"
…cherry chocolate chip date nut balls
…a recipe by Wendy Perry
Yield:  1 dozen
Prep Time:  less than 10 minutes
1      c.               asst. nuts/pieces* (salted or unsalted)
pinch of salt    (if your nuts are unsalted)
1/2  c.              dried cherries, unsweetened
3/4  c.              dates (whole or pieces)
1/4  t.               almond extract (Watkins)
1/4  t.               vanilla extract (Watkins)
2      T.              water (or if for adults, Amaretto, vanilla or cherry rum or chocolate liquer)
1/2  c.               mini chocolate chips
1/2  c.               flaked coconut (half toasted)**
* This is a great recipe to use up those tidbits of nuts because a mixture is a 'good thing' in this recipe.
For recipe creation, I used pecans, walnuts and some macadamia nut pieces (previously toasted for another recipe).
Throw your nuts and salt into a food processor and whiz until fine crumbs.  Throw cherries, dates, extracts and water (or alcohol) in and pulse until you have an ooey gooey paste.  With a spatula, fold in the chocolate chips.
Pinch mixture and make 1″ balls.  Roll in coconut and place into freezer to firm up for about an hour.  Keep chilled.
**Toast coconut in non-stick pan until some is toasted and some isn't so you have a half-n-half mix.  Bu doing this, you'll get a nice "chew" with the bits that haven't toasted, yet a nice toasty crunch with the flakes that are toasted.
– – – – – – – – – – – – – – – – – –
To be sure it can't be Easter week already! But alas, tis true… so time to throw together something tasty for all our favorite little (and big) bunnies. Lately, I've found myself concocting more and more gluten-free delights. About a year ago, my bestie Giny was thrust into the GF
world by her doc with little to no info on what that meant…. now keep in mind, "the girl don't cook"… and like my dearly departed mama, makes no bones about it. Rather proud of it as a matter of fact. She has me on speed dial and calls me from the grocery store for guidance… or just for directions on how to get outta there before she breaks out in hives! (ok, just kidding) Her idea of 'cooking' supper "pre-gluten-freeous" was putting out some cheese and crackers. This journey has had us taste-testing a plethora of store bought GF stuff… from crackers to breads (ugh!) and I've been having fun throwing together new treats for her and the hubs… my human guinea pigs. I have become her culinary coach for this new journey and I must say, I'm darn proud of her accomplishments… and she's tickled that her health has improved and she feels better to boot (and gets Wendy-made food, which Hubs particularly enjoys). In the process, I've had fun playing in the kitchen and have stirred up some pretty darn good stuff.
Also, for the past year, I have been doing some recipe development for a line of gluten free food products made here in North Carolina… and was featured on-stage chef for them at the premier Raleigh Gluten Free Expo last summer. The turnout was HUGE and will be in a bigger venue this year… stay tuned about that. From that collaboration came a marathon personal chef cook'n last week for a family member of the company… my first 30 breakfasts/30 lunches/30 suppers!
Ninety meals and sides! If that keeps up, I need to be investigating new orthopedic appliances. The sweet little lady has painful neuropathy in her feet so after trying everything else, we're trying gluten free for her. We are all hoping this clean-eating will bring some relief… time will tell.
Mainstream eaters are migrating to more gluten free options too, self included. My sis and BIL along with his in-laws are all virtually gluten free now. It's rather simple to cook and eat this way… especially IF you use nekkid foods… and stay away from all the processed gunk filling the shelves and coolers in the grocery stores. If you don't read labels, START NOW. We are what we eat… so do you know what all that stuff is you can't pronounce you are eating and feeding those you love? As a gal who shops, cooks and eats Nekkid, I encourage you all to point yourself in that direction and challenge yourself to eat "clean." I'm not 100% there, but I do read labels, and cook fresh foods… because "undressed tastes best!"
With all this in mind, and because I'd love nothing more than to be in my kitchen concocting new recipes all day every day, I hopped right in there today to create the Easter recipe I woke up with this morning. Somehow, I seem to have it in my genes to just know what to throw together and rarely do I have a failure… and few tweaks are needed. That was true with these Easter cupcakes… I did not have to adjust one thing after making the first batch… tasty, moist and gluten free! This is a perfect recipe for children to throw together too. And a great way to get veggies into those picky eaters.
I hope you will make a batch of these… they can be thrown together in about 5 minutes while the oven is preheating…. and on their way out in about 25 minutes. Thirty minutes to an Easter dessert that will make all your guests "hoppy" that are not super sweet and just right to top off your Easter buffet… especially your gluten free friends who often have to bypass dessert.
Here's to a Blessed Easter season to you and yours… and be sure not to forget the reason for the season.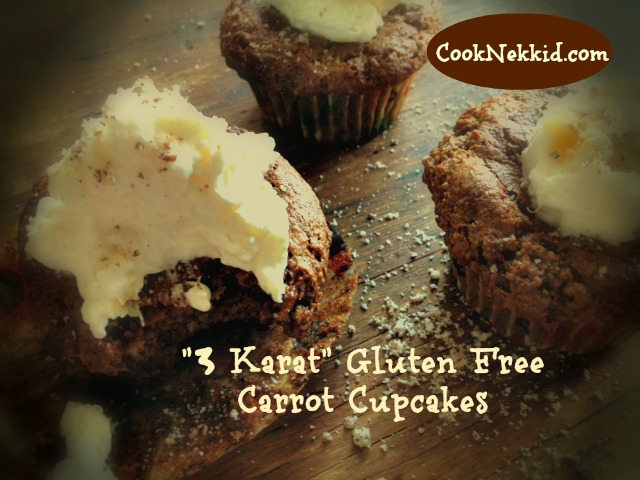 …make as cupcakes, mini cupcakes or layer cake!
Gluten Free Carrot Cupcakes
These moist gluten-free carrot cupcakes are a perfect dessert for your Easter buffet... not too sweet or heavy, and a great treat anytime for those picky eaters who need more secret veggies!
What to throw together...
2 1/2 cups almond meal (I prefer from Trader Joe's)
1/2 cup Sucanat organic sugar (or brown sugar)
pinch sea salt
1 1/2 teaspoon baking soda
1 teaspoon apple pie spice
2 cups (about 3 large) grated carrots
2 tablespoons molasses
4 tablespoons mayonnaise (only Duke's used in my kitchen)
3 farm fresh eggs

PINEAPPLE WHIPPED CREAM

1 pint whipping cream
1-8 ounce creamed cheese, softened
1 teaspoon almond extract
1- 15 1/4 ounce crushed pineapple in juice, well drained
2 tablespoons honey
How to throw together...
Combine dry ingredients in mixing bowl. Add remaining ingredients and stir to combine.
Line cupcake pan with papers. Divide mixture into cupcake papers.
Bake about 20-25 minutes until center is done to touch.
Cool and frost with your favorite frosting or dollop of Pineapple Whipped Cream:
Whip cream and cream cheese until well blended and stiff peaks. Fold in extract, pineapple and honey.
Recipe Copyright Wendy L. Perry, Inc. 2010. Share with credit/linkback please.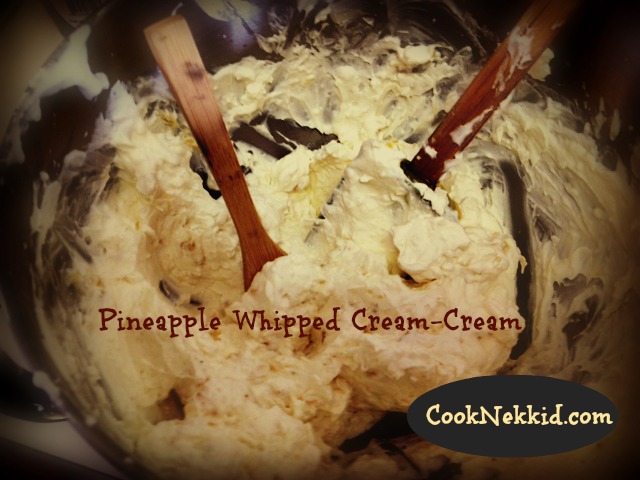 …gently sweetened with local honey, this Pineapple Whipped Cream-Cream is just right to dollop on the cupcakes!