If you love oranges like I do, you will love this Mandarin Orange Upside-Down Cake!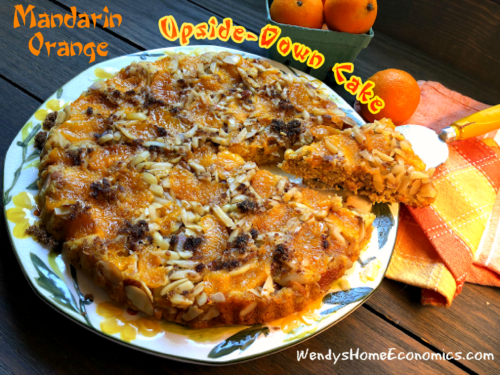 If you're looking for a really moist cake that is gluten free too, look no further.  The perfect dessert for an Asian meal (see my Hot and Sour Rotisserie Chicken Soup and Pork and Shrimp Egg Rolls), this upside downer is a nice side to a cup of hot tea or coffee.  A bit unusual (yep you cook the whole thing!), I'm pretty sure this might become a favorite.  I hope you will give it a try and let me know what you think.  Come on over and join us at my facebook community and share with everyone…
This recipe created for and published in Carolina Country Magazine September 2020
Food propping/styling and photography (copyrighted) by Wendy Perry. 
Disclosure:  I only use and recommend products here I use myself. I may receive a small commission from affiliate links on this or other posts on this web site at no additional costs to you.
CLICK HERE TO SUBSCRIBE TO MY TABLE SCRAPS E-ZINE NEWSLETTER!
Be sure to visit my online stores:
Aunt Dee Dee's Kitchen for my seasonings, dried goods, pickles, jams, preserves, kitchen linens and more!
And for the best budget-friendly MADE IN THE USA by folks like you and me, my Rada Knives and Kitchen Tools online store.
THESE LINKS CAN ALSO BE FOUND ON SIDE MENU OF MY BLOG HOME PAGE.
Mandarin Orange Upside-Down Cake
This gluten-free Mandarin Orange Upside Down Cake is the perfect citrus dessert for a savory Asian meal, but it's also the ideal pairing with a cup of tea or coffee.
Ingredients
6

mandarin oranges,

washed

2

cups

almond meal

(I prefer texture of Trader Joe's "meal," not flour)

¾

cup

sugar

¾

teaspoon

vanilla extract

¾

teaspoon

butter flavoring

pinch

salt

5

eggs,

lightly beaten

¾

cup

butter,

melted

1

15 ounce can

mandarin oranges (or equal amount fresh),

drained and patted dry

1 ⅓

cup

sliced or slivered almonds or combination

¾

cup

dark brown sugar
Instructions
Wash whole mandarin oranges and cover with water in a sauce pot. Simmer for 1 hour until tender. Once oranges have cooled, cut in half and remove any seeds. Purée in food processor, rind and all. This can be done ahead of time.

Preheat oven to 375 degrees. Line bottom of 9" springform pan with parchment. Grease sides.

Combine puréed orange, almond meal, sugar, vanilla, butter flavoring and salt. Stir in slightly beaten eggs.

Pour butter over parchment paper. Scatter with mandarin orange slices and almonds. Pour batter over and spread to sides. Bake about 45–50 minutes.

Remove cake from oven and let stand for 5 minutes. Flip onto cake plate.

Scatter with brown sugar and cover loosely with foil so sugar will melt.