To be sure it can't be Easter week already! But alas, tis true… so time to throw together something tasty for all our favorite little (and big) bunnies. Lately, I've found myself concocting more and more gluten-free delights. About a year ago, my bestie Giny was thrust into the GF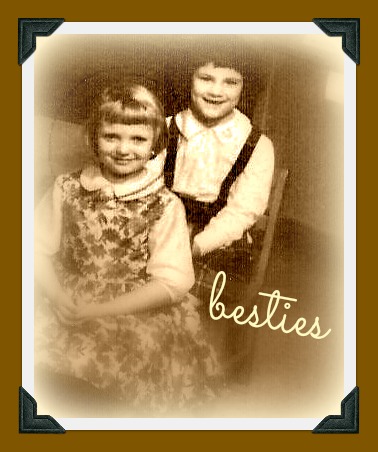 world by her doc with little to no info on what that meant…. now keep in mind, "the girl don't cook"… and like my dearly departed mama, makes no bones about it. Rather proud of it as a matter of fact. She has me on speed dial and calls me from the grocery store for guidance… or just for directions on how to get outta there before she breaks out in hives! (ok, just kidding) Her idea of 'cooking' supper "pre-gluten-freeous" was putting out some cheese and crackers. This journey has had us taste-testing a plethora of store bought GF stuff… from crackers to breads (ugh!) and I've been having fun throwing together new treats for her and the hubs… my human guinea pigs. I have become her culinary coach for this new journey and I must say, I'm darn proud of her accomplishments… and she's tickled that her health has improved and she feels better to boot (and gets Wendy-made food, which Hubs particularly enjoys). In the process, I've had fun playing in the kitchen and have stirred up some pretty darn good stuff.
Also, for the past year, I have been doing some recipe development for a line of gluten free food products made here in North Carolina… and was featured on-stage chef for them at the premier Raleigh Gluten Free Expo last summer. The turnout was HUGE and will be in a bigger venue this year… stay tuned about that. From that collaboration came a marathon personal chef cook'n last week for a family member of the company… my first 30 breakfasts/30 lunches/30 suppers!
Ninety meals and sides! If that keeps up, I need to be investigating new orthopedic appliances. The sweet little lady has painful neuropathy in her feet so after trying everything else, we're trying gluten free for her. We are all hoping this clean-eating will bring some relief… time will tell.
Mainstream eaters are migrating to more gluten free options too, self included. My sis and BIL along with his in-laws are all virtually gluten free now. It's rather simple to cook and eat this way… especially IF you use nekkid foods… and stay away from all the processed gunk filling the shelves and coolers in the grocery stores. If you don't read labels, START NOW. We are what we eat… so do you know what all that stuff is you can't pronounce you are eating and feeding those you love? As a gal who shops, cooks and eats Nekkid, I encourage you all to point yourself in that direction and challenge yourself to eat "clean." I'm not 100% there, but I do read labels, and cook fresh foods… because "undressed tastes best!"
With all this in mind, and because I'd love nothing more than to be in my kitchen concocting new recipes all day every day, I hopped right in there today to create the Easter recipe I woke up with this morning. Somehow, I seem to have it in my genes to just know what to throw together and rarely do I have a failure… and few tweaks are needed. That was true with these Easter cupcakes… I did not have to adjust one thing after making the first batch… tasty, moist and gluten free! This is a perfect recipe for children to throw together too. And a great way to get veggies into those picky eaters.
I hope you will make a batch of these… they can be thrown together in about 5 minutes while the oven is preheating…. and on their way out in about 25 minutes. Thirty minutes to an Easter dessert that will make all your guests "hoppy" that are not super sweet and just right to top off your Easter buffet… especially your gluten free friends who often have to bypass dessert.
This recipe published in Carolina Country Magazine 2017
Food propping/styling and photography © (copyrighted) by Wendy Perry.
Carolina Country Magazine Contributing Recipes Editor
Disclosure:  I only use and recommend products here I use myself. I may receive a small commission from affiliate links on this or other posts on this web site at no additional costs to you.
CLICK HERE TO SUBSCRIBE TO MY TABLE SCRAPS E-ZINE NEWSLETTER!
Find me on social media:
HomeEconomicsInAuntDeeDeesKitchen on FB
Wendy's HOME Economics! Page on FB    @culinaryadventuristwendy on IG
Aunt Dee Dee's Kitchen Page on FB            @auntdeedeeskitchen on IG
Credentials @ LinkedIn
Be sure to visit my online stores:
Aunt Dee Dee's Kitchen for my seasonings, dried goods, pickles, jams, preserves, kitchen linens and more! Lots of new goodies debuting May 2022!
And for the best budget-friendly MADE IN THE USA by folks like you and me, my Rada Knives and Kitchen Tools online store.
THESE LINKS CAN ALSO BE FOUND ON SIDE MENU OF MY BLOG HOME PAGE.
Here's to a Blessed Easter season to you and yours… and be sure not to forget the reason for the season.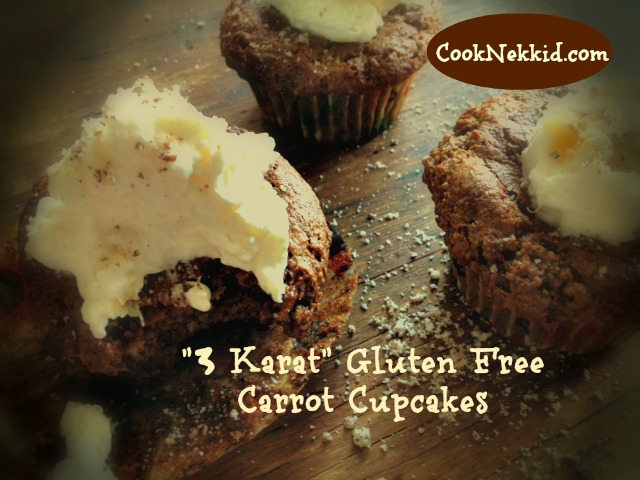 …make as cupcakes, mini cupcakes or layer cake!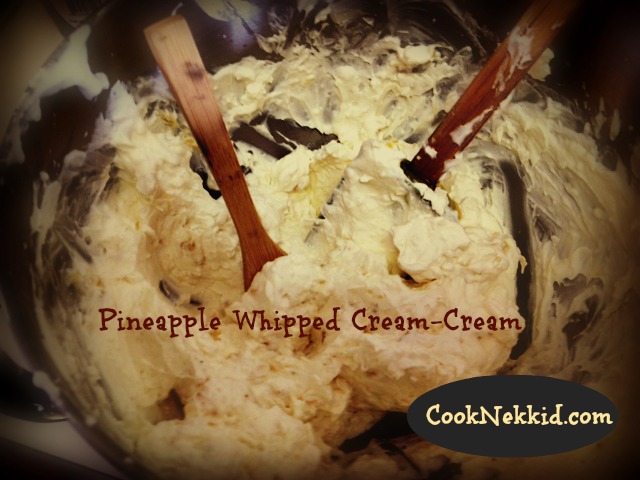 …gently sweetened with local honey, this Pineapple Whipped Cream-Cream is just right to dollop on the cupcakes!

Easter Basket of Goodies! "3 Karat" Gluen Free Carrot Cupcakes with Pineapple Whipped Cream-Cream

Enjoy these gluten-free, moist and flavorful muffins for breakfast, as a late morning snack, or even alongside a bowl of soup or chowder. The recipe is easily doubled so you can freeze to "heat 'n eat."

Ingredients

Muffin Ingredients:

2 ¼

cup

almond meal

(I prefer Trader Joe's meal, not flour)

½

cup

Sucanat organic sugar (or brown sugar)

pinch

sea salt

1 ½

teaspoon

baking soda

1

teaspoon

apple pie spice

2

cup

grated carrots

(about 3 large)

2

tablespoons

molasses

4

tablespoons

mayonnaise

(only SF Duke's in my kitchen!)

3

farm fresh eggs

Pineapple Whipped Cream:

1

pint

whipping cream

1-8

ounce

creamed cheese,

softened

1

teaspoon

almond extract

1- 15 ¼

ounce

crushed pineapple in juice,

well drained

2

tablespoons

honey

Instructions

Preheat oven to 350 degrees.

Combine dry ingredients in mixing bowl. Add remaining ingredients and stir to combine.

Line cupcake pan with papers. Divide mixture into cupcake papers.

Bake about 20-25 minutes until center is done to touch. Cool and frost with your favorite frosting or dollop of Pineapple Whipped Cream.

Whipped Cream:

Whip cream and cream cheese until well blended and stiff peaks. Fold in extract, pineapple and honey.

Dollop on top of cooled muffins at serving time. Dust with almond meal crumbs to garnish.