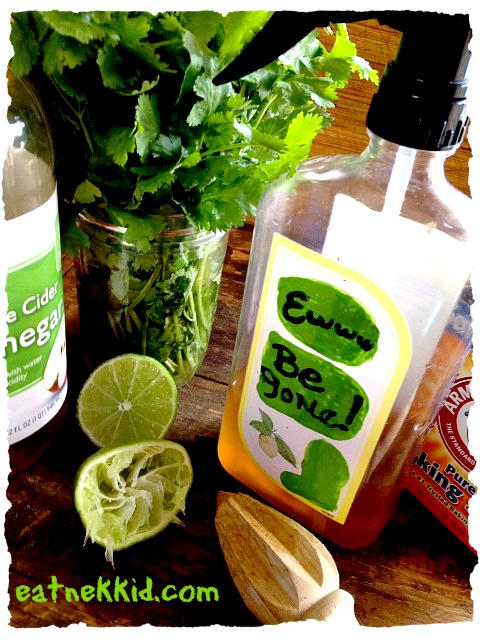 This post was originally posted March 7, 2013.
Updated January 20, 2019.
I sprinted into the grocery store one day last week to grab a couple of things to cook on that rainy day, the kind of winter day meant for throwing stuff in pots and culinary creationism. As I have developed somewhat of an addiction the past few years to cilantro, it's on my "must have weekly" shopping list. It's my new lettuce on BLT's… making them BCT's… I chop it into eggs, onto all salads and just love to rub my fingers on it to smell its freshy-ness. It used to be I couldn't stand the stuff… and was part of the folks, an Anti-Cilantress, who thought it tasted like Dawn dish-washing liquid and I declare, would wonder how on earth folks could eat something that tasted like a soapy dish rag (not that I've tasted those myself). Then suddenly, I don't remember when or how, I was eating it… on and in everything… and borderline addiction soon followed.
I have tried every which-a-way to grow the stuff, but I'm only successful each year in buying herbs at our local herbfest, only to harvest a fresh crop of what amounts to a patio garden of highly expensive "dried" herbs about 2 weeks later. Gardening R Not Us. But alas, I recently saw an "easy" way to do this… where else, but on Pinterest! So watch for a post this spring, and we'll all grow some together and share our harvest stories here. I'll cook up some sort of worthy gift for the winner… not sure of 'best' or 'worst' in show, perhaps both. Stay tuned on all that, but in the meantime, be plotting your winning strategy.
Okay, back to the story…
While sprinting into the produce area, I bumped into "Ms. Delores," a delightful (and FAV special) Southern lady who was a fixture behind the post office counter for years. We haven't seen each other in a spell, so we had a little gabfest and caught up. Her sweet and kind nature reminds me of my mama… rest her soul… and I am always happy to run into her. Usually going as fast as I can, I stopped to take the time and enjoy these few moments, and glad I did. As we parted ways, and I was bee-lining for the fresh cilantro down the way, the EWWW FACTOR came uponst me.
At first, I was thrilled to see the bin being restocked as I was chatting with Ms. Delores. But as I was approaching, a couple of drippy sniffy-nosed (to put it politely) kiddos starting "fluffing" it and playing in that big of freshly loaded crisp cilantro. They asked their mama, or whomever that was not watching them, what it was. She had no idea those children existed. I continue to approach, smiled and they scooted away, right after a fresh mist of "sneeze!" Cilantress had arrived. But the EWWWWWW Factor overcame me.
But I HAD to have it… a "fix" of c.i.l.a.n.t.r.o.
I dig wayyyy down, but not too far since the restocker didn't bother to bring the old from bottom to top when filling the bin. I was trying to find a happy medium in the bin of getting past what those infected kiddos had played with, but not so far as to reach the 'almost rotten' in the bottom. All the while, I'm wondering what will happen to my "lettuce" if i soak it in Clorax to disinfect it!!
On a mission, I started researching homemade recipes to get rid of that IKK on this and all my produce… more than just my usual piss poor washing… which has amounted to kinda like turning the other cheek. Sometimes I fear I'm becoming too much like Howard Hughes in my nastiness phobia… (I practically take a bath by my truck after pumping gas with anti-bac hand wipes) so why have I become so lacsidasical with washing the food I put into my mouth?… ewwwww!
I have no idea, but that day became a new "dawn"ing for me.
It took me about 2 minutes tops to make a batch of my "EWWW Be GONE" and as a disclaimer, I did not invent this recipe. It, and similar ones, are all over the internet. I see folks sneeze, snort, cough and such on food in produce areas, salad bars and drink stations. I usually just turn and walk away… after a big heave… and can hardly stand to eat from such troughs anymore. But when there's nowhere to turn and grab more cilantro, and must buy, I have to have another option. I do feel a little bit safer now, but is still a growing concern for me (and yet another BIG reason to buy local where our foods have had less hands to pass through before landing on our table).
Once I have "de-ewwwed" my cilantro, (and most other fresh herbs), they get a fresh snip with my FAV kitchen tool, scissors, and a drink of fresh water in a mason jar. I change the water every day or two and a bunch of this cilantro and other herbs will give me about a week of freshness in the fridge.
Won't you join me and make a batch of "Ewww Be GONE" to wash your veggies too? Make yourself a cute "Decorative yet FUNctional" spray bottle that will be countertop-friendly in your kitchen so you can leave sitting out and you will remember to use. I used a little craft paint and spiffed up this empty spray bottle that I had on hand. The label has a cute little yellow edge and even a lemon on it so it's perfect to keep by my sink in my yellow kitchen! And if you have other solutions or your own recipe, please do share below in the comments box. Fix yourself some and let the "Ewwwww" be g.on.e. from your kitchen too! EAT NEKKID, but clean.
NOTE: Some studies say that lime juice isn't sufficient for this cleaning method and only recommend using lemon juice. And many "recipes" don't use either.
Combine in large spray bottle:
2 cups water

1 cup cider vinegar

juice of one lemon or lime
Spray veggies well and let sit in sink/drain for about 2 minutes. Rinse well and dry before storing.
For hard skinned foods like melons, I wash with warm soapy (Dawn) water. All sorts of IKK can be on the outside and when your knife cuts thru that wet inside, you have an instant rapid breeding ground!