In honor of it being National Biscuits & Gravy Day, we are revisiting this post from a ways back.  Now this isn't your usual biscuits and gravy recipe… but I'm not your usual recipe developer, so keep reading.  Back in summer of 2011, this recipe won 1st place in the first ever Midstate Mills Best Southern Biscuit Recipe Contest!  Quite an accomplishment for this self-proclaimed NON-baker gal.   From what I heard, there were some questionable looks on faces of the judges when they were handed this recipe on paper.  (I understand.)  However, once they saw and tasted the "Oinkers," they wanted MORE.
As a Throw Cooker (Throw Cooking Nekkid Food!), this is perfect example of how I often cook and try to encourage others to cook.  I just opened my fridge and had these ingredients, threw some together and "OINKERS" were born.  You can use pre=made pork barbecue and slaw from your favorite place, or your own.  Just yesterday, I threw a Boston Butt in the crock pot (<5 minutes prep) with some Eastern NC BBQ Sauce and let 'er rip. I chopped up a little cabbage with some water in the blender (about 5 minutes to make) and drained… threw into bowl with a bit of salt, pepper and sugar… whirled in some mayo (only DUKE's here) and chilled.  So this weekend, when I'm tired of Barbecue Sandwiches, I will use these leftovers to make "Oinkers!"  I hope you'll make some and come back to let me know what you think.
"EnjOINK!"
(feel free to publish and share with credit please)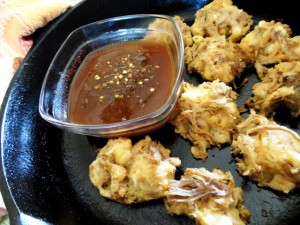 Recipe By:  Wendy Perry
Yield:    About 4 dozen snack-size biscuits.
For the whole Biscuit Day story…jump here and travel back to that day with me.  I love a good festival and what's not to love about BISCUITS?
[amd-zlrecipe-recipe:6]
©Wendy L. Perry, Inc. (feel free to publish and share with credit please