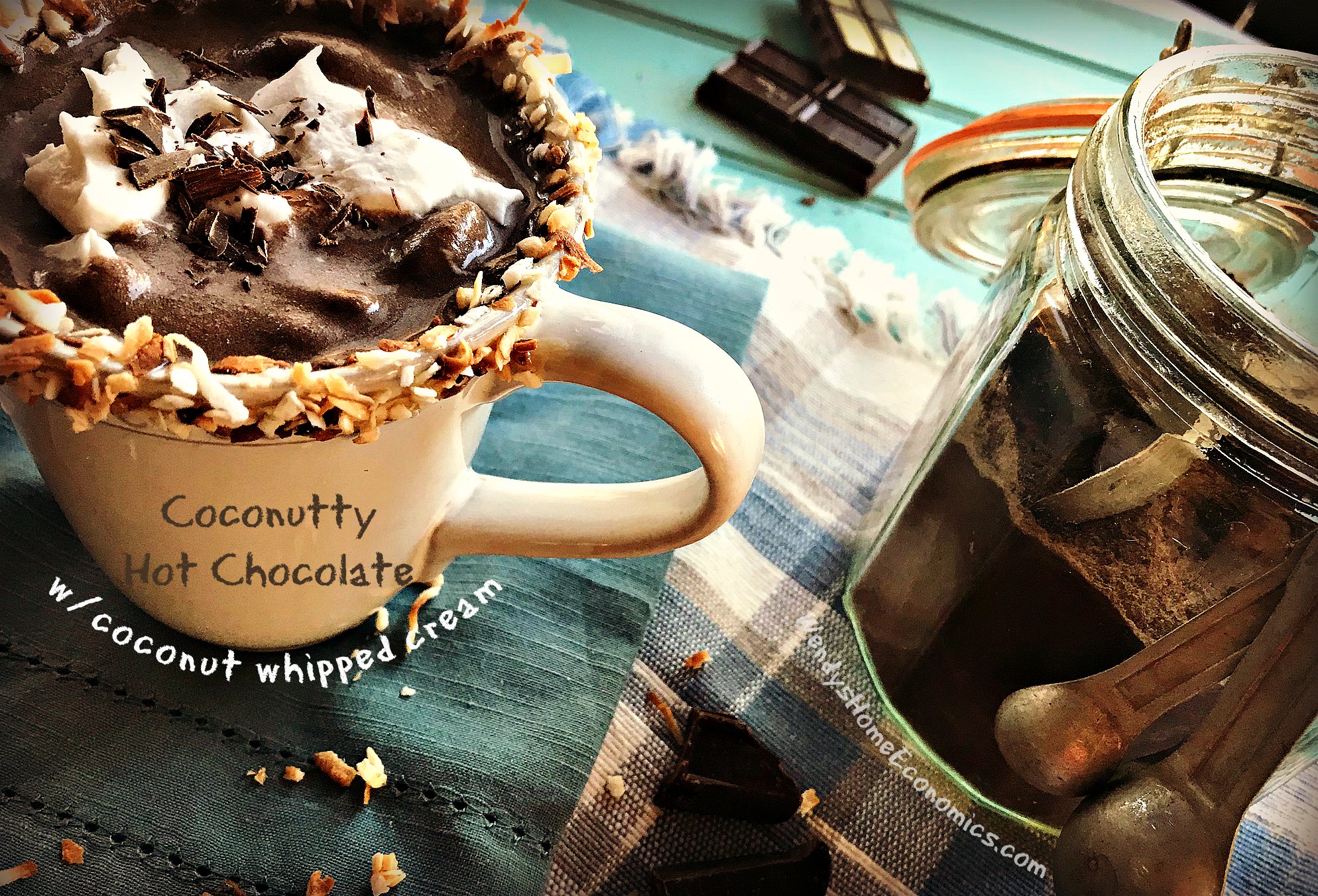 Published in Carolina Country Magazine ~ February 2018
Happy Hot Chocolate Day y'all!
Here we are in the dead of winter… most of us longing for the arrival of spring.  But 'til then, we'll just have to do what it takes to get from here, to there. 
So… let's invite chocolate to that party! 
…with some warm and creamy hot chocolate you can nestle down with, snuggled in your favorite blankey on the couch, and sip on by the fire.
Being the "world's slowest blogger," it's about time I share this recipe here… since it's been a year since I whipped it up for last February's Carolina Country Magazine.  And just realized I'd never put it here for all to enjoy.
As you will see, this isn't your usual hot chocolate. It's like sipping on an Almond Joy candy bar… my sweet mama's favorite candy bar. She would have loved this cocoa-nutty hot chocolate, and I think you will too.   So mix yourself up a batch to have ready any old time. It's best as a dairy free treat with coconut or almond milk, but tasty too, with good old cow's milk.  And it's gluten free!
Once you've made yourself some of this chocolate-y deliciousness, come on over to my facebook community, find this post, and tell us what you think.
Stay warm and cozy… spring IS on the way!
Cocoa-Nutty Hot Chocolate Mix With Coconut Whipped Cream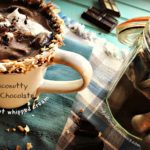 Make a batch of this decadent hot chocolate mix to enjoy often — and share, too! Topped with a dollop of fluffy coconut whipped cream, this dairy-free delight is just what we all need at the end of a chilly winter day … pajamas not included.
1 cup dark cocoa
1 cup coconut sugar
1 teaspoon cinnamon
1/2 teaspoon cayenne pepper, (optional)
1/2 teaspoon sea salt
2 whole vanilla beans, (split and scraped)
WHIPPED CREAM:
1 can full fat coconut milk
GARNISH:
honey or maple syrup
toasted coconut
shaved chocolate
For MIX:
Sift all dry ingredients together. Store in covered jar up to several months.
For WHIPPED CREAM:
Chill canned coconut milk at least 24 hours. Drain coconut water and save for other uses. Whip cream with mixer until fluffy. Store in refrigerator up to 1 week.
To SERVE:
Heat one cup of milk (unsweetened vanilla coconut or almond milk is delicious, but good old cow's milk works fine, if preferred). Stir in 2 tablespoons of mix.

Pour syrup or honey onto a small plate. Put toasted coconut into bowl. Dip rim of mug into syrup, then into coconut.
Pour mixed hot chocolate into rimmed mug. Top with dollop of Coconut Whipped Cream and dust with shaved chocolate. Enjoy!