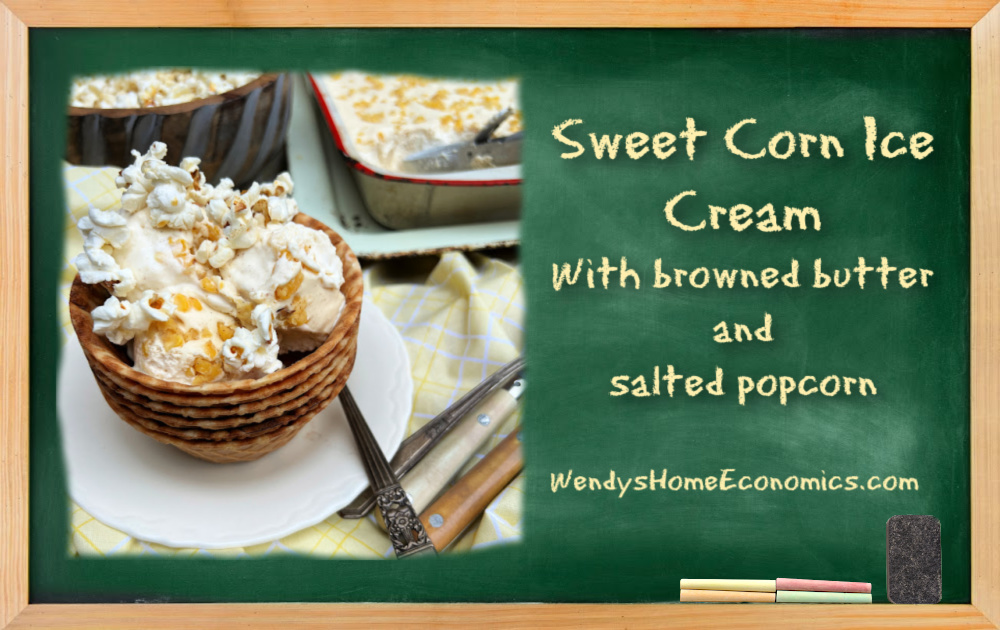 It's tease time of year. Time when we get a couple days of respite from temps in the 90's and we silly southerners hastily think… "oh yay, fall is here." Yet we know this is "fake fall."  Days between the raging heat and sticky humidity of summer and "real" fall when daily highs are in the mid to low 70's… and we have delicious nights in the 40s and 50s.  But till then, we can at least enjoy the last summer produce from gardens and farm markets. 
Many have filled shelves of "canned everything" or packed bags of frozen goodies away to enjoy while cozyed in during the winter, the season that has become my personal favorite… pajamas, fluffy blankets… and good foods cooking and filling the house with comforting smells.

One of my summer favorites is sweet corn.  I enjoy munching on it freshly shucked… just raw and nekkid!  Back in my catering days, I often did corn bars… with ice cold raw on the cob, and hot in a cooler with all sorts of toppings. Many folks had never heard tell of eating raw corn on the cob… but they liked it!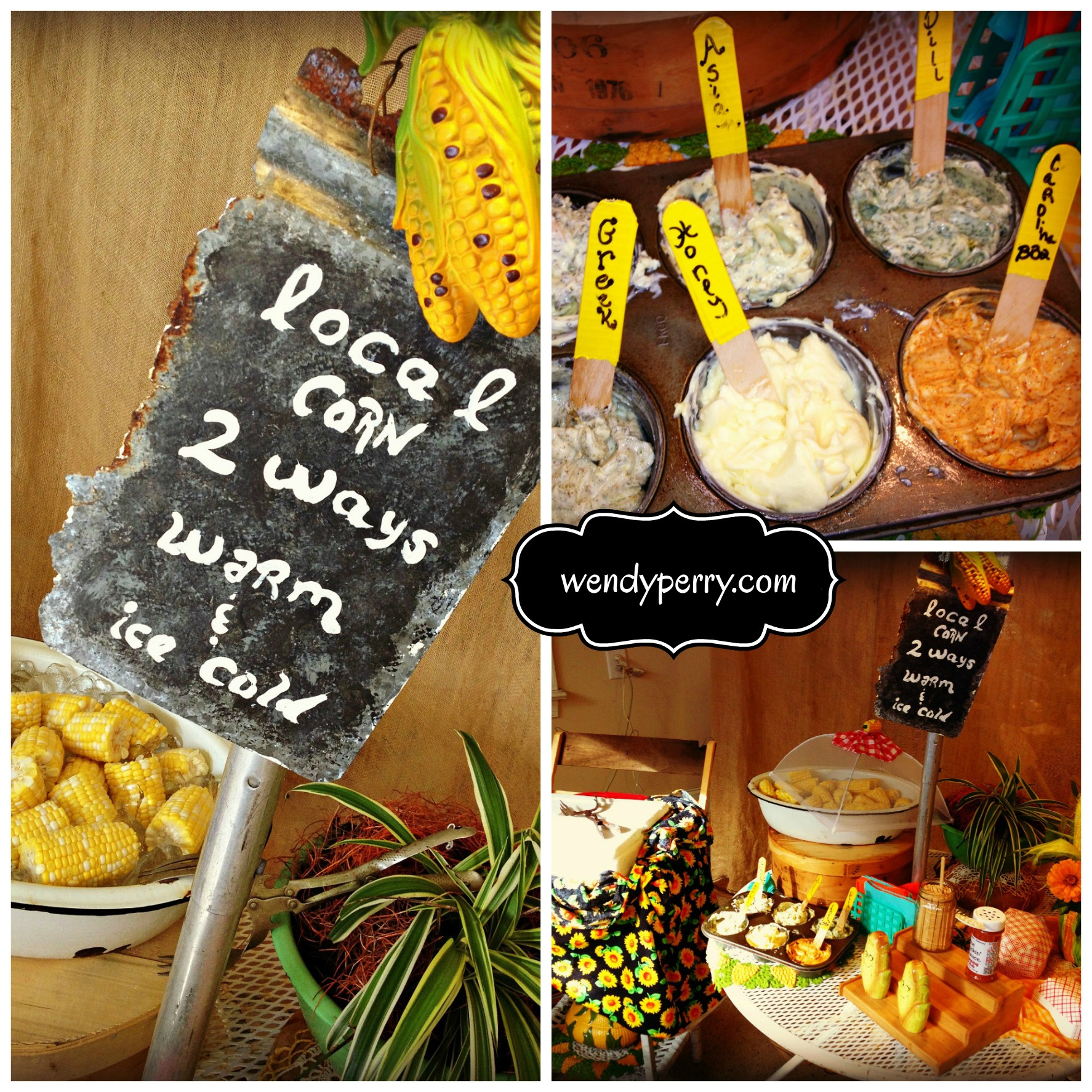 I especially love making summer salads with it too… just simply dressed with a few other summer veggies. Or on occasion, with some fresh NC crab gently folded in.  Corn and crab marry quite well.

Months ago, when pondering ideas for September issue recipes, my thoughts turned to ways to enjoy the last-of-season summer vegetables, when we somewhat tire of "same old" and are thinking ahead to fall foods. 

A long time ago, I'd seen corn ice cream, and saved a few recipes for inspiration on a Pinterest board for "some day." 

I'm always creating recipes for print months ahead of publication, so I was playing with corn ice cream before summer was even "official.' Fortunately, I was able to get some really tasty early sweet corn in local grocery stores.  It didn't take me but one try to devise this recipe and turn what was in my head to reality… and let me tell you! My guinea pigs loved it.  Most recipes I'd seen were "infused" with the flavor of the corn, then strained the corn out of the sweet milk mixture, but what I had in my head was exactly as it turned out to be.  Little bits of "chewy" kernels of corn… candy-like.  Hard to describe except to say "damn good!" 

Now iffin you think you'd like it better without those bits of goodness, you can surly strain your mixture… but I advise not.  The browned butter, something I'd not seen in any other corn ice cream recipes, only makes this frozen treat so much better, because everything is better with browned butter, isn't it?

I realized this is a bit "out there" for some… including some of my taste testers. But I got no frowns or "nays" from them so I'm pretty happy with having finally gotten around to making this.  Give it a try and let me know what you and yours think.  I do recommend adding the salted popcorn on top. The saltiness and crunch of that is just the right balance for creamy sweet corn ice cream!  And here's to a speedy end to this hot and sticky summer… hello cooler days and old fave sweatshirts!  

This recipe created for and published in Carolina Country Magazine September 2023  © (copyrighted)
Propping/styling and photography by Wendy Perry
Carolina Country Magazine Contributing Recipes Editor

Be sure to visit (and share) my online stores:
Aunt Dee Dee's Kitchen …my unique seasonings (including salt-free), kitchen doodads & more!
Rada Knives and Kitchen Tools  USA made budget-friendly cutlery (great for gifting)
Watkins 1868 Store. Did your mama and grandma buy from "the Watkins Man?" The best vanilla…

Credentials @ LinkedIn

Disclosure:  I only recommend products here I use myself. I may receive a small commission from affiliate links on this or other posts on this web site at no additional costs to you.

CLICK HERE TO SUBSCRIBE TO MY TABLE SCRAPS NEWSLETTER!

Find me on social media:
Wendy's HOME EConomics! Page on FB    @culinaryadventuristwendy on IG
Aunt Dee Dee's Kitchen Page on FB      
@auntdeedeeskitchen on IG
Sweet Corn Ice Cream with Browned Butter and salted popcorn
An outside-the-box way to enjoy summer corn... the kernels are like little bits of "candy," yet are actually caramelized nuggets of a vegetable in this luscious ice cream! Who knew corn could be dessert too?
Ingredients
1

stick

butter

4

ears

fresh corn

cleaned

1

12 ounce can

evaporated milk

1

quart

heavy cream

divided

1

vanilla bean

split

pinch

salt

1

14 ounce can

sweetened condensed milk

freshly popped salted popcorn

waffle bowls

optional
Instructions
Melt the butter over medium heat in a light-bottomed, small, heavy skillet. Watch closely, stirring often, until barely browned, about 6 minutes. Immediately remove from heat and set aside to cool.

Cut corn from cobs into medium sauce pot. Break up cobs and put into the pot. Add condensed milk and 2 cups of the heavy cream. Scrap the vanilla bean into the mixture and add salt. Over medium heat, bring the mixture to a slow simmer, then reduce to low and warm for 20 minutes to infuse the corn flavor into the cream. Strain, discard cobs (saving corn) and refrigerate until cold.*

Whip the remaining cream to stiff peaks, adding in the butter at the end of whipping. Using a spatula, fold in the condensed milk, chilled cream mixture and corn until just incorporated. Pour into a large casserole dish or 2 loaf pans. Cover and chill 6 hours or overnight. Serve in a waffle bowl if desired and garnish with salted popcorn.
Notes
*Adding the corn is optional, but I like the texture it adds to the ice cream.