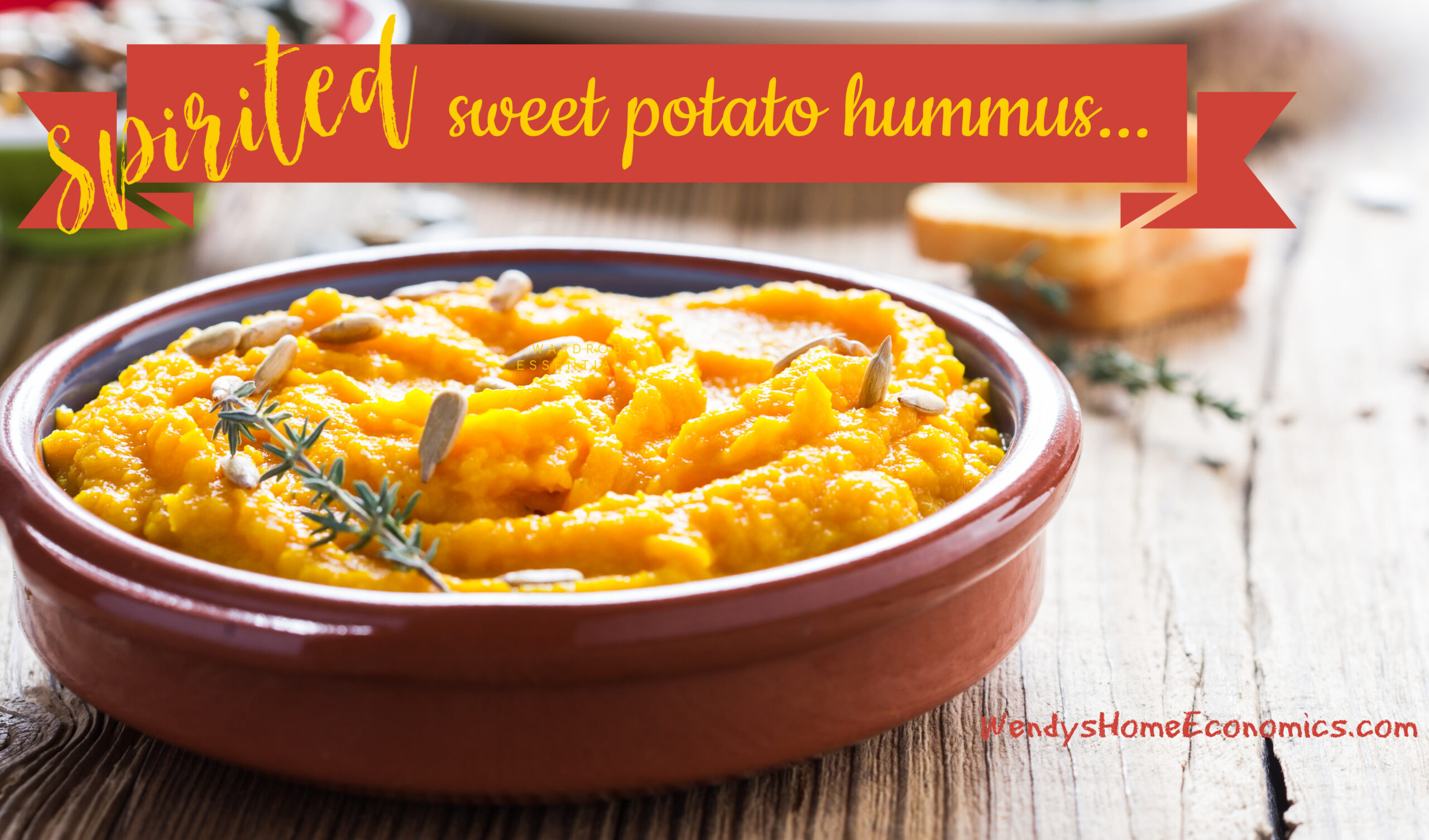 I'm not personally fond of chickpeas, the traditional hummus main ingredient.  Like my Butterbean Hummus, I like to play around with all sorts of other things to create my own… and you can too. 
North Carolina is the #1 sweet potato producing state… and we grow about 3 times that of the 2nd highest producer!  Around my parts, where sweet potatoes abound, we love to fix 'em every which way.  So with the Super Bowl on its way, what better time than now to throw together this quick and easy dip… while getting in the team spirit with my "spirited" sweet potato hummus.
You will definitely want to roast 'em with the garlic. Cooking good stuff is all about layering flavors, and most foods will always benefit from roasting… especially ones like sweet taters… the natural sugars caramelize throwing in a layer that takes this to another level of deliciousness.
Even if  you're not a "bowler," I highly suggest you make some!  It's perfect for couch snacking on a chilly winter weekend on a movie binge… a quick bedtime snack… or late breakfast too.
PS… if you don't have tahini or sesame seeds… just whirl all together without that!  You can sub peanut butter too… just throw cook'n at its finest!
And what's the "plus 10?"  Why 10 other ways to enjoy this besides the usual of course!
spread inside wraps

smeared onto ham and cheese sliders

on sandwiches instead of mayo (especially delish on grilled chicken or turkey sandwiches)

tucked into tacos or on tostadas

swirled into noodles

dolloped on grilled chicken or pork chops

whirled into deviled eggs

thinned with broth for a creamy soup

smeared on toasted english muffins (especially cinnamon raisin)

whisked into your pancake batter
Whatever your fancy… do put this one on your "to do" list. 
And be sure you join us over on FB too…   
Spirited Sweet Potato Hummus
Ingredients
about 3 medium or 2 large

sweet potatoes

8-10

cloves

garlic,

divided

⅔

cup

oil

½

cup or so

tahini OR

1

cup

toasted sesame seeds

about ¾

cup or so

pine nuts

(better if toasted!)

4

tablespoons

butter,

softened

1

teaspoon

salt

(more if you like)

cumin, cinnamon, cilantro, freshly ground black pepper, rosemary or other favorites in your home

a

splash

of spiced rum,

optional (but then it won't be "spirited!"
Instructions
Preheat oven to 425. Peel and cube sweet potatoes. Toss on large baking pan with most (or all)* the garlic cloves and oil. Move about every 10-15 minutes so that all sides get nice and caramelized. This will take 30-40ish minutes, depending on size of cubes.

Once done, let cool slightly, then throw all, including the oil, into your food processor. Add remaining cloves of garlic, tahini or seeds, nuts, butter, salt and the seasoning or combination you like best. This is also the time to add a splash of rum if desired.

Whirl until nice and creamy!

Serve with your favorite dipper... pork rinds! crackers! pita chips! toast!
Notes
This recipe doesn't require exactness.  Just close to my suggested amounts will be just fine.  You know what you and those around you prefer for flavor, so add whatever herbs and spices suits y'alls fancy.  And also, even though it's hard to beat the roasted sweetness of pine nuts, this is a good dish to use bits and pieces of nuts in your pantry.  I just highly suggest giving them a quick toast in your oven (I use my toaster oven).  This will add yet another level of flavorful goodness. 
---
Be sure cubes are uniform in size so they roast at the same time.
*I like to use mostly roasted garlic because of the roasted sweetness, but also, I like to throw in just a couple of un-roasted for another layer of flavor too... whatever works for you