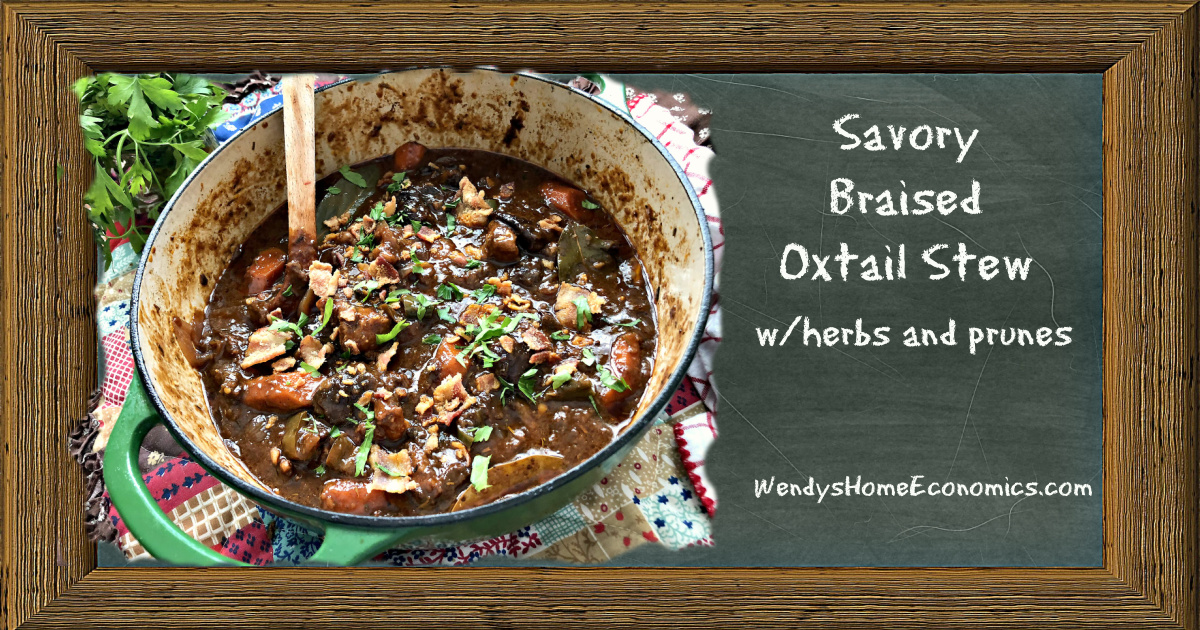 Published in Carolina Country Magazine December 2020
Oxtails!?  What is that?  So many are unfamiliar with this cut of meat and shy away from purchasing and cooking… self included until recently.  I think in the recesses of my mind I remember eons ago doing something with oxtail… but I decided it was high time I just buy some and figure it out.
So what exactly are oxtails?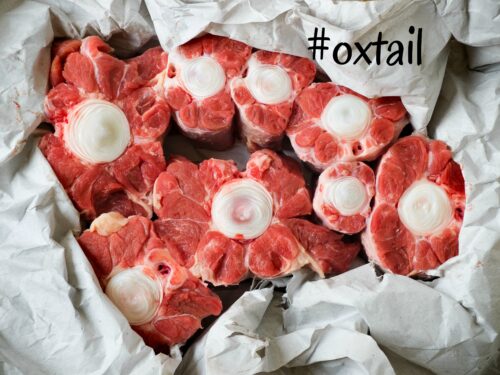 Nope, we don't see oxen roaming pastures these days now do we?  So why are their tails in our grocery meat coolers?
Basically, what we see is simply the tail of a cow.  Long ago, it actually was oxtail, but the name has carried over to cows.  So the tail of the cow, just as with pretty much every other part of the cow we eat, is also pretty tasty!  The tail, usually about 8-10 pounds, is skinned, then cut into pieces.  For those seeking out gelatinous cuts of meat for healthy eating reasons, here you go!  And because of the nature of the beast and bone, it takes well to slow cooking like this braised recipe I concocted.
Used to be that because it is boney and fatty, it was cheap and considered a discard of the animal for poor folks. Yet over time, gourmands have discovered this flavorful part of the bovine and has caused the price of it to rise.  I usually find it for around $7.99+/lb., which is pretty expensive considering the volume of bone and fat. But hey, we know meat near bones IS more flavorful and fat keeps it nice and moist.
This cut isn't for everybody, but if you've never cooked oxtail and appreciate some fat and don't mind a little bone, give this a try.  Much of the fat cooks out into the rich and creamy sauce. If you just can't bring yourself to do oxtail… you can substitute another cut of beef that is suited for slow cooking and braising… a few suggestions would be chuck, shank, stew beef… and this recipe is perfect for short ribs!  Look for inexpensive cuts… those typically tend to be your best bets for stews and braises.
One last thing… the prune. Such an underappreciated fruit.  After all… prunes are nothing but dried plums!  You like plums, eh?  Some packagers started calling them "dried plums" years back… a marketing ploy since, for whatever reason, prunes got a bum rap and bad "reputation" in the culinary world.  They figured out, probably from some expensive market testing, that folks will buy dried plums, but not prunes!  They get lost in stews like this one… while giving the gravy a delectable richness and sweetness you won't get from anything else.  They also help thicken the sauce… 
As for how to serve… well my favorite way is over creamy grits.  Like my Creamy Rosemary Parmesan Grits!  
But this stew will do just fine spooned over mashed taters, even mashed sweet potatoes.  Or alongside risotto or orzo.  
Whatever suits YOUR fancy.  
At first glance, you might be intimidated by the recipe. Don't be.  I promise the short amount of time it takes to pull it all together for a few slow cook'n hours will be worth the reward on the back end.  And be sure to pick up some nice crusty bread because this one has "Sop Me" written all over it.
PS… don't forget dessert!  I fixed this Salted Butterscotch Crème Brûlée a day before to finish off this decadent yet peasant style meal.
Happy tail soppin y'all!  Do come on over and share your oxtail memories and experiences in my FB community!  
This recipe created for and published in Carolina Country Magazine December 2020.
Food propping/styling and photography © (copyrighted) by Wendy Perry.
Carolina Country Magazine Contributing Recipes Editor
Disclosure:  I only use and recommend products here I use myself. I may receive a small commission from affiliate links on this or other posts on this web site at no additional costs to you.
CLICK HERE TO SUBSCRIBE TO MY TABLE SCRAPS E-ZINE NEWSLETTER!
Find me on social media:
Wendy's HOME Economics! Page on FB    @culinaryadventuristwendy on IG
Aunt Dee Dee's Kitchen Page on FB            @auntdeedeeskitchen on IG
Credentials @ LinkedIn
Be sure to visit my online stores:
Aunt Dee Dee's Kitchen for my seasonings, dried goods, pickles, jams, preserves, kitchen linens and more! Lots of new goodies in 2022.
And for the best budget-friendly MADE IN THE USA by folks like you and me, my Rada Knives and Kitchen Tools online store.
THESE LINKS CAN ALSO BE FOUND ON SIDE MENU OF MY BLOG HOME PAGE.
Savory Braised Oxtail Stew with Herbs and Prunes
Chilly winter days make us want to throw something hearty and comforting in a big ol' pot and let it slowly simmer for hours, filling the house with the enticing smell of what's to come. This stew is a bit spicy, subtly sweetened by the prunes, with many layers of flavor.
Ingredients
3-4

lbs.

oxtail

1

cup

flour, seasoned with salt and pepper

several

tablespoons

oil

6

slices

bacon

2

large

red onions, thinly sliced

3

large

carrots, peeled and cut into 1/4" pieces

2

large

jalapeno peppers with seeds, chopped

about a dozen

cloves

fresh garlic, roughly chopped

3

tablespoons

Worcestershire sauce

1

cup

dry sherry (or more broth as sub)

1

lb. box

pitted prunes

3

bay leaves

1

tablespoon

dried rosemary

1

tablespoon

dried thyme

1

teaspoon

cinnamon

1

teaspoon

cumin

4

cups

beef broth

fresh parsley
Instructions
Dredge oxtail in flour and let stand about 15 minutes. Add oil to heavy skillet to about ¼-inch. Lightly brown oxtail over medium heat about 3 minutes on each side, making sure not to crowd while frying. Set aside.

Dredge bacon in flour and fry in drippings; crumble and set aside.

Sauté onions, carrots, jalapeños and garlic for about 5 minutes, stirring occasionally. Deglaze with Worcestershire and sherry.

Add remaining ingredients (except parsley) and bring to a boil. Reduce to low, cover and simmer about 2 hours or until tender, stirring occasionally.

Garnish with crumbled bacon and parsley.