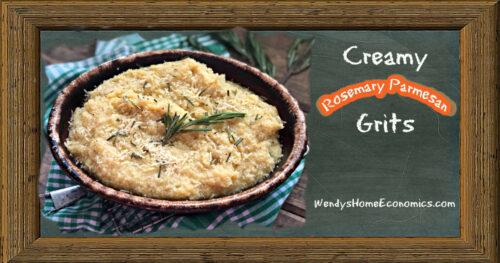 Oh grits, how I love thee.
There are few things more southern than the grit.  We know how to cook 'em every which way… dressed up, dressed down, and mostly just enjoyed nice and tender with lots of salt, black pepper and holding a puddle of butter!
When I launched my newest business last year, I knew grits (and country ham!) would be the starting point for my first fun themed gift box.

Side note: While I have your attention, I just must make sure you know all about that… Aunt Dee Dee's Kitchen!  Boxes have been shipped hither and yon and it's so fun getting pictures and messages from recipients, and also, from those who sent them.  So do be sure to take a few minutes to visit my online store (and also now appearing in some retail stores from central NC to our coast). And come on over and like my ADDK facebook community too.  Don't miss my "…just add eggs!" breakfast box and the other boxes, and bags too!

OK… back on topic!
When I was creating the Savory Braised Oxtail Stew with Herbs and Prunes, I was pondering what to ladle the saucy dish with all that rich gravy over top of… and of course, grits was the first thing to pop into my mind.  Mashed potatoes would be good, but I decided something with a little more texture was needed… bingo ~ grits!
So while your oxtail stew is stew'n, cook yourself some creamy grits… till all nice and tender.  Your taste buds, and those you're feeding, will thank you.
See you soon over on my FB page I hope…
And oh… don't miss out on the dessert to pair with this meal… Salted Butterscotch Crème Brûlée!

This recipe created for and published in Carolina Country Magazine December 2020
Food propping/styling and photography © (copyrighted) by Wendy Perry.
Carolina Country Magazine Contributing Recipes Editor

Disclosure:  I only use and recommend products here I use myself. I may receive a small commission from affiliate links on this or other posts on this web site at no additional costs to you.
CLICK HERE TO SUBSCRIBE TO MY TABLE SCRAPS E-ZINE NEWSLETTER!

Find me on social media:
Wendy's HOME Economics! Page on FB    @culinaryadventuristwendy on IG
Aunt Dee Dee's Kitchen Page on FB            @auntdeedeeskitchen on IG
Credentials @ LinkedIn

Be sure to visit my online stores:
Aunt Dee Dee's Kitchen for my unique seasonings, dried goods, pickles, jams, preserves, kitchen linens and more! New goodies arriving in 2023.
And for the best budget-friendly MADE IN THE USA by folks like you and me, my Rada Knives and Kitchen Tools online store.
And my Watkins 1868 Store. Did your mama and grandma buy from "the Watkins Man?" The best vanilla…
THESE LINKS CAN ALSO BE FOUND ON SIDE MENU OF MY BLOG HOME PAGE.
Creamy Rosemary Parmesan Grits
Many long-lived mills here in North Carolina still stone grind the best grits. Slow cooked creamy grits pair well with so many dishes (and stand alone quite nicely, too). Seasoned with fresh rosemary and salty parmesan, enjoy them alongside our Savory Oxtail Stew.
Ingredients
1

cup

stone ground grits

4ish

cups

chicken broth

6

tablespoons

butter

1-2

tablespoons

chopped rosemary

1

heaping tablespoon

white pepper

2

teaspoons

salt

1

cup

grated parmesan cheese

1

cup

cream or half-and-half, optional
Instructions
Bring grits and broth to a boil. Add butter, rosemary, pepper and salt. Reduce to a slow simmer, cover and continue to cook about 25 minutes, stirring occasionally, until grits are tender. If they get too thick, add a little more broth or water.

To finish, stir in salt to taste, plus Parmesan.

For extra creaminess, blend in half-and-half or cream.

Garnish with a bit of grated cheese and rosemary.

Best if served immediately.
Notes
Helpful hint: If you have leftover grits, spread in a shallow dish and chill. Slice, dip in egg and breadcrumbs, and fry until crispy in oil or butter.