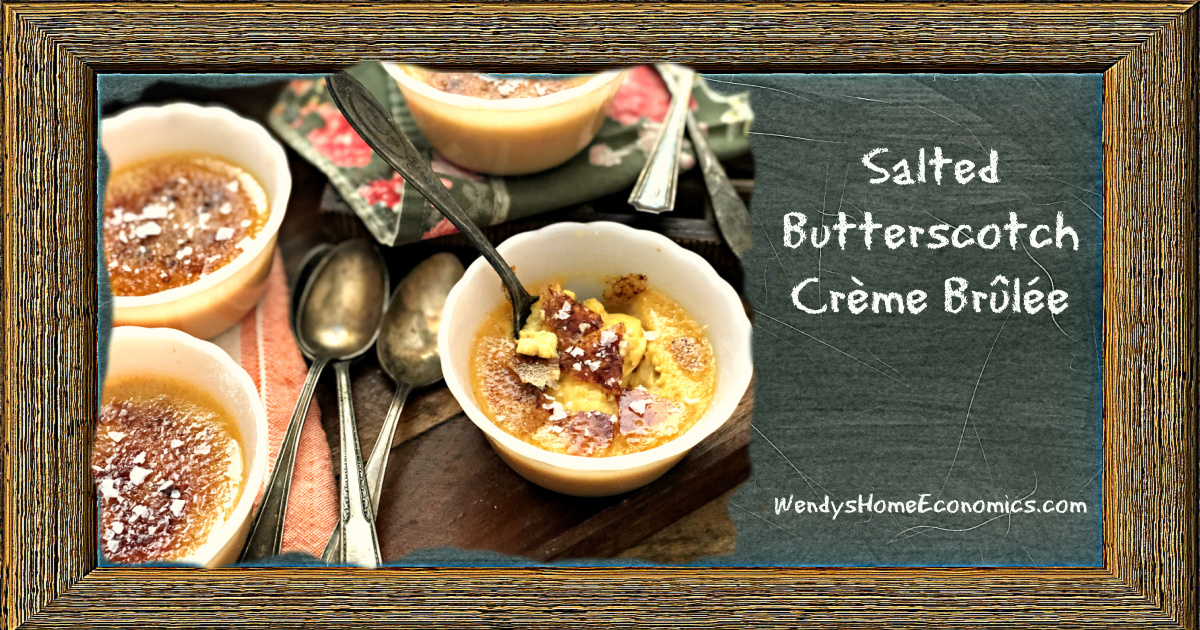 Without doubt, Crème Brûlée is my.favorite.dessert.  Oh, I have other favorites… like pig pick'n cake… just about any pie, and old fashioned warm-from-the-oven banana pudding, but Crème Brûlée gets top billing on my dessert list.  I can't eat a lot of sweet stuff… but it's a rare circumstance I forego it when I see on a menu where I'm eating.  Ordered with spoons for all at the table to share… because sometimes, one dab'll do me!
I've had this idea in my head for a while, and thought when putting together my December recipes, this would be "the" dessert to pair with my  Savory Braised Oxtail Stew with Herbs and Prunes and Creamy Rosemary Parmesan Grits.
Just the name alone may cause some to tremble in culinary fear!  But in reality, brûlées are rather simple to make and are only custards of one name or the other.  And butterscotch?  Oh my.  Browning sugar and butter in cream… bestill me heart!  Balancing out with a bit of flakey salt that crunches right in with the brûlée is all the finishing touch needed for this creamy yumminess.  
So #BrûléeToday y'all!
And all the better when you get lucky and realize your sister still has your mama's decades old custard cups to make them in…
And be sure to come on over to my FB home too… let's chatabboutit!
This recipe created for and published in Carolina Country Magazine December 2020
Food propping/styling and photography © (copyrighted) by Wendy Perry.
Carolina Country Magazine Contributing Recipes Editor
Disclosure:  I only use and recommend products here I use myself. I may receive a small commission from affiliate links on this or other posts on this web site at no additional costs to you.
CLICK HERE TO SUBSCRIBE TO MY TABLE SCRAPS E-ZINE NEWSLETTER!
Find me on social media:
Wendy's HOME Economics! Page on FB    @culinaryadventuristwendy on IG
Aunt Dee Dee's Kitchen Page on FB            @auntdeedeeskitchen on IG
Credentials @ LinkedIn
Be sure to visit my online stores:
Aunt Dee Dee's Kitchen for my unique seasonings, dried goods, pickles, jams, preserves, kitchen linens and more! New goodies arriving in 2023.
And for the best budget-friendly MADE IN THE USA by folks like you and me, my Rada Knives and Kitchen Tools online store.
And my Watkins 1868 Store. Did your mama and grandma buy from "the Watkins Man?" The best vanilla…
THESE LINKS CAN ALSO BE FOUND ON SIDE MENU OF MY BLOG HOME PAGE.
Salted Butterscotch Crème Brûlée
Turning sugar, butter and cream into this browned, decadent custard is only made better by devouring it fireside in the dead of winter. Can be made up to four days ahead. Salted Butterscotch Crème Brûlée all around please!
Ingredients
1

large can

evaporated milk

12

ounces

heavy cream or half-and-half

½

cup

brown sugar

3

tablespoons

butter

7

large

egg yolks, whisked

2

teaspoons

vanilla extract

1

cup

granulated sugar

flaky salt
Instructions
In a heavy pot, bring milk, cream, sugar and butter to a boil. Reduce to medium heat. Watch closely, whisking often as it cooks. When lightly browned (about 15 minutes), remove from heat and let cool a bit. 

Whisk yolks and vanilla together in a bowl. Slowly drizzle into cooled butterscotch mixture while whisking rapidly to temper and prevent "cooking" the egg.

Preheat oven to 325 degrees. Place 8 custard cups into a large roasting pan(s). Ladle custard into cups, filling about ⅔ full. Fill roasting pan with hot tap water halfway up sides of the cups. Bake about 25 minutes until slightly "jiggly." 

Carefully remove cups onto a cooling rack, then put into refrigerator, covered until well chilled (at least 4 hours or overnight).

Before serving, scatter 2–3 tablespoons of sugar over each custard. Using torch, or under preheated oven broiler, heat until golden brown, watching closely to avoid burning the sugar. Let sit (or chill) at least 30 minutes for sugar to harden. 

Sprinkle with flaky salt and serve cold.