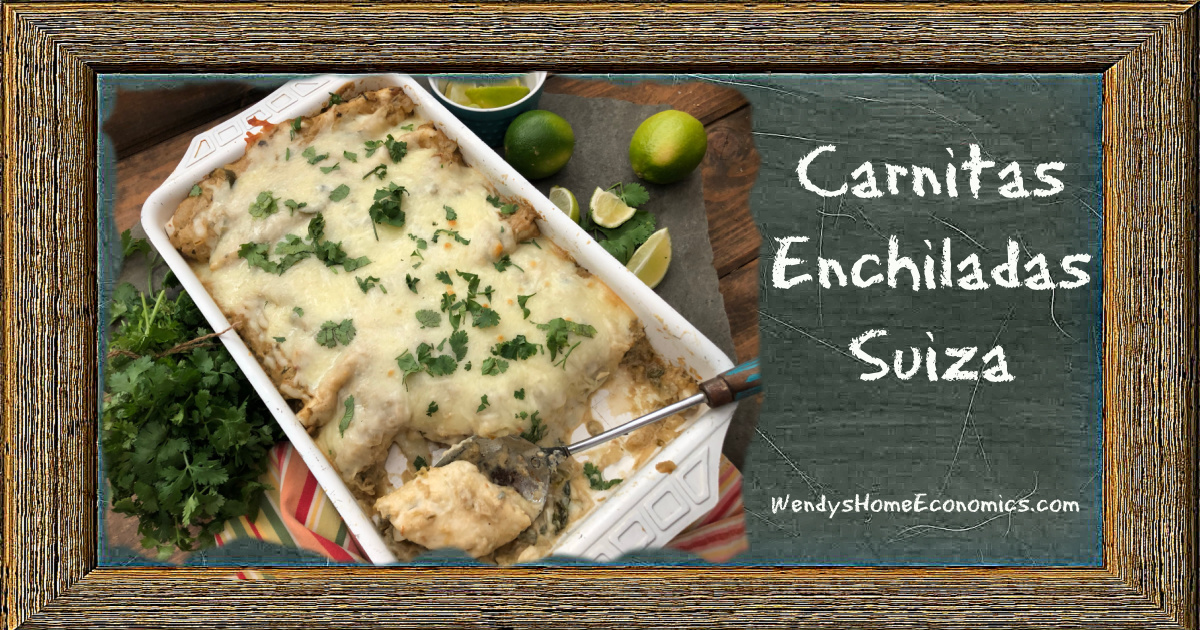 Published in Carolina Country Magazine February 2021.
When you need a good "stick to the ribs" comforting recipe, give these Carnitas Enchiladas Suiza a try!  
Not sure what "carnita" means? Is that just pulled pork?
Kinda sorta.  Carnita means "little meat." Pulled pork as well as carnitas are cooked slow… for several hours (crock pots or instant pots are ideal). To make carnitas, once the pork is done, shred with forks, then roast in hot oven until the meat gets crispy.  Some will cook in hot lard to get the crispy texture. I usually do that in my toaster oven, on the "toast" setting.  I cook the pork, then cool and bag to freeze. Then, when I want to make a batch of these enchiladas, I just take some out, and "toast" the meat at prep time. Toasting will crisp up the meat faster and give you the crispy outcome you want.  Great to do in air fryers too.

So what does "suiza" mean?  Swiss!
These enchiladas are cheesy and creamy like so many Swiss recipes.  
And how do pronounce it?  Just click right here.
Or another way to say it… damn good!  I used to make these years ago for personal chef clients because most found them to be kid-friendly for their picky eaters.  Cheese usually helps with them.
For smaller households, just make a batch and freeze for several meals.  You can make and package and bake off when ready to eat, or you can go ahead and bake, then package.  If you do that, you may want to add just a little milk, half-and-half or cream at heating time to moisten them up a bit.
If you don't have time or think ahead to prepare pork, don't be afraid to substitute… you can use chicken… some you cook or even pulled from a store-bought rotisserie chicken, or do as one Carolina Country reader did… she used BBQ she had on hand. I love that idea… using what you have.  
So enjoy… and come on over and join my FB community and find me on IG @culinaryadventuristwendy 
Don't miss my new online store too… Aunt Dee Dee's Kitchen!
And you can now get great Watkins 1868 tried and true products from my store there too.  
Chicken Enchiladas Suiza
This one needs a bit of planning ahead to cook the pork, but using one large butt yields lots of meat to freeze to make several batches of these easy, creamy Carnitas Enchiladas Suiza. Olé!
Ingredients
4-5

pound

pork butt

cooking oil

4-5

cloves

garlic, minced

2

medium

sweet onions, chopped

1-2

jalapenos, seeded

1

cup

chopped cilantro, divided

1 ½

teaspoons

cumin

1

teaspoon

salt

2

16 ounce jars

salsa verde

2

7 ounce containers

Mexican crema or sour cream

zest and juice of 1 lime

10

flour or corn tortillas

4

cup

shredded Oaxaca cheese or mozzarella
Instructions
Roast pork butt ahead of time in crockpot until fork tender. Remove and shred when done. Season with salt and pepper. This recipe needs about 1½ pounds cooked pork. Save the rest for future use.

For carnitas, put shredded pork on baking pan and roast at 450 degrees, tossing about, until crispy, about 20 minutes. (I do this in a toaster oven using the toast feature.)

Lightly coat large skillet with oil and heat over medium-high heat. Sauté garlic, onions and jalapeño about 5 minutes until tender and lightly browned. Stir in half the cilantro, cumin, salt, salsa verde and cream. Heat 2–3 minutes. Remove from heat and add zest and juice. Stir enough into pork to moisten.

Spray 13 x 9-inch baking dish. Divide pork in the tortillas, top with a little shredded cheese, roll up and place seam side down. Pour remaining sauce over and scatter with remaining cheese.

Bake at 400 for about 20–25 minutes until bubbly. Sprinkle with remaining cilantro and serve hot.