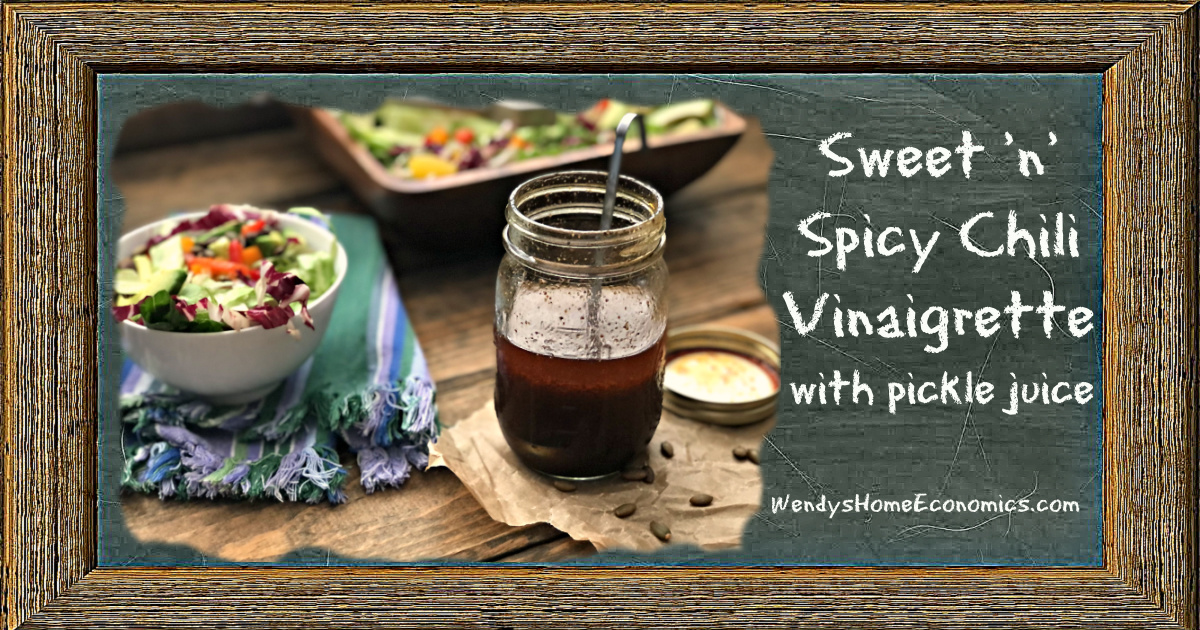 Published in Carolina Country Magazine February 2021
I love making vinaigrettes.  Mostly because they are fresh, free of all those things I can't pronounce in bottled dressings, I can make a little at the time and have all it takes to make it in my pantry!  Folks should do this more… they are also budget friendly and you can easily tweak from your spice cabinet picks.  And you can use any sorts of oil, vinegars and even my favorite, pickle juice!  Because you do keep that don't you?  As mentioned before, it's just a terrible thing to pour out pickle juice.  
In the summertime, cut fresh cukes, tomatoes, onions, thinly sliced squash, radishes… just about any garden veggie, into a jar of pickle juice. You'll have the best refrigerator pickles ever, fresh and made in a snap.
I made this to simply dress a simple green salad to enjoy alongside my Carnitas Enchiladas Suiza. It can also be used to marinate meat before grilling too.  Multi-FUNctional recipes… now that's my kind of throw cooking.
So grab a jar out of the cabinet and make some.  Then come on over to my facebook community and show us what you did with this dressing. 
I invite you to visit my online shops too… Aunt Dee Dee's Kitchen, and my Watkins 1898 store too. 
Sweet 'n' Spicy Chili Vinaigrette with pickle juice
Drizzle this dressing over a simple salad along with my Carnitas Enchiladas Suiza or put it to work in a shredded cabbage slaw. Need a quick marinade for chicken or shrimp? This is your go-to! Keeps in the fridge for about a month.
Servings:
-1
makes about 1 1/4 cups
Ingredients
2

tablespoons

hot sauce (such as Texas Pete)

1

tablespoon

brown sugar

2

teaspoons

chili powder

1

teaspoon

granulated onion

1

teaspoon

cumin

salt and pepper

⅔

cup

grapeseed or light oil
Instructions
Put all ingredients into a jar, cover and shake. Best if at room temperature when serving.