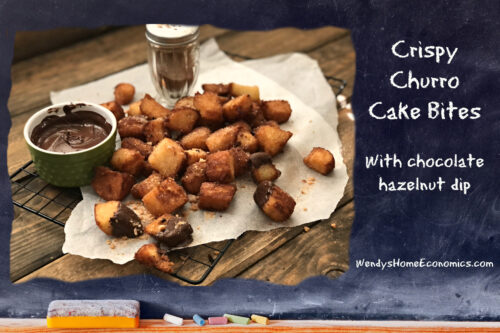 Published in Carolina Country Magazine February 2021
Not being a big sweets eater, it's sometimes challenging for me to come up with something I think those who are will love. My goal here was to create a dessert to complement and round out a Mexican/Southwestern menu… these tasty Carnitas Enchiladas Suiza and this zippy Sweet n'Spicy Chili Vinaigrette with pickle juice salad dressing. Churros came to mind.  So I said to myself, "self, how in the world can you do-over churros so they're not like every other one out there?" 
So what are churros?  
fried dough…. cinnamon… sugar… and typically enjoyed with hot chocolate of Spanish/Portuguese origin.
I happened to have a sponge cake on hand at the time… months ago, and can't even remember why now.  It was just sitting there screaming "do something with ME."  So I thought about tearing it into pieces and doing some sort of cinnamon bread pudding thing, and pondered that for a bit.  But since I just love crispy crunchy stuff… I thought… "what would happen if I fried that cake?"
And I just went from that…  
This is what came to be.

Crispy, almost chewy "crust" on the outside yet tender inside… dusted with caramel candy and cinnamon sugar… and of course… something chocolate to dip those little nuggets in!
I declare this is good stuff.  Please do make some for those you love.  And come tell me all about it. I'd love pictures of your enjoyment.  
Crispy Churro Cake Bites With chocolate hazelnut dip
Look no further for a fun, finger food dessert to put smiles on faces! Keep cake pieces on hand in a freezer bag to fry in a flash for when you need "just a bite of something sweet."
Ingredients
½

cup

sugar

1

tablespoon

cinnamon

1

5.5 oz. bag

hard caramel candies

6

ounces

semisweet chocolate morsels

several

heaping tablespoons

hazelnut spread (such as Nutella®)

1

angel food cake (store bought)

3-4

cups

cooking oil (We liked the flavor from coconut oil.)
Instructions
Combine sugar and cinnamon.

Grind caramel candies in food processor until "dust."

Heat and stir chocolate in microwave at 30-second intervals until melted, about 1½ minutes.

Stir spread into warm chocolate.

Cut cake into bite-sized cubes.

Heat oil on medium high in 1-quart pot. Once hot, fry several cubes at the time, stirring constantly with slotted spoon until lightly browned (less than a minute per batch). Drain on paper towels.

While warm, sprinkle cake bites with cinnamon-sugar and caramel candy dust. Serve with a bowl of hazelnut chocolate "dip!"

Store any extra chocolate dip in the refrigerator and reheat at 30-second intervals to soften.