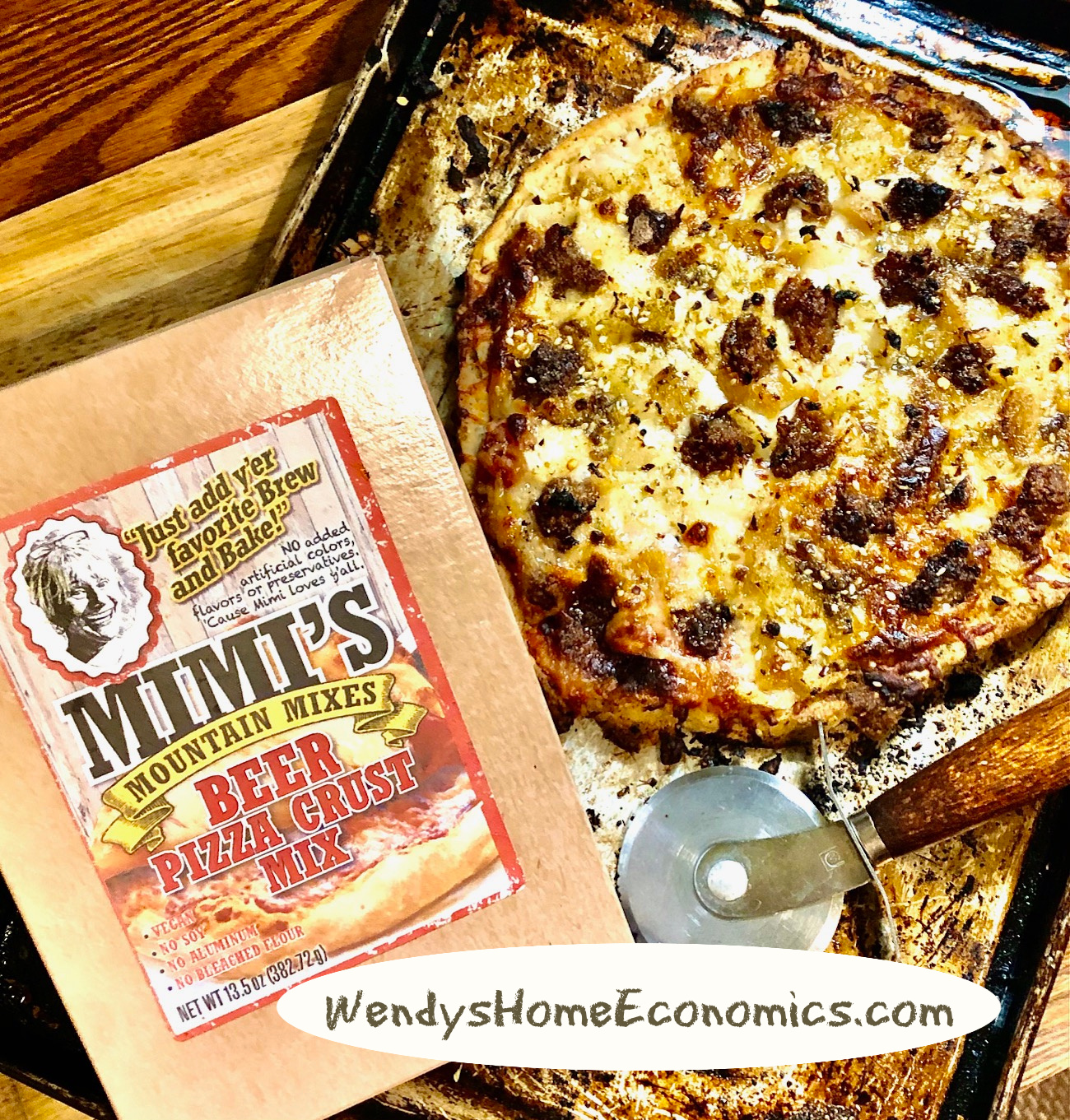 Those of you who have been around here for a while know I'm not of the baking persuasion.  I much prefer just throwing stuff together for an outcome that doesn't require measurements. It's a challenge for me to write recipes as I do for products, companies and publications. I love doing that… and sometimes even create baked goods… surprising and impressing myself.
But since I know Lin at Mimi's Mountain Mixes, #IcanBAKE! With confidence!!
Mimi's mixes are perfect for folks like me… that are intimidated by flour… knead…. rise… etc.  For all her mixes, about the only thing required is to open the box, and pour in some beer… or if preferred, carbonated water.  It's all about the fizz. 
I now offer Mimi's products in my Aunt Dee Dee's Kitchen store (most not on there yet but if local you can come by and pick up… till I finish recouping from a mini kitchen makeover and get site updated).  You can also get them at my friends' place at the Crystal Coast.  Be sure to drop by and see Mary and Jeff at The Market at Cedar Point.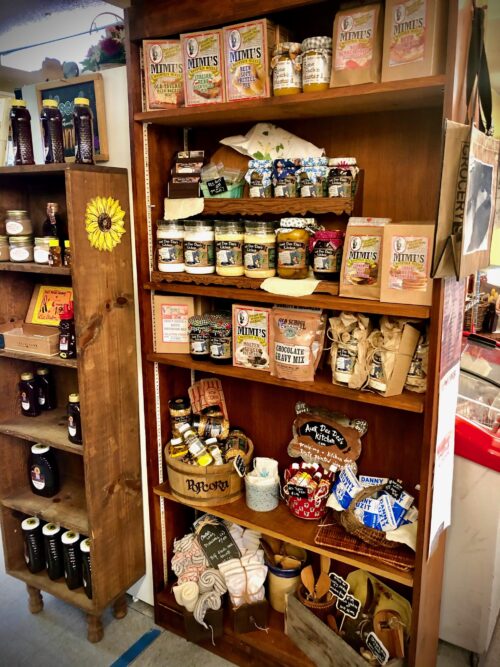 You'll find most all of Mimi's products and mine there too!  And I will be putting in a couple of local (to me) places in the coming weeks… and you can order from Mimi's site too!
Mimi's has the best Tavern (gluten free too) and Italian Tavern Bread… Pretzels… Chocolate Molten Cake (in Aunt Dee Dee's Black Forest Gift Bag with Cherry Preserves) and Ooey Gooey Chocolate (gluten free) Brownie Mix (da bomb y'all!)… and lots of other goodies too. 
So craving pizza tonight, I finally opened a box of Mimi's pizza crust mix.  I shall conquer this. I shall make pizza dough!  And I DID!
Open Box. Warm 3/4 cup beer in micro. Add to mix with 1 tablespoon oil. Knead a little.
Flatten. Put on greased baking pan.  Bake at 450 for 5 mins, top, then 15 mins.*
Note… I was so excited how easy this was I forgot the "bake for 5 mins part" and it was still a nice thin crispy crust!
And I even halved the ball of dough after kneading, and only baked half… so I can make another pizza this week!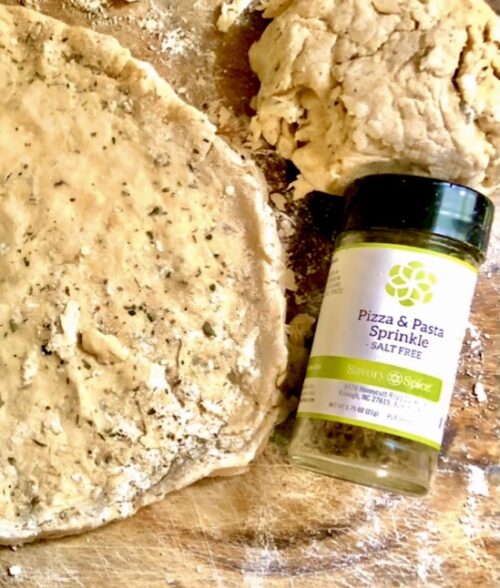 And…. now that my kitchen is all done over and so organized I can't stand it… I easily grabbed a couple of Savory Spice Shop goodies to enhance my pizza (totally optional).  I shook some of the Salt Free Pizza and Pasta Sprinkle over the dough and incorporated that into it… (major yum factor).  There are Savorys all over the country… so find one near you if you can. But if not, you can order online!  
For toppings…
So I had 1/2 pound hot Bass Farm Sausage (an NC institution just down the road) and some sandwich ham slices, so I pinched the sausage  into little bitty pieces (like I do my "Wendy's Spaghetti Sauce… finally on "paper!"), tore up the ham and threw into my toaster oven for about 10 minutes to cook while I was making the dough.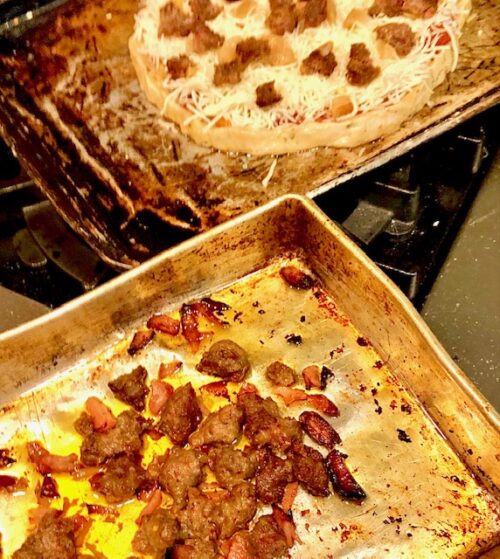 I pressed and pressed and pressed the dough (because I'm a thin crust pizza gal) until it was thin as could be, and pinched up a little "rim" around the edge to keep the sauce from running off.  Before I sauced it, I brushed it with some garlic oil (see how to easily roast at spaghetti link above).  
Well I didn't have any sauce in the pantry… so I grabbed a jar of peach salsa and used that!  It was perfect… that little hint of sweet with the red pepper in my sausage.  I spread some of that over the crust (that I forgot to precook), then piled on grated Italian blend cheese.  Then I scattered on the ham/sausage mix and some diced onion.  I threw that baby in the hot oven and set timer for 10 minutes… and it was perfect!  The directions say (after the first 5 I forgot to do), to cook 15 minutes… that probably would be so if it I hadn't spread my dough so thin.
I may never buy pizza again!  Homemade pizza… and a 2nd crust to boot for another day.  The great thing about making your own… first, you save a ton of money. Second, you just tip yourself, not delivery peep.  Third, if not delivered, you don't have to get dressed to go get it.  And lastly, you can put what each person wants on their section of the pizza.  Or you can make 2 at the time by splitting the dough… eat one while it's hot and while the 2nd one is baking to come out all hot when you're done with the first and ready for another chunk!
Be sure to multi-task while in the kitchen. Do like I did…. when cooking other things, cook a pound or two of sausage or ground beef or whatever you like on your pizzas, cool, then freeze so when you want to mix up one of Mimi's pizza crusts, your meat is cooked, and you can just scatter some of the cooked frozen meat "crumbles" onto it… and it will get nice and thawed and cooked while the pizza cooks.  And making your own is a great time to use up those partial pieces of bags of cheese that seem to accumulate too!  They drive me nuts… 
So let me know if you need pizza crust mix!  Or if around Cedar Point/EI/Swansboro/AB area, go by and get some at The Market at Cedar Point and tell Mary and Jeff I sent you…. and be sure to like their facebook page and IG, Mimi's facebook page and IG… and mine too!  Here, and here!
I sure would appreciate you sharing this post and my newsletter with friends!  And thanks for shopping at Aunt Dee Dee's Kitchen.  
Happy Pizza Making… and please teach a child to cook… starting with PIZZA!  You , and they, will make memories to last forever, and they will grow up and know how to feed themselves with real homemade food.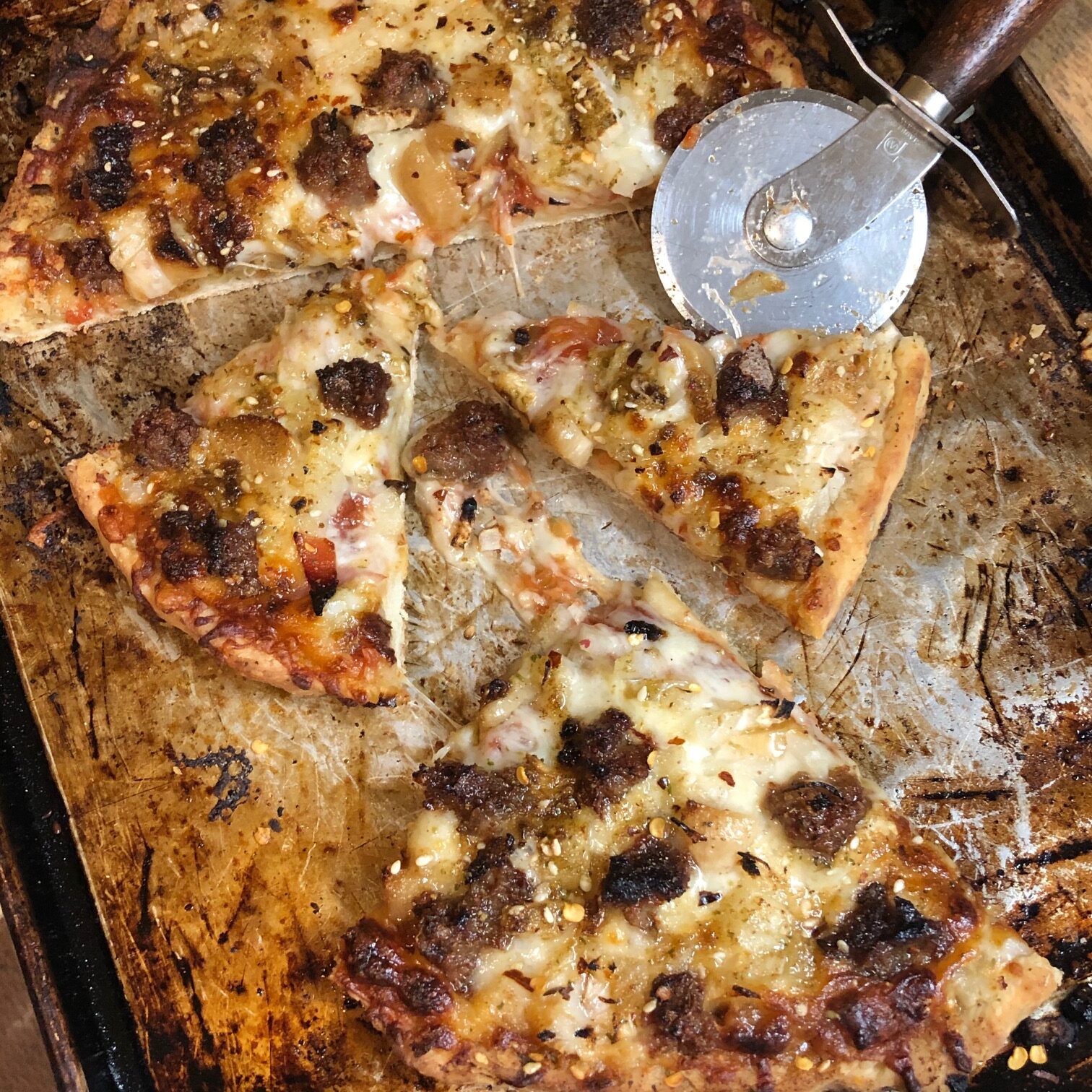 (Disclaimer… these are not the best pictures!  The lighting in my kitchen at night just sucks.  But didn't want to miss the moment to share this with y'all.)
Mimi's Mountain Mixes is a Member of NC Specialty Foods Association!