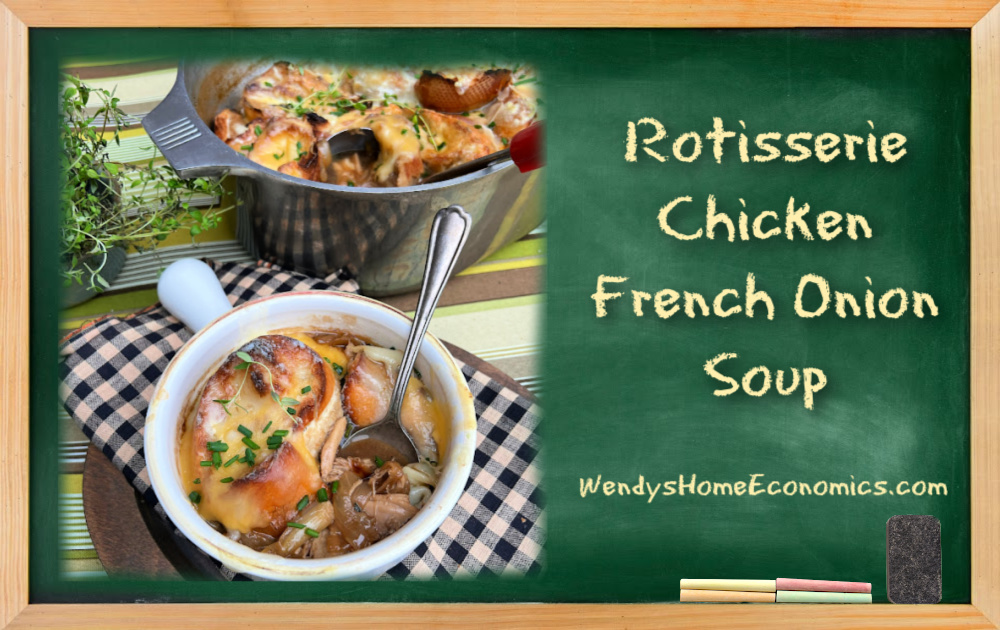 I love French Onion Soup!  I also love creating new ways to use a rotisserie chicken… and recipes that can't be found "out there" in the world.  That's pretty hard to do most times. But when this idea jumped in my head during the middle of the night months ago, I grabbed my phone from my bed table and started searching… and just couldn't find such!
I couldn't wait to run get a chicken and work on this one.  As is often the case, my first run was pretty darn tasty and needed virtually no tweaking.  All my guinea pigs really liked this one… and the ultimate compliment came from my 18yo nephew Wyatt… who rarely lets a carb pass his lips and "doesn't like onions" told me just a few days ago… "Dee Dee… that onion soup you made and left at the house was SO GOOD!"
"But wait… you don't like onions?"  
"Well I kinda do now. And I LOVE that soup.  Make some more!" 
So with that startling "blessing" I feel like I reached some sort of soup pinnacle… since he loved the onions AND the bread… even a couple of days later when the bread had slurped up all the broth of the soup and was a gloppy blob.  He said he even liked it that way!  
We talked about an onion soup memory while chatting about this soup…. 
many years ago, we had gone to some movie… and eat $428 in snacks at the movie!  Neither one of us was hungry afterwards but wanted "a little something."  So we stopped in a nearby ale house where I got a bowl of French Onion Soup and he got a mini pizza.  I slid my soup across the table for him to try.  
He said "Dee Dee, I don't like onion soup."
I said "but you've never TRIED onion soup."
You see… he couldn't just get away with saying he didn't like something… you can't do that if you've never even TRIED it!
So he tried it.  Bless his little heart. THEN he said, "Dee Dee, I know I have a refined palate, but I don't like it."
To which I said…"fair enough, at least you tried it."
He would tell you when he was 4 or 5 about his"refined palate."  Because he didn't have to like everything but he couldn't say he didn't until he tried it.  So many times he would try something and actually like… even love it!  I always told him he needed to learn to eat all sorts of things… because what would he do when grown up and eating at the table of a girlfriend… he can't say "I don't eat that!" at her mother's table!  
There are too many "picky eater" children these days, a generation who, for a variety of reasons, will only eat a chicken nugget or macaroni and cheese!
That's ridiculous!
If children aren't exposed to many foods at an early age, parents are doing them a disservice for life.  You can't possibly not like something if its never tried!  
My daddy was an adventurous eater and I learned this from him, and am SO grateful.
I'm so glad I've helped my nephew grow up experiencing so many different foods (ask him about the chicken feet on our San Fran trip!). No, he doesn't like them all. I don't like all things either, but I've tried a lot of things many would turn their noses up at.  
A "refined palate" doesn't mean a snooty elitist one… just one that has experienced much and refined into a broad spectrum of foods they enjoy… just some more than others.  My mama didn't cook me something different for supper growing up and too many parents have done that… because it's just "easier" than teaching children to eat outside a box… literally!  I ate what she cooked… or had a boiled ham sandwich on nights she'd cook salmon cakes!  LOL She certainly did NOT cook me something different I'd eat. She barely cooked at all.  And  I wasn't fond of going to bed hungry…  (this is why I cook… because I wanted to eat good food)
Picky eaters, for the most part, are created.  Please don't create picky eaters!  Even if you are one… encourage your offspring to experience new things. None of us likes everything… and it's ok not to… but the world offers us so many great foods… try something new each trip to the grocery store… try together with your family and make something fun of it…  you just might be surprised what you've been missing.
When enjoying this soup… a nice side dish is my Winter Broccoli & Dried Cherry Salad… dressed with Balsamic Dijon.  A few light and crispy glazed doughnuts are pretty good for dessert too.
---
This recipe created for and published in Carolina Country Magazine January 2023 © (copyrighted) 
Propping/styling and photography  by
Wendy Perry Carolina Country Magazine Contributing Recipes Editor
Credentials @ LinkedIn
Disclosure:  I only recommend products here I use myself. I may receive a small commission from affiliate links on this or other posts on this web site at no additional costs to you.
CLICK HERE TO SUBSCRIBE TO MY TABLE SCRAPS NEWSLETTER!
Find me on social media:
Wendy's HOME EConomics! Page on FB    @culinaryadventuristwendy on IG
Aunt Dee Dee's Kitchen Page on FB      
@auntdeedeeskitchen on IG
Be sure to visit (and share) my online stores:
Aunt Dee Dee's Kitchen my unique seasonings, kitchen doodads & more!
Rada Knives and Kitchen Tools  USA made budget-friendly cutlery (great for gifting)
Watkins 1868 Store. Did your mama and grandma buy from "the Watkins Man?" The best vanilla…

LINKS CAN ALSO BE FOUND ON SIDE MENU OF BLOG HOME PAGE.
Rotisserie Chicken French Onion Soup
Few things are as delicious as a bowl of flavorful French Onion Soup… topped with the cheesiest toasted bread. I thought the world needs a new variation… and hope you will make this rotisserie chicken version… perfect for when you'll be nestled at home on a cold day this winter.
Ingredients
1

rotisserie chicken

skinned/deboned and chopped

4

cups

chicken broth *

4

cups

beef broth

I prefer making with Better Than Bouillon paste

8

tablespoons

butter

6

large yellow onions

peeled and thinly sliced

1-2

tablespoons

sugar

¾

cup

marsala wine

optional**

several sprigs fresh thyme

plus a bit for garnish

several bay leaves

2

tablespoons

Worcestershire sauce

2

tablespoons

tamari or soy sauce

2

teaspoons

black pepper

1

teaspoon

white pepper

8

thick slices baguette or French bread

about 2 cups cheese

Swiss, Gruyere, Gouda or similar
Instructions
Prepare broth.*

Heat butter in a large stock pot over medium heat. Add onions and cook uncovered for 50-60 minutes, stirring often, until lightly browned. Add sugar during the final 10 minutes and stir to caramelize the onions. Add marsala to deglaze the pot and evaporate the alcohol.

Add broth, chicken and remaining ingredients except bread. Bring to a boil, then reduce to a simmer for 20-30 minutes. Taste for salt. Depending on the broth used and sauces, you may prefer not to add any salt.

Toast bread. At serving time, place on top of soup, scatter with cheese and pop under broiler to melt. Best if enjoyed immediately.
Notes
Marsala Substitute: ½ cup white grape juice, ¼ cup sherry vinegar and 2 teaspoons vanilla
SIDEBAR:
*Use rotisserie chicken bones and skin to make flavorful broth. Just throw into crockpot on low overnight and add about 3 quarts water. Add vegetable scraps like onion skins, celery top, and herbs for more flavors. Drain and use stock for this soup or freeze for others.