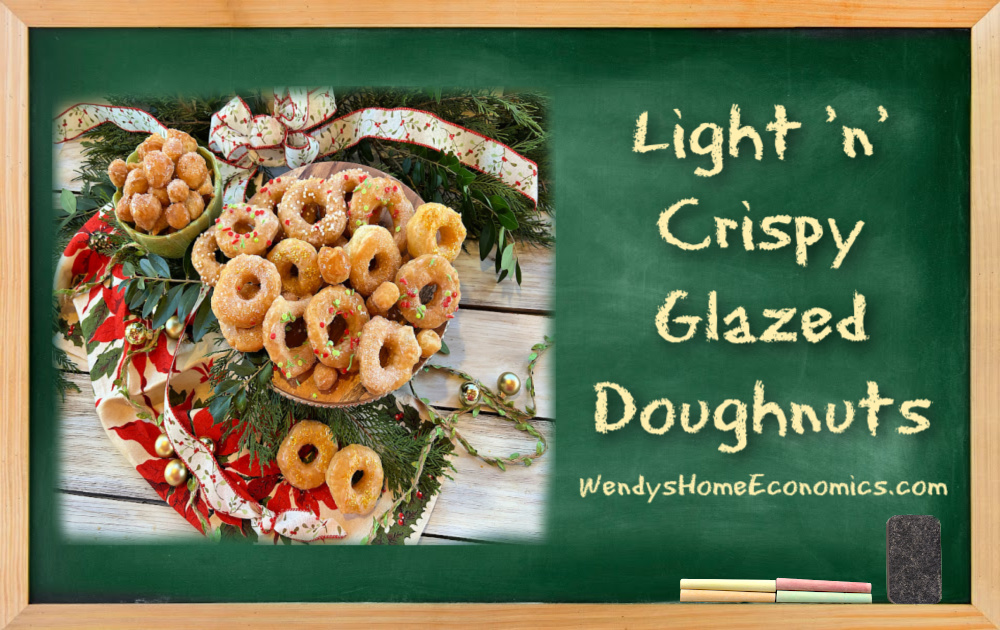 Sometimes, it's just the simple little things that can be the best little things.  I've long wanted to make these doughnuts and thought to myself, "self, let's do these for the magazine this Christmas."  So I set about doing that… and was asked to send a few extra images… including a "bite" shot.  Little did I know what surprise was in store for me…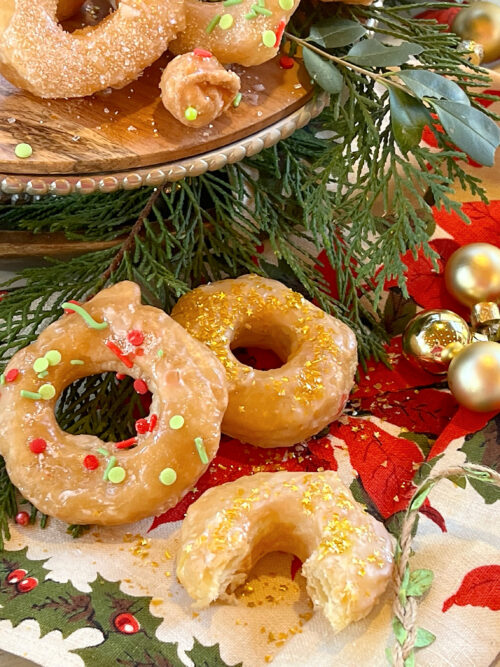 So this cold afternoon, I moseyed out to my mailbox and see an envelope from Carolina Country. For those who are here for the first time… I have had the wonderful opportunity to do recipes along with food styling and photography of my creations for them about 6 years now.  I'm also blessed with opportunity to sometimes write about my culinary adventures.  I had no idea they were going to use my recipe and images for their 2022 Christmas card!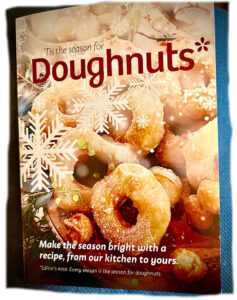 OMG… what a wondermous surprise!  Santa himself may as well have delivered what I saw when I opened the envelope.  How they turned the recipe, images and designed their card is so fun and magical… and put a smile on my face like a little girl peeping into the living room on Christmas morn.  Along with that is a link here to my blog… so that may have sent you here!
I'm so happy to see you… and hope you will subscribe to my Table Scraps newsletter.  If you missed the popup, you'll find a link down below to do that or on the right side of the page.
If you are a North Carolina Electric CoOp member and receive Carolina Country Magazine each month, I hope you enjoy my recipes. Always feel free to drop me an email. I love to hear from readers with your  comments (good or bad) and happy to answer any culinary questions you may have about my recipes or anything else I can help with too. 
Enjoy the doughnuts and do fry up a batch (or several). They melt in your mouth and disappear real fast.  And thanks to all the gang that publish such an awesome and informative magazine each month.  I'm very grateful to be a part of it!
This recipe created for and published by Carolina Country Magazine December 2022 © (copyrighted) 
Propping/styling and photography  by
Wendy Perry Carolina Country Magazine Contributing Recipes Editor
Credentials @ LinkedIn
Disclosure:  I only recommend products here I use myself. I may receive a small commission from affiliate links on this or other posts on this web site at no additional costs to you.
CLICK HERE TO SUBSCRIBE TO MY TABLE SCRAPS NEWSLETTER!
Find me on social media:
Wendy's HOME EConomics! Page on FB    @culinaryadventuristwendy on IG
Aunt Dee Dee's Kitchen Page on FB      
@auntdeedeeskitchen on IG
Be sure to visit (and share) my online stores:
Aunt Dee Dee's Kitchen my unique seasonings, kitchen doodads & more!
Rada Knives and Kitchen Tools  USA made budget-friendly cutlery (great for gifting)
Watkins 1868 Store. Did your mama and grandma buy from "the Watkins Man?" The best vanilla…

LINKS CAN ALSO BE FOUND ON SIDE MENU OF BLOG HOME PAGE.
Light n' Crispy Glazed Doughnuts
Do you want to "WoW" your family and guests with a sweet treat that is sure to please?  If you've never made these quick and oh-so-easy doughnuts, the time has come. They can be "dressed" in a variety of ways for any occasion… including with fun sprinkles.
Ingredients
1

17-ounce box

puff pastry

(2 sheets)

oil for frying

(I use peanut)

glaze/coating of choice

(see below)

sprinkles,

optional
Glazed: whisk together
2 ¼

cups

powdered sugar

5

tablespoons

milk or half and half

½

teaspoon

almond extract

1 ½

teaspoons

vanilla extract
Chocolate: Heat for 30 second intervals in micro until melted
2

cups

chocolate chips,

any kind

1

tablespoon

coconut oil
Instructions
Thaw pastry to room temperature. Prepare glaze/coatings.

Unfold each pastry sheet.  Using 2 sizes of round cutters, cut doughnuts and center holes. (*I used a small drinking glass and top of a condiment bottle for smaller cut.)

*Heat oil (1"deep) on medium high heat. Cook pastry about 30 seconds on eachside until lightly browned.

Remove from heat and toss in sugar or dip inglaze/coating. Place on rack to cool and drip.

Cook holes and toss in remaining glaze or sugar. Add sprinkles immediately when glaze is warm.  

Best if enjoyed soon after cooking. Can be stored 1-2 days in airtight container.

MAKES ABOUT 15 DOUGHNUTS PER SHEET DEPENDING ON SIZE CUT.