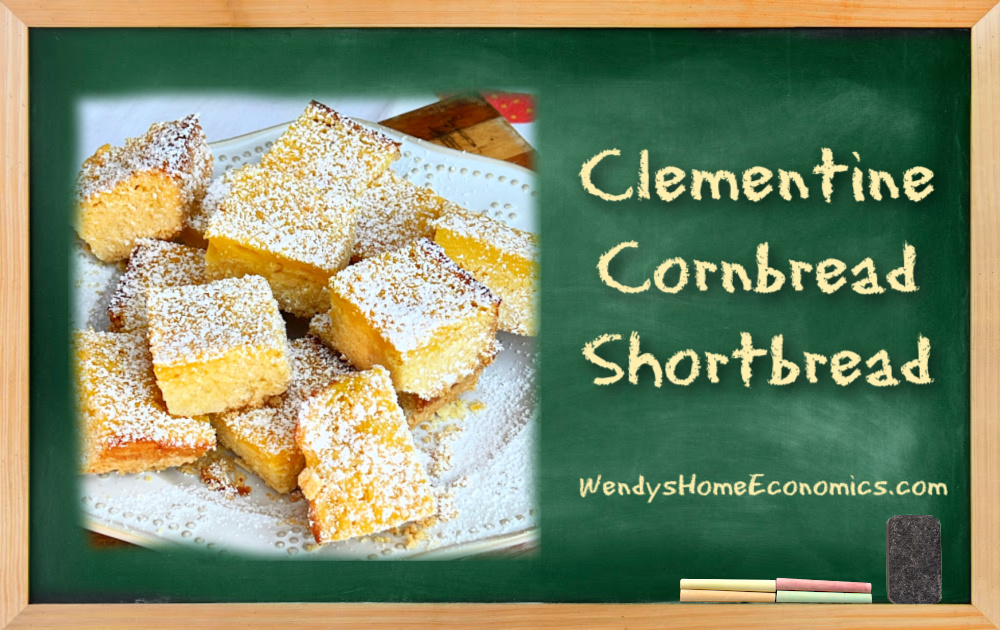 Oh the deliciousness of buttery shortbread.  Cornbread Shortbread.
Have you ever had with the winter citrus goodness of clementines?
As I was creating this idea floating around in my head, I realized I didn't know much of the history of shortbread and why it mostly only shows up around this time of year.
As it turns out, first recordings of it appeared in the 12th century. It was called "biscuit bread" because it was made with leftover bread dough. Dried fruits were added and it was sometimes sweetened, then dried out in the oven to a "dry rusk."  (A dry rusk is a hard dry biscuit.)
Butter replaced leavening over time and because butter was only for the wealthy, others only usually made at times of special occasions.  Like Christmas! 
So why the name "shortbread?"
The large amount of butter is what makes shortbread short: the term short, when applied to biscuits and pastry, means crumbly, like shortcrust pastry should be. It is the reason why the fat added to biscuits and pastries is called shortening.
Source:  BritishHistory.com
So there's that.
As for the cornbread… as I was looking around at many other shortbread recipes, I found there were a lot of cornmeal shortbread cookies. So being a southern gal rather fond of cornbread, I set out to make up my own combination of them all… and bring all to the party!  The more the merrier, eh?  So there you go… buttery shortbread cornbread.  
And for those who have been around here for a while, you know I'm most fond of anything of the orange persuasion… so incorporating juice from clementines so abundant this time of year, to me… all a magical pairing for a not-so-sweet holiday treat.  
Do give this a try… cut into little bite-size pieces to share with those who drop by your gatherings this week and next.  
And to you all… I wish you a very Merry Christmas!  
This recipe created for and published in Carolina Country Magazine December 2022 © (copyrighted) 
Propping/styling and photography  by
Wendy Perry Carolina Country Magazine Contributing Recipes Editor
Credentials @ LinkedIn
Disclosure:  I only recommend products here I use myself. I may receive a small commission from affiliate links on this or other posts on this web site at no additional costs to you.
CLICK HERE TO SUBSCRIBE TO MY TABLE SCRAPS NEWSLETTER!
Find me on social media:
Wendy's HOME EConomics! Page on FB    @culinaryadventuristwendy on IG
Aunt Dee Dee's Kitchen Page on FB      
@auntdeedeeskitchen on IG
Be sure to visit (and share) my online stores:
Aunt Dee Dee's Kitchen my unique seasonings, kitchen doodads & more!
Rada Knives and Kitchen Tools  USA made budget-friendly cutlery (great for gifting)
Watkins 1868 Store. Did your mama and grandma buy from "the Watkins Man?" The best vanilla…

LINKS CAN ALSO BE FOUND ON SIDE MENU OF BLOG HOME PAGE.
Clementine Cornbread Shortbread
We always look forward to seeing little bags of clementines come fall and winter. That is an early sign that the holiday season is upon us. For some, we remember having them tucked into our stockings with nuts and other fruits… back in simpler times. If you like something not quite as sweet as most, you'll enjoy this shortbread. Store in an airtight container in the refrigerator for up to a week.
Makes about 20 bites!
Ingredients
Crust:
1

box

Jiffy corn muffin mix

¾

cup

all-purpose flour

2

tablespoons

sugar

zest

of 1 clementine

½

cup

solid coconut oil

5

tablespoons

clementine juice

about 3
Topping:
2

large eggs

¼

cup

clementine juice

about 3

⅔

cup

sugar

2

tablespoons

all-purpose flour

¼

teaspoon

baking powder

powdered sugar
Instructions
Crust:
Combine mix, flour, sugar and zest. Cut in oil and add 1 tablespoon of juice at the time until well incorporated. Spread down firmly in the bottom of a 9-inch square baking dish. Refrigerate for 30 minutes before baking.

Bake for about 16 minutes and cool. 
Topping:
Beat all ingredients (except powdered sugar) together until combined. Pour over cooked crust.

Bake until set and lightly browned, about 20 minutes.

Cool. Then dust with powdered sugar and serve.
Notes
Do you know the difference in mandarins, tangerines and clementines?
Clementines and tangerines are both mandarin oranges. Tangerines are pumpkin-like in shape and will sit flat. Clementines (sometimes seen as "Sweeties) are rounder, smaller, sweeter and seedless, making them a perfect treat for children. They are also super sweet, whereas, tangerines are less sweet and big tangy.