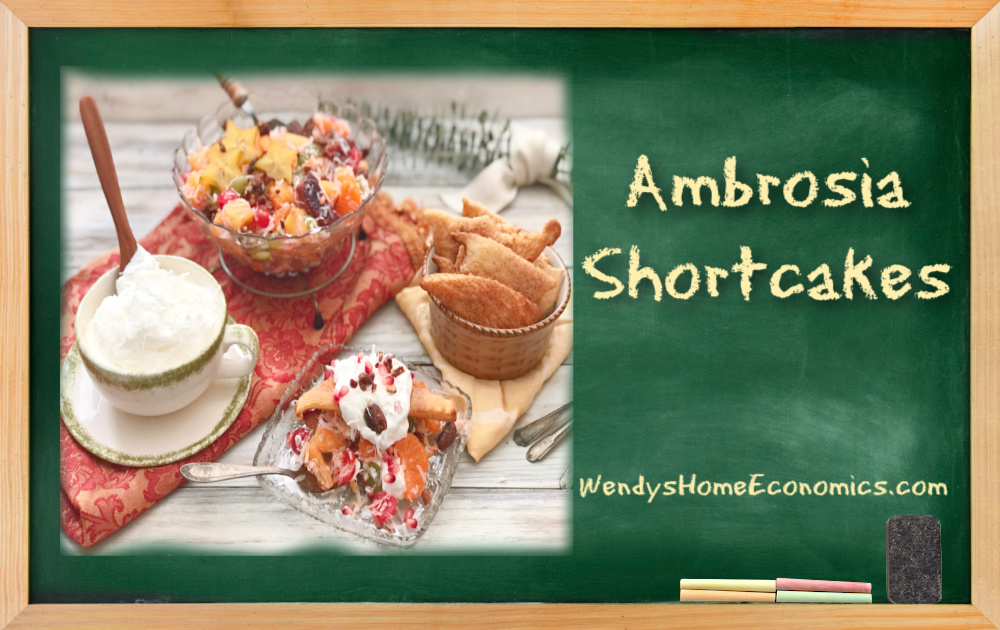 For many in the South, it's not a proper Christmas table without a big bowl of ambrosia. All the fruits remind many of us older folks of those "Santa" stuffed into our stockings.  Until she died, my mama always put some oranges and whole nuts in ours… even as my sister and I became adults.  My sis still does that in the stockings she fixes for us.
Always looking for a fun new way to serve old favorites, I had this idea to make shortcakes. Because gosh, isn't most everything better that way?  With some sort of cake or pastry and real whipped cream?  You can prepare and set out for guests, or set up a little "ambrosia bar" where they can make their own if serving casual buffet style. These can be as "fancy" as need be in your pretty crystal goblets, or in paper bowls too!  
If you are looking for a quick to make dessert with fresh seasonal fruits that will please all, including picky eaters both young and old, you'll find Ambrosia Shortcakes will be a keeper!
Here's to you and yours having a blessed and Merry Christmas y'all!
This recipe created for and published in Carolina Country Magazine December 2021.
Food propping/styling and photography © (copyrighted) by Wendy Perry.
Carolina Country Magazine Contributing Recipes Editor
Disclosure:  I only use and recommend products here I use myself. I may receive a small commission from affiliate links on this or other posts on this web site at no additional costs to you.
CLICK HERE TO SUBSCRIBE TO MY TABLE SCRAPS E-ZINE NEWSLETTER!
Find me on social media:
Wendy's HOME Economics! Page on FB    @culinaryadventuristwendy on IG
Aunt Dee Dee's Kitchen Page on FB            @auntdeedeeskitchen on IG
Credentials @ LinkedIn
Be sure to visit my online stores:
Aunt Dee Dee's Kitchen for my seasonings, dried goods, pickles, jams, preserves, kitchen linens and more!
And for the best budget-friendly MADE IN THE USA by folks like you and me, my Rada Knives and Kitchen Tools online store.
THESE LINKS CAN ALSO BE FOUND ON SIDE MENU OF MY BLOG HOME PAGE.
Ambrosia Shortcakes
Many of us will recognize this southern Christmas dish. Our grandmothers made it and their mamas did too, served in a pretty glass bowl. We turned this fruity favorite into a fun little dessert to enjoy anytime. Can be made a day ahead.
Ingredients
1

small

pineapple,

peeled and cut into small pieces

zest of 1 orange

3

oranges,

(I used naval and blood oranges)

3

clementines

1

10-ounce jar

sliced maraschino cherries,

drained

1

cup

white seedless grapes,

sliced

1

5-ounce bag

glazed pecans,

chopped (or use your own homemade)

1

7-ounce bag

unsweetened coconut,

divided

2

pomegranates

1

star fruit (carambola),

optional

2

8-count

crescent rolls

(I used Pillsbury)

3

tablespoons

cinnamon sugar

1

pint

whipping cream,

whipped

Reserved coconut and pomegranate arils
Instructions
Ambrosia:
Combine pineapple, zest, oranges, clementines, cherries, grapes, pecans, most of the coconut and arils from one pomegranate. Garnish with sliced star fruit. This is the ambrosia.
Shortcakes:
Preheat oven per instructions.

Unroll and tear each roll into 2 pieces. Place on baking pan and dust with cinnamon sugar.

Bake about 6–7 minutes. Cool on wire rack. Store in airtight container for up to a week.
To serve:
Place one piece of shortcake on a plate. Spoon on ambrosia. Top with a second piece. Add a dollop of whipped cream and garnish with rest of coconut and pomegranate arils.