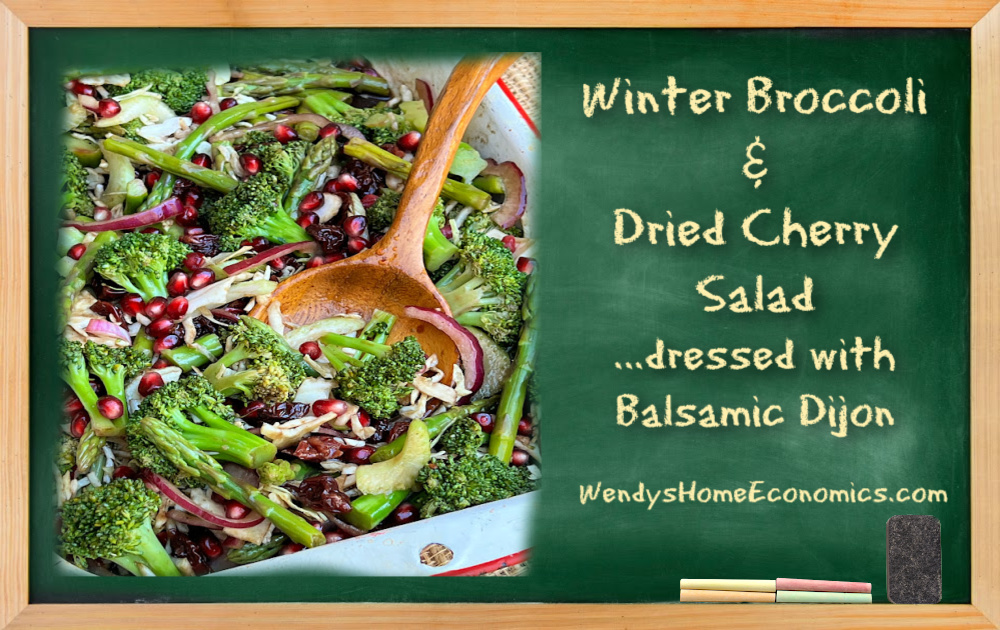 Isn't it nice to have something bright and green in the gray dark days of winter? 
This salad is such a thing. I even found some $1.49/lb. fresh asparagus to throw in also.  Blanching the broccoli not only gives it a better little "crunch" but also perks up the green color… and the dried cherries bring a little bit of "chew" to the party.  (I love a cherry of any sort).  Pomegranate arils tossed on top give all sorts of winter dishes a bit of festivity too.  If you love them like I do, grab a few and throw in your produce drawer as the season wanes.  They will keep for a few months if nice and fresh when you buy them. 
As you've seen around here before, I love to throw together homemade salad dressings too.  You've always got things on hand to make those in a couple of minutes.  Have you read and tried to pronounce the ingredients in a bottle of store bought dressing lately? yuk!
Sometimes, when I want something creamy, I just combine a little pickle juice with Duke's mayo, salt, pepper and a bit o'garlic until dressing consistency.  The simpler dressed the better!
The beauty of this and similar salads is that you can add and omit to suit your fancy.  If you prefer craisins or raisins, use those.  Leave out the asparagus. Tear up some spinach and throw that in the bowl.  Don't have red onions?  Green onions or any others will do too.  As The Frugal Gourmet once said…
"Omit and substitute! That's how recipes should be written. Please don't ever get so hung up on published recipes that you forget that you can omit and substitute.
                                                                                              Jeff Smith (the Frugal Gourmet)
And yes, I call this a "winter" salad, but with exception of the pomegranate, you can find all of these ingredients year round so put this on the table spring, summer and fall too.  Wouldn't this be nice alongside an Easter ham?  Or with some fresh local shrimp tossed in and chilled on a hot summer's day?  Or with a leftover Thanksgiving turkey sandwich?  When you throw this salad together, shoot me a note or post to share what you ate with it!  No matter when or how you "omit and substitute," this is just a really good basic broccoli salad to have in your repertoire.  Enjoy… 
Be sure to enjoy with this Rotisserie Chicken French Onion Soup I created this to enjoy alongside of… a really nice pairing for brunch, lunch or supper!
This recipe created for and published in Carolina Country Magazine January 2023. © (copyrighted)
Propping/styling and photography  by
Wendy Perry Carolina Country Magazine Contributing Recipes Editor
Credentials @ LinkedIn
Disclosure:  I only recommend products here I use myself. I may receive a small commission from affiliate links on this or other posts on this web site at no additional costs to you.
CLICK HERE TO SUBSCRIBE TO MY TABLE SCRAPS NEWSLETTER!
Find me on social media:
Wendy's HOME EConomics! Page on FB    @culinaryadventuristwendy on IG
Aunt Dee Dee's Kitchen Page on FB      
@auntdeedeeskitchen on IG
Be sure to visit (and share) my online stores:
Aunt Dee Dee's Kitchen my unique seasonings, kitchen doodads & more!
Rada Knives and Kitchen Tools  USA made budget-friendly cutlery (great for gifting)
Watkins 1868 Store. Did your mama and grandma buy from "the Watkins Man?" The best vanilla…

LINKS CAN ALSO BE FOUND ON SIDE MENU OF BLOG HOME PAGE.
Winter Broccoli & Dried Cherry Salad …dressed with Balsamic Dijon
This vibrant fresh salad is a nice side with a pot of soup on a chilly winter's day. You might want to double up on the tasty dressing… it keeps well refrigerated for several weeks. It's quick to make but if you have a favorite, you can easily substitute that as well. Serves 6-8
Ingredients
Dressing: Combine in jar and shake to mix. (Makes about 1 cup)
½

cup

good olive oil

¼

cup

good balsamic vinegar

2

tablespoons

fruit juice,

I used apple cider

2

tablespoons

honey

1

heaping tablespoon

Dijon mustard

2

teaspoons

minced garlic or garlic paste

½

teaspoon

kosher or sea salt

lots of fresh cracked black pepper
Salad
2-3

large broccoli crowns

cut into bite-size pieces (about 6 cups)

1

small bunch asparagus

cut into 2"pieces

1-10 ounce

bag

angel hair coleslaw cabbage

1-5 ounce

package

dried cherries

1

medium

red onion

cut into thin slivers

1 ½

cups

thinly sliced celery

arils of 1 pomegranate
Instructions
Blanch broccoli and asparagus; cool and dry with paper towels.

Combine all salad ingredients except pomegranate in large bowl. Pour in dressing and toss to coat salad.

Chill for several hours before serving. Scatter with arils at serving time.