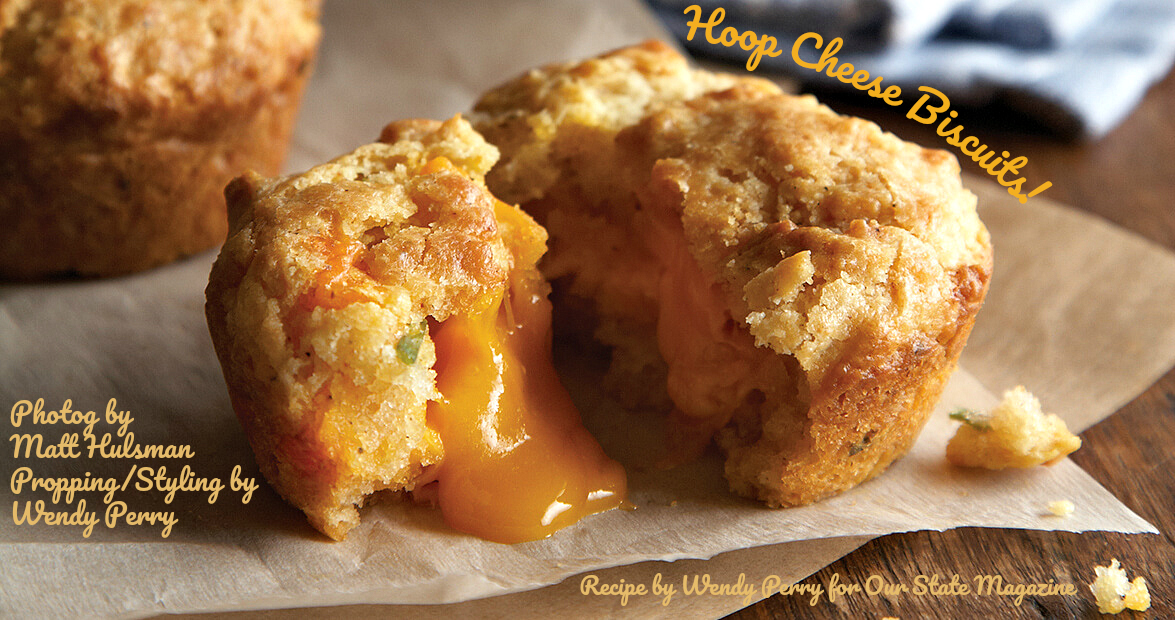 Published in Our State Magazine October 2015
Seems like everywhere I turn these days, cheese biscuits are there. Conversations about Cheddar Bo® Biscuits at Bojangles… and today, I get coupons in the mail for a FREE (free is good!) new Pimento Cheese Biscuit there. I'm not a huge fan of pimento cheese (something that is illegal for a southern gal to admit) so I created my own that I do adore… and folks have paid me to make for them. Meaning, that if ain't too bad! All these "in your face" coupons, facebook posts, billboards and such brought to mind a oldie goldie recipe I created for Our State magazine a few years ago… for a cheese feature.
Yet again, I came here to repost it on my facebook page, and low and behold, I find that I never put it here! So I had to set about fix'n that. So y'all, if you want a biscuit… oozing with cheessssse, and so easy to make, you will definitely want to make up a batch of these biscuits right here. But plan to eat as soon as they come out of the oven and cool only briefly (so the cheese won't take the skin out of the top of your mouth). I guaranTEE you will love 'em.
Once you do, snap a pic and come share over on facebook and tell us what you think!
Hoop Cheese Biscuits
Muffin tin hoop cheese biscuits... a hunka cheese hidden inside a fluffy biscuit for the BEST surprise with your first bite!
Ingredients
2

cups

biscuit mix

1

tablespoon

sugar

¼

teaspoon

black pepper

¼

teaspoon

cayenne pepper

½

teaspoon

garlic powder

¼

cup

chopped chives

1

stick

cold butter

1

cup

buttermilk

1

pound

hoop cheese

4

tablespoon

butter,

melted
Instructions
Preheat oven to 425º.



Grease a muffin tin. In a large bowl, combine biscuit mix, sugar, peppers, garlic powder, and chives. Grate butter into dry ingredients.

Using fingers, incorporate to a crumbly consistency. Add buttermilk, a little at a time, until the batter is thick and creamy.

Put 1 heaping tablespoon of mixture in each muffin cup. Pinch off ¾-inch chunks of cheese, and place in the center of the batter. Spoon about 1 heaping tablespoon of batter over each piece of cheese, pushing it around the edges to seal in cheese.



Bake for about 12 minutes, until golden brown. Remove biscuits, and brush them with melted butter. Serve immediately.