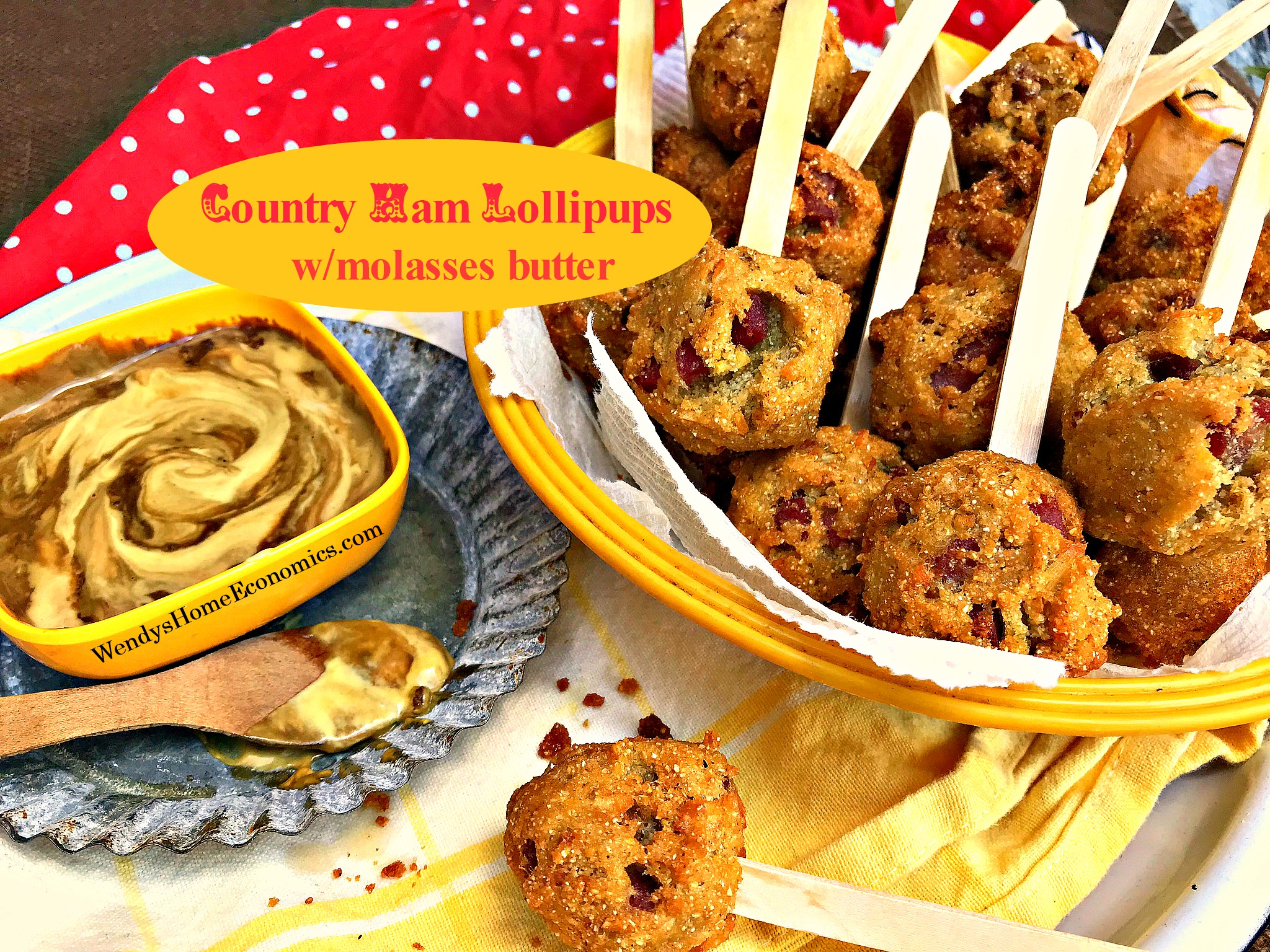 Published in Carolina Country Magazine  October 2019
Several years ago, I won 2nd Place at the NC Sweet Potato Festival in Snow Hill for my Gingerbread Lollipups. The idea of nibbles on a craft stick is so fun, so when I was working on NC State Fair inspired recipes, I just knew something was going on a stick!  This recipe combines several of my personal favorites from the fair. First, the country ham biscuit!  We all have our personal favorite spot for those at the fair. Next, well… sticks! So many goodies come on the end of a stick… like the corn dog.  And lastly, one just can't go to the NC State Fair and not eat a hot hushpuppy in the Education building from House Autry!  I get a few extra of those on days I'm there judging daily cooking contests since they are just steps outside of our little cove where we judge.  
This fun recipe is a compilation of all those iconic fair faves into one.  They are really easy to make, and can be served hot, or not!  Make some molasses butter to dip your pups in… or create your own dip.  You can find the sticks at craft stores and usually dollar stores too.  
So fix yourself some Country Ham Lollipups soon… and enjoy them long after the fair has come and gone!  I hope you will make it to the fair this year, and have yourself a heap'n help'n of good ole North Carolina good times!
Country Ham Lollipups
Ham biscuits and corn dogs … now there are a couple of fair favorites … along with those hot and crispy hushpuppies in the education building. We've combined this threesome into one fun food you'll be sure to enjoy.




Ingredients
vegetable or peanut oil

popsicle sticks

1

cup

hushpuppy mix...

I used House Autry

1

tablespoon

dehydrated onion

½

cup

seltzer water*

4

teaspoons

sugar

1

teaspoon

sage

½

teaspoon

black pepper

¾

cup

diced cooked country ham,

about 4 ounces
Molasses Mustard


3

tablespoons

yellow mustard

3

tablespoons

Dijon mustard

¼

cup

mayonnaise

2-3

shakes

Texas Pete

2

tablespoons

molasses
Instructions
Pour oil 3 inches deep in fryer. Heat to medium-high (375 degrees).

Combine all ingredients and mix together until well blended. Let rest 15 minutes. Batter will be stiff.

Using fingers, pinch batter and make 1-inch balls. Carefully put into hot oil making sure not to crowd. Cook 3–5 minutes until golden brown. Drain. 

Stick popsicle stick into pups. Serve with molasses mustard.

For molasses mustard, combine mustards, mayonnaise and hot sauce. Swirl in molasses.
Notes
*Water can be used but seltzer water will make a crispier lollipup.