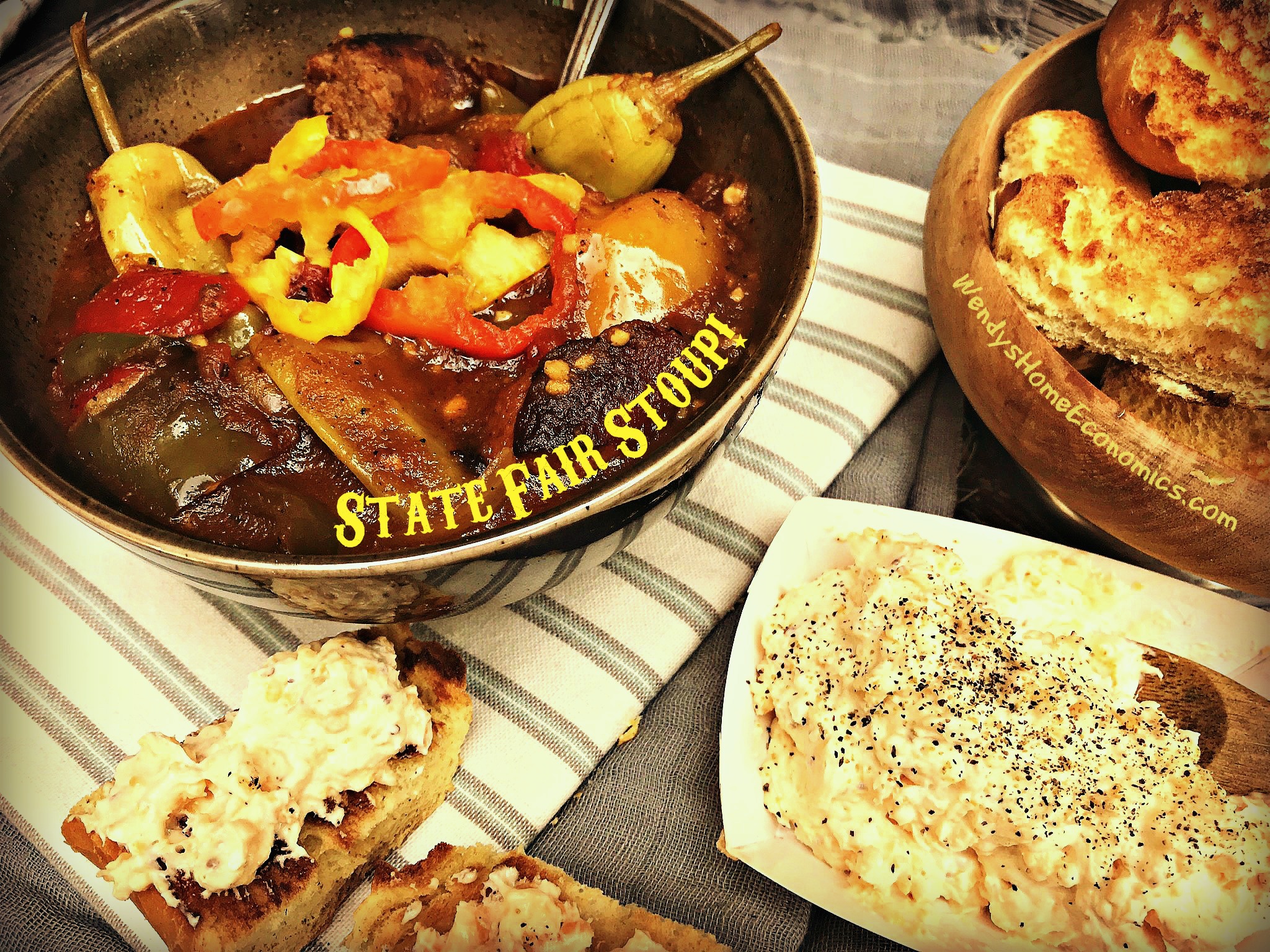 Published in Carolina Country Magazine  October 2019
Thank you Jesus… I can feel fall in the air!  My favorite time of year… when we can stop sweating and turn to cook'n.  Tailgate pot lucks… comfort foods… and goodies like chowders, soups and stews.  
We work months ahead for the magazine (just covered an event Saturday for next September issue!), and when I was thinking about October in April and May, while eating my first tomato sandwiches, I was trying to put my head into sweater season.  Ahhhh…. state fair time!  
I do love state fair time… and all that comes with it. I especially enjoy all the days I get to judge the daily cooking contests with the NC Department of Agriculture.  For years, more than I can remember now, I get all giddy when my packet of stuff arrives with my judging dates, tickets, parking pass and all.  Each year, I block off fair days on my calendar for the next and do my best not to let anything interfere with those culinary adventurous days.  This year, I will be judging vegetables, apples, pork and beef days.  It's really fun to see what entries arrive… and honestly, some are rather scary!  I want to coach some of the entrants… to fine tune their dish just a bit to what we, as judges, usually all come to a consensus on would make their dish a big winner!  My biggest advice (and usually a comment from all around the table)… "where's the SALT!?"  For years, folks got scared of salt… and went from one extreme to another. 
My best advice… make your dish and get a variety of honest folks to taste it.  Make sure they tell you the good, bad and ugly of it and fine tune it from there. There is great prize money on the contests… so if not this year, do start looking at the NC State Fair site (or your own state) mid-summer for the daily categories. Read all the specifics of the one(s) you want to enter (one little omission can disqualify your awesome recipe) and get to cook'n and tweaking!  And maybe next year, you will take home a ribbon and money.  To see all my suggestions… take a look here at this piece I wrote for Carolina Country Magazine a couple of years ago. 
Till then, get out your pot and cook up some of this stoup!  You can have the delicious aromas and tastes of the fair right now in your own kitchen.  When you do, hop over to my facebook community and tell us all about it.   
This recipe created for and published in Carolina Country Magazine October 2019
Food propping/styling and photography © (copyrighted) by Wendy Perry.
Carolina Country Magazine Contributing Recipes Editor
Disclosure:  I only use and recommend products here I use myself. I may receive a small commission from affiliate links on this or other posts on this web site at no additional costs to you.
CLICK HERE TO SUBSCRIBE TO MY TABLE SCRAPS E-ZINE NEWSLETTER!
Find me on social media:
Wendy's HOME Economics! Page on FB    @culinaryadventuristwendy on IG
Aunt Dee Dee's Kitchen Page on FB            @auntdeedeeskitchen on IG
Credentials @ LinkedIn
Be sure to visit my online stores:
Aunt Dee Dee's Kitchen for my seasonings, dried goods, pickles, jams, preserves, kitchen linens and more! Lots of new goodies in 2022.
And for the best budget-friendly MADE IN THE USA by folks like you and me, my Rada Knives and Kitchen Tools online store.
THESE LINKS CAN ALSO BE FOUND ON SIDE MENU OF MY BLOG HOME PAGE.
State Fair Stoup
You know you've arrived at the NC State Fair when you're greeted on the midway with the smell of sausages, peppers and onions. This stoup is my version of these fair favorites, but in a bowl to enjoy on chilly days at home … along with toasted hoagies and cheese butter.


Ingredients
6

tablespoons

cooking oil,

divided

2

each

red, green, yellow bell peppers

2

large

onions,

2

stalks

celery

salt and pepper

1

pound

Italian Sausage

1

14 ounce pkg.

kielbasa

1

cup

beef broth

1

15 ounce can

fire roasted diced tomatoes

1

tablespoon

Italian seasoning

1

tablespoon

minced dehydrated garlic

3

tablespoons

brown sugar

3

cups

unsweetened applesauce

1

16 ounce jar

pepperoncini,

drained

1

12 ounce jar

sliced sweet 'n' hot pickled peppers

(We used Mt. Olive)

1

6 pack

hoagie rolls,

toasted and sliced in wedges


Cheese Butter
1

pound

butter,

softened

1

cup

shredded cheddar cheese

1

tablespoon each

mustard and mayonnaise

1

teaspoon

onion powder

1

tablespoon

sugar

½

teaspoon

black pepper
Instructions
Preheat oven to 425 and crockpot to low.

Cut peppers, onions and celery into 1-inch pieces. Toss with 4 tablespoons of oil, salt and pepper; spread out on large baking pan. Roast 30-40 minutes until lightly charred, tossing after 15 minutes.

As peppers roast, heat 2 tablespoons of oil in large skillet. Over medium heat, cook sausages, turning to brown on all sides. Remove to bowl and cut into bite-sized pieces.

Add broth, tomatoes, seasoning, garlic and sugar to drippings and bring to a slow simmer.

Put vegetables into crockpot. Add sausages, broth mixture, applesauce and pepperoncini. Stir to mix. Cover and cook 2–3 hours in crock pot. Garnish with pickled peppers.

For the cheese butter, whip ingredients together until creamy. Serve on toasted hoagie buns.