Category:
Italian
January 4, 2019
Posted by Wendy Perry

under

funeral food, here's the beef!, Italian, Mindless Mutterings from the Teacher's Lounge, pasta, published, soups, stews, chilies chowders and such, Spaghetti, wendy's signature recipes

"The BEST spaghetti sauce!" That's what my family and friends call this… make several gallons at the time to eat anytime! Great to "gift" and especially appreciated "funeral food" when grieving folks have been giving away all the boxes of fried chicken dropped off! Maybe I should rename it to Funeral Spaghetti! Just make some…
Sometimes you've just gotta carb out… and if you're not up to that, then you need to check on out now!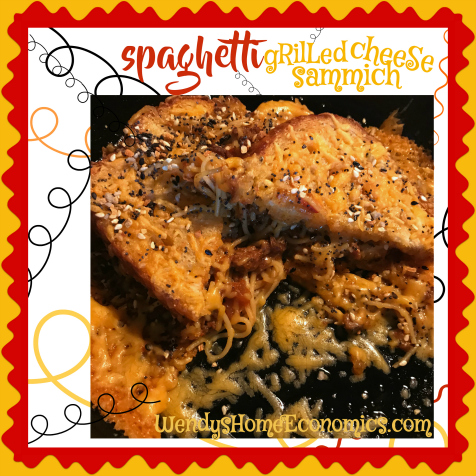 UPDATE: Wendy's Spaghetti & "meatballs" Sauce recipe is here! It was published in January Carolina Country since this original post as mentioned below.
Wendy's Spaghetti Sauce… finally on "paper!"
I apologize up front for this horrific picture! Was done inside my tiny camper on a dark rainy day with the worst light ever!
Remake due…
I'd say spaghetti, preferably mine, ranks in my Top 5 fave foods. I can eat it cold, hot… and anywhere in-between. I've been known to open the fridge and grab a pinch with my fingers in the middle of the night when I wake up and my belly is growling on the way to pee! Nope, not gonna grab a fork while sleep walking. I can't sleep as it is, so by the time I'd do all that, might as well just be up for the rest of the night and next day.
Spaghetti for breakfast? Sign me up. Spaghetti sauce on garlic bread minus the pasta? For sure! I'm just a sketti love'n gal, period. BUT… I only want angel hair… I don't take much of a like'n to fat pasta… as my daddy called it "doughty" ~ and I love lasagna, but I pick around those big fat wads of noodles to eat the good stuff! When I'm finished with lasagna, you can count on a blob of "cleaned" noodles over to the side.
One of the publications I write recipes for keeps asking, "why haven't we published your spaghetti yet?" Well, if I can make it all fit in a 200 word count recipe (that's my limit!), by gosh by golly it will be in the January issue. Because it's a cold Saturday or Sunday kinda thing to do. Not to mention my recipe makes 'tween 2 and 3 gallons at the time. But hey… who makes ONE meal of spaghetti? That's just silly. Especially for a gal who'd as soon eat that as a piece of burnt-end pork belly.
Well, ummm… that's a close tie!
So I'm gonna have to make a batch and actually write it down, because magazines don't take too kindly to recipes that say…
"cook a few lbs. of x, then add some (insert seasonings here) until it tastes right." This throw cook'n girl has a real "challenge" putting what's in my head (and pot) on paper so others who say "OH I WANT THAT RECIPE" can have one and make it too.
So back to this spaghetti recipe.
Another lifetime ago when I managed the kitchen in a division hospital of WakeMed in my little town of Zebulon, I had a spaghetti eat'n friend. (We also had in common the love of Campbell's Vegetable Beef Soup right out of the can or on bread.) Tami would bring spaghetti from home and sit in our little staff dining room and make spaghetti sandwiches. I'm thinking… "that's genius!" Never then did the thought cross my mind to turn her masterpiece into a Spaghetti Grilled Cheese Sandwich. This revelation didn't come to me until years later. I don't know why I've never thought to put it "on paper" (duh! like so many others) and share until today. I have phases of "cheese need" and have had "the need" this week. And had some delicious cheese bread they make at my local Lowe's Grocery Store… Andddddd, I had taken some of my sauce out of the freezer. (When you make gallons at the time, that's a perk you can do any old time!)

Funeral Food Note: When somebody passes and I need to take some funeral food… guess what I take? Yep, spaghetti! Because I have a freezer full… and folks bow at my feet… because it's not a box of fried chicken and biscuits they can't possibly eat any more of and give to somebody else to take home!

So I'm look'n at that cheese bread think'n…. "self, I bet that bread right there would make one fine spaghetti grilled cheese sandwich!"
So I throw some water in a pot and got my handful of angel hair cook'n while I heated some sauce. When done, I drained the pasta and stirred the sauce right into it… my cast iron fave-most-used-kitchen-tool went on the burner. I keep some roasted garlic oil made (one of these days I will post how to do that but for now, it's on my facebook page several times)
so I just brushed both sides of the cheese bread with that… put one piece in the med-hot skillet… shredded cheddar…sketti…more cheddar… then top bread! When it was toasty on the first side, I just flipped it over and when about half toasted on the other side, I scattered more grated cheese on and around the sandwich… to make the "puddle." Ta.Da.
Spaghetti Grilled Cheese Sandwich in Cheese Puddle!
Tip: Let some get a little "almost burned" around the edges, because that is bonus cheese!
Now you might wonder what all that stuff is sprinkled on my sammich. You can make this delicious concoction without it, but I'm a rabid fan of Savory Spice Shop's "Brooklyn Everything Bagel Bread Topping." You know, like is on those yummy "everything bagels?" If you have a Savory near you, SHOP THERE! If not, order online. It's a cook's toy store. You can buy little bits or a boatload of things… they have lots of great salt free blends for folks that don't need more of that… and all sorts of stuff. You've just never seen anything like it, and if you go to the Raleigh store, you tell Cindy and the crew I sent you. So THAT is what you see scattered all over my sandwich… because that's stuff is sooooo gooood on near'bout everything!
My parting words… this is a pretty hardy sandwich, so you might want to share one… or, you might not! Just get to grill'n. Use whatever bread you like… something like a good sourdough will get nice and crunchy. I love crunchy. Mix and match or change the cheese. Fix it like y.o.u. like it.
You know you want one now don't you?
When you break down into carboliciousness, please do come back here and share your "experience" and send me a picture… better yet, go post it on my Wendy's Home Economics! Facebook Page.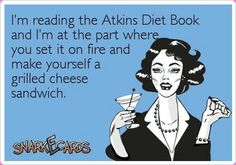 August 6, 2018
Posted by Wendy Perry

under

Blackboard Blurbs, cook & eat nekkid, cook'n with NC goodies, dressings, garden goodness, gluten free, here chickie!, honey, Italian, low carb, Mindless Mutterings from the Teacher's Lounge, nekkid-throw cooking ~ what is THAT?, published, rotisserie, salads, slaws and such, tomatoes, wendy's signature recipes
Well here we are, in the dog days of summer! In my neck of the woods, it's been the monsoon days of summer. Rain! RaiN! RAIN! But hopefully, we have a little break in sight for that and can now "look forward" to good old hot.humid.days.of.August! And who wants to turn on anything that will add to that heat? Ummmm, nobody. This recipe for Italian Rotisserie Chicken Salad Stuffed Tomatoes was first published last summer in Carolina Country Magazine and a frequent go-to for me. We all love to grab a cooked rotisserie chicken now and then… we can do so many things with one… not to mention throwing the skin and bones into the crock pot overnight after pick'n for the BEST flavorful chicken broth. You DO do that don't you? Oh there's so much flavor in those bones and skin (if you don't eat it) and all you have to do is cover with a quart or two of water, turn on low, and head to bed. By morning time, you'll be waking up to the aroma of tasty broth to use for soups, cooking veggies like greens and butterbeans or just to sip. You can throw in some herbs on the front end, or simply cool and freeze and season on the back end depending on how you'll be using it. I freeze in pint-size containers and it's great to be able to grab and cook a little pot of butterbeans or collards with this deliciousness!
So here's to the versitile Rotisserie Chicken!! Pick one up today and make this chicken salad twist… ooooh la LA, you'll be glad you did.
While here, please subscribe to my "Table Scraps" newsletter (green box over there to the right)… an e-zine with great stuff for in, out and about the home! Take a look at my contributors…
P.S. Don't forget to come follow along in my facebook world too…
classy with a bit of sass!!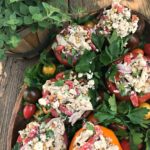 Italian Rotisserie Chicken Salad Stuffed Tomatoes
Who wants to cook on hot summer days? No need with this flavorful Italian chicken salad.... just pick up a rotisserie chicken, throw in a few ingredients and toss with the simple Dijon dressing, and that's it! Except for a juicy ripe summer tomato you're going to stuff with this good stuff.
Ingredients
1

rotisserie chicken,

skinned, boned & shredded (about 5 cups)

1/2

cup

sliced roasted peppers,

drained

1/2

cup

thinly sliced red onion

1/2

cup

diced celery

1/2

cup

toasted pine nuts

1/2

cup

chopped fresh parsley,

plus 2 tablespoons for garniish

1

4 ounce carton

feta cheese with basil and tomato,

reserve 2 tablespoons

2

tablespoons

capers

drained

8

large

tomatoes,

cored and drained upside down
DIJON HONEY MUSTARD DRESSING
1/2

cup

Dijon mustard

1/2

cup

olive oil

1/4

cup

honey

1

teaspoon

garlic powder

1

tablespoon

Italian seasoning

crushed black pepper
Instructions
Whisk all dressing ingredients together. Stir dressing into chicken to coat. Add all remaining ingredients (except the tomatoes) and mix well.


Chill several hours or overnight. Stuff tomatoes and garnish with reserved feta cheese crumbles and parsley. Serve immediately
Recipe Notes
Don't cut out too much of the delicious tomato — just enough to mound the chicken salad!
If you have fresh herbs... oregano, rosemary, basil, etc., use them instead of dried for more robust flavor!