Monthly Archives:
June 2017
So which is it…. Grunt? or Slump? You might have seen these descriptions for fruity desserts and wondered…what the heck? Well you will be happy to know that grunts and slumps are one in the same! Now don't confuse them with cobblers, crumbles and crisps, buckles, brown bettys, pandowdy or the regionally almost-famous North Carolina Sonker! Are you fully befuddled now?
Each one of these baked goods are delicious in their own way, but are not the same… and traditionally include fruit, flour, sugar and butter. What can be wrong about any such thing? So, let's have a quick lesson to un-confuse ya.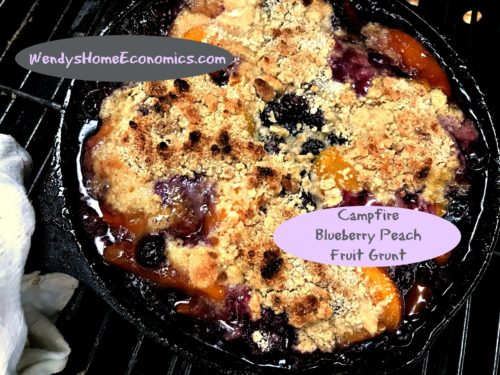 Let's start out with the grunt, aka slump, since this post's recipe is just that! Featured in June's Carolina Country Magazine, you will find my Campfire Fruit Grunt recipe down below you can easily print out and make for your crowd this July 4th!
Originally an English steamed fruit dessert, a grunt/slump is basically a cobbler, but cooked covered on a campfire or grill… or stovetop, rather than inside the oven. This kinda sorta steams the topping (typically a biscuit type dough)… and when it cooks, it makes a "grunting" noise around the edge and topping… thus, the name "grunt." And once done, it "slumps" down into the skillet…. voila, "Slump!" I'm particularly fond of crispy crunchy things, so you will find the topping on my grunt/slump recipe below to have a bit of those features rather than a softer biscuit dough as you will find with traditional recipes.
Cobbler… the name comes from the "cobblestone" appearance of the baked topping of a cobbler. Traditional cobblers are cooked casserole style and topped with biscuit dough and once cooked resemble cobblestones you may see on an old street…. not pie crust as many folks do these days. If you are served cobbler with pie crust on top, that's pie, not cobbler! Sometimes you might even see a "crust" bottomed cobbler too. The filling cooks down into a fruity syrupy goodness. Nowadays you might see cobblers topped with such things as cookie dough and even cake batter.
Crumbles and Crisps... as the name says, this crumbly-topped fruity baked goodie is topped with an oatmeal struesel mixture…. thus, you have a "crumbly" topping. Nowadays these have become one and the same. Originally, the main difference was that crisp toppings had oats while crumbs did not. Other toppings might have nuts, graham crackers or cookies in the mixture.
Buckles… these are kind of a cake with fruit on top of the batter and a crumb topping. They are kinda sorta like a coffeecake, but have a softer and more buttery texture. And of course the name…. because it buckles when cooked!
Brown Bettys…. from Colonial days, this dessert usually features layers of sugared apple slices and buttery crumbs, most often made from stale bread. Our ancestors wasted nothing and of course, would turn old bread into a sweet treat!
Pandowdy… this is basically a pie without a bottom crust. Pieces of crust dough are scattered about the top and as ready to serve, broken up into the fruit with a spoon a bit and "dowdied" up so to speak. Traditionally made with apples, pandowdy can be made with any sort of fruit. Molasses is sometimes used as sweetener in Pandowdy, or Pan Dowdy, spelled both ways.
NC Surry County Sonker… The Sonker is indigenous to North Carolina and so loved that it has it's own festival (1st Saturday in October) and "trail." Over in Surry County, the rich heritage of the Sonker is celebrated and showcased on the trail in cafes and restaurants. Sonkers are cooked casserole style, like a deep dish pie, in a rectangle baking dish. Back in the day, it was often cooked in a big bread pan so there would be a plenty to feed all the farm hands that day. As for its composure, you will get differing opinions on that. Some say it has a bottom crust while others say only side crusts. Either way, the fruit is often covered with a lattice pastry top. Pretty much any sort of fruit can be used, combination of fruits…. and some even have vegetables like sweet potatoes… one of the most popular kinds of sonker. No matter the crusts, a milk "batter" is poured over top, and the cooked sonker is served with milk "dip."
I could go on and on about the sonker and will one day do a post just on that topic. For now, you can read more about its history at Our State Magazine.
And for a traditional Sweet Potato Sonker, here's a recipe I prepared and styled for this piece a few years back when at Our State Magazine as food stylist and recipe developer. (This is not my recipe.)
There are other similar fruit desserts, but will save those for another time… like Clafouti, Shortcakes, Boy Bait, Long Cakes, Bird's Nest Pudding and some I may not even have heard of. Today's post will get you started…. so throw yourself together this Grunt/Slump I recently created for Carolina Country's June edition. I declare, here in mid-blueberry/peach season in North Carolina with folks camping and grilling all around, there's no reason not to! So stop by your local peach and berry farms or farmers' market and get some fresh summer fruits… your favorites, and GRUNT!
Campfire Fruit Grunt
Grunts (also called Slumps) were born in New England and are a steamed cobbler that "grunt" when cooking and "slump" as they settle. This treat will make you the envy of the campground! Great as a dessert, but also enjoyed as a breakfast treat as well.
Course:
Breakfast, Dessert
Ingredients
12" cast iron skillet

about

3 cups each

fresh blueberries and sliced peaches

1 1/4

cups

sugar

1

tablespoon

cornstarch

3/4

cup

self-rising flour

1/2

cup

self-rising corn meal mix

1/2

teaspoon

apple pie spice

pinch

salt

3

tablespoons

brown sugar

5

tablespoons

butter

softened

1

teaspoon

almond extract

1/3

cup

milk
Instructions
Prepare coals or heat grill to medium high heat. Put fruits, sugar and cornstarch in skillet and stir to combine.

Put all dumpling ingredients except milk into zippered plastic bag. Squish with fingers until butter has been incorporated and you have a crumble mix. Blend in milk.

Add dollops of dumpling batter on top of fruit, leaving space for it to bubble and "grunt." Close grill lid to cook. If cooking on open coals, cover with foil.

Cook over indirect heat for about 15 minutes until hot and bubbly.
Tomatoes… my love! I doth live for this tasty time of year when they are bountiful at farmers' markets and in generous friends' gardens. I make tomato sauce…. plain I can spiff up at time of use, and spicy Arrabbiata too, to heat up with some local North Carolina coastal shrimp that cook in the sauce as it heats to spoon over garlic bread, pasta or spaghetti squash for a quick supper.
Today, I'm enjoying my latest batch of tomato jam. I have tasted many a tomato jams, but my personal preference is this simple concoction… without heavy spices found in some. I make in small batches to eat on and share, so I don't always do the canning process, but you certainly "can." I will probably do that later in the summer to store away some to get me through until next year this time. But now, while starting to be plentiful, and some farmers will sell "canning tomatoes" at a huge discount, I'll just keep making my small batches.
You can enjoy tomato jam in many ways. It's tasty over cream cheese and other soft cheeses (like here on my favorite, Cambozola) on crackers… or spooned over a bowl of summer peas (like my favorites here, White Acre Peas)…. over grilled chops and chicken… on a bacon sandwich or morning toast… just about anywhere you need "a little something."
So go ahead and throw yourself a batch together when you'll be around the house for a few hours. It really only takes about 15 minutes to get ready and in the pot to simmer, and after that, just a stir now and then until reduced and all "jammy!"
Jam on y'all!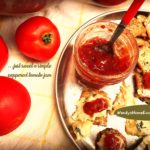 ....just sweet n'simple peppered tomato jam
Tomato time is happy time, and this truly simple tomato jam will put a smile on everybody's face!
Course:
Appetizer, Breakfast, Side Dish, Snack
Ingredients
3 1/2

pounds

ripe tomatoes

3

pounds

sugar

several

grinds

black pepper

1

teaspoon

crushed red or cayenne pepper

optional

2

big pinches

salt
Instructions
Heat pot of water to boiling. Cut "X" shape in bottom of each tomato. Put tomatoes into boiling water for about 1 minute or until you see skins start to loosen. Cool to touch.

Peel, core and cut into half-inch size pieces in colander to drain juice (save for another use or sip). Pour sliced tomatoes into heavy pot or Dutch oven. Add remaining ingredients and bring to a boil. Reduce heat to medium and continue cooking until your jam reduces and it thickens and gets "jammy."

Ladle into jars, cover and refrigerate. If canning for future use, follow instructions on canning jars for processing. Without processing, the jam will be fine in refrigerator up to about 6 months, if it lasts that long!
Recipe Notes
The 2 hours of cooking is approximate. If needed, cook less or more... depending on how yours thickens up. Some folks like to add in about 2 teaspoons of lemon juice, but I personally don't care for that, but is an option if you want to add.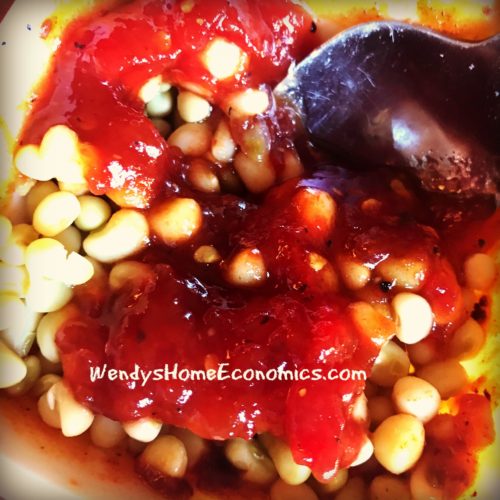 It's here! Squash season… the start of that time of year when squash seems to be coming at us from every which way. I planted squash seeds in the spring, but just for squash blossom cook'n and eat'n. If you have never eaten them but love squash… oh lordy! I'll come back soon with some recipes and "how tos" on that, but today, enjoy these nearly carbless goodies!
And if this is your first visit, be sure to add your email addy over there to the right and subscribe so you don't miss out on future recipe goodies and helpful HOME EConomics hints!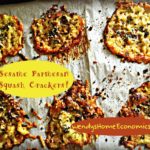 Sesame Parmesan Squash Crackers
A fun side for summer soup and yummy snack for low carbers! Soooo addicting.
Ingredients
4

cups

grated Parmesan cheese

1 1/2

cups

grated and drained* squash (yellow or zucchini)

1/4

cup

toasted sesame seeds
Instructions
Combine cheese and drained squash. Mix together with fingers. Line baking pan with parchment paper. Pinch tablespoon amounts of mixture and place onto baking pan about 2 inches apart to allow for spreading as they cook. Sprinkle with toasted sesame seed herbs of choice.

Cook for about 8-9 minutes, until bubbly and lightly browned. Let sit in pan a couple of minutes, then remove to cake cooling rack with spatula to finish cooling about 20 minutes. Store for a few days in covered container, if they last that long!
Recipe Notes
Squash prep: Line colander with paper towels. As you grate each squash, put onto paper towels and top with another layer of paper towels and repeat till all done. Make sure you remove as much water/moisture from squash as possible. If too much moisture remains, your crackers won't crack!