Monthly Archives:
October 2013
Bacon Kissed NC Apples, Cabbage and Onions
What to throw together...
bacon drippings
thinly sliced cabbage ribbons
thinly sliced onion, any kind will do
thinly sliced apple, any kind of cooking apple will do
couple pinches of brown sugar, optional
generous pinch of sea salt
generous crushed black pepper
How to throw together...
Heat drippings to Medium High. Add in cabbage, onion and apple. Cook, tossing about frequently, until wilted and soft and cabbage and onion start caramelizing (turning a little brown, but not burned). Scatter with brown sugar, salt and pepper. Toss and serve!
Recipe Copyright Wendy L. Perry, Inc. 2010. Share with credit/linkback please.
Tis that time of year when we start hunkering down inside on chilly fall eves… and for some of us, what amounts to the start of "cooking season"!  I threw together some stuffed pork chops yesterday and just dug around in my fridge to find the perfect side dish to go along with them.  What I found was half a small cabbage, a NC apple (from a bowl full I'm using to create a recipe entry at the State Fair next week) and part of a red onion.  One of my cast iron skillets happened to be sitting on top of the stove from earlier in the day… with a light coating of…. BACON DRIP'ns!  Well that was just the perfect canvas for me to use for this quick and tasty side dish.  This is true "throw cooking" using "nekkid food" at its finest… I do practic what I preach…. my friend Pam came over for supper, and she couldn't stop eating this stuff…. so here you go!  Throw some together for yourself.  The caramelization of these veggies is just wondermous and is a scrumptious side dish for all sorts of stuff, or just crumble some bacon into this for a simple meal.
Hey y'all!
Thought it was about time for the world's slowest blogger to drop by. So much has been happening and sometimes it just gets to be a bit much to keep up here, there and everywhere.
About a month or so ago, my old friend Patrick Johnson asked me to be his "show chef" on his WPTF radio show. Patrick is there daily, but you can catch me on Thursday's, around 11:45ish. Sometimes he replays our chat on Friday too. We talk about this, that and the other and usually a recipe idea or two that you can "throw" together…. that is seasonal, and features local goodness. So I'm going to start "throwing" those recipes here, along with whatever else pops up, since I can offer in an easy and quick printable way for you and the radio listeners.
Last week, along with chatting about my appearance with my new Squash Blossom Vintage Travel Trailer at the Fall Southern Ideal Home Show, I shared my recipe for my Ma Perry's Corn Pudding. This is GOOD stuff, easy to make, and is a great side dish for just about anything. I hope you will make some…. I even served this on a Christmas Dessert Buffet last year (and it was a hit!) with some Cinnamon Whipped Cream. So here it is… for you to make and enjoy too. Corn pudding is a family tradition with the Perry crowd… maybe it will become one for yours too.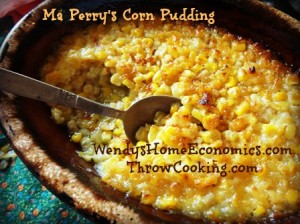 What to throw together...
1-15 ounce can corn, drained and reserved (or equivalent fresh or frozen)
1 egg
1/2 cup water (I used the drained from above)
1 cup sugar
pinch salt
pinch white pepper
3 tablespoons flour
4 tablespoons butter
How to throw together...
Preheat oven to 350.
Combine drained corn, egg, half of the water, sugar, salt and pepper.
Pour into small baking dish.
Scatter with flour and stir to mix.
Dot with pats of butter.
Bake about 30 minutes. If pudding is becoming dry, add remaining water and stir to moisten.
Continue baking about 15 minutes until hot, bubbly and lightly browned.
Notes
This is a great side dish for just about any meat dish, especially pork and poultry. I really like it alongside fish and seafood too.
Recipe Copyright Wendy L. Perry, Inc. 2010. Share with credit/linkback please.