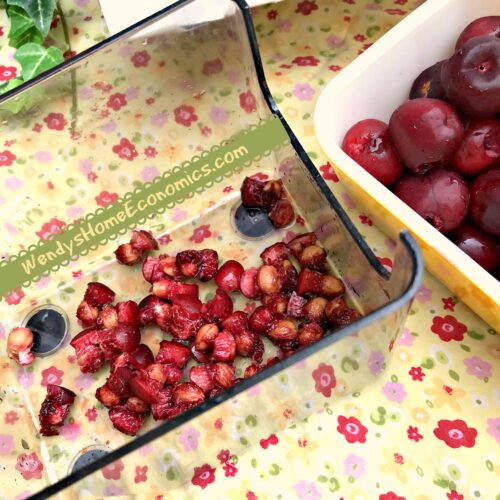 When I was born, my Daddy Hocutt planted a new cherry tree for me, beside the 2 he'd already planted years before for him and my Mama Hocutt. Every season, he would cover those trees with what to me looked like a gigantic spider web. He made sure WE got the cherries, and not the birds! When time, we would go out there and get up under that cover and pick cherries as they ripened… and I would eat those delicious tart sour cherries until I had a stomach ache.
My Daddy Hocutt died a few days before my 8th birthday when he had a massive heart attack. They were moseying their way home on the back mountain roads of Virginia after a vacation to Washington DC… they went over the side of a mountain. My Daddy Hocutt died instantly from the heart attack and my Mama Hocutt was thrown out of the car, both legs folded back up under her and broken in many places. For the most part, she was forever "crippled" until she died at 91… forty some years after that terrible day!
Over time, those cherry trees withered away. But they sure are etched in my memories. I've always loved cherries, and so did my Ma Hocutt. (Some of you have read this story here before, so bare with me.) For decades, we had the "Dairy Bar" in Zebulon. Mama Hocutt would drive the few blocks from her house there to get Cherry Vanilla milkshakes. They knew she couldn't get out of the car to go in and order, so she'd just toot her horn and they would make her shake and carry out to her. I was with her many times, so I would go in and get our Cherry Milkshakes! I love those too, and to this day, are my favorite milkshake… with those pieces of maraschino cherries in there that clog up my straw! The best part… those pieces left in the bottom of the cup… to turn up and enjoy with that last little bit of milkshake. In this case, the cherry treat is on the bottom, not the top!
There are dozens of varieties of cherries, and right now, California cherries are plentiful, the first of the season. The window of time to enjoy them is short lived… from about April to early June. I've been hoarding them this week, especially since our Food Lion grocery stores have them on sale! At just $2.99/lb. it's time!
There are a variety of ways to pit cherries (google), including poking with a straw. A few years ago I decided to invest in a cherry pitter and did quite a bit of research. I finally decided on this one: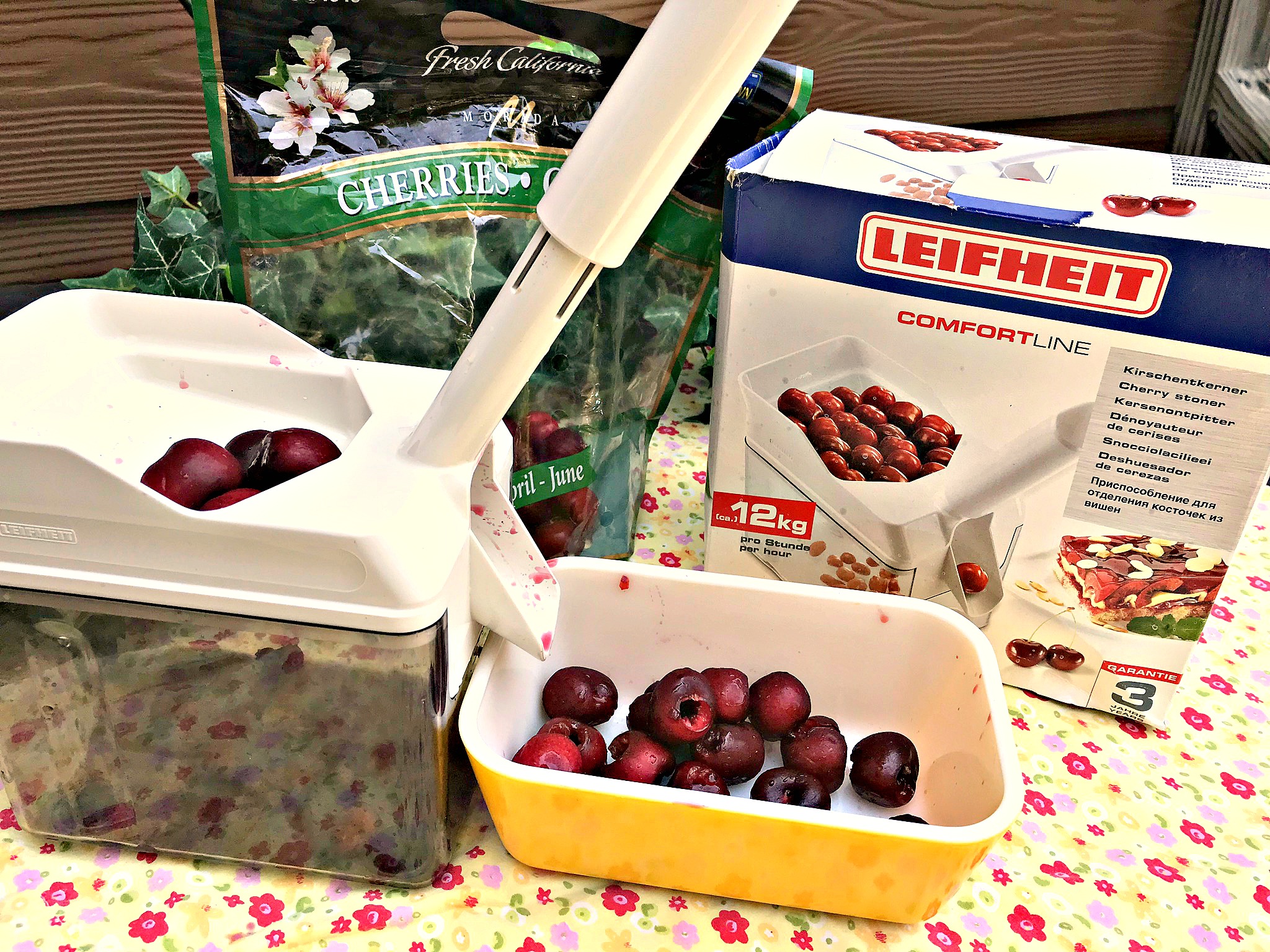 There are lots of options for sale and it was hard to decide which one to choose. After hours of research and reading reviews, this one is where I landed. And I have been happy with my decision. I declare it a #WendysWorthies!
It's so easy to use. I'm "challenged" when it comes to assemblage and get frustrated with things with multiple parts and pieces. This one has just two! You just put stemmed cherries in the "well" and push down on the poker thingy… and the seeds fall right into the little container, and the cherries roll right into the blow while the next one rolls into place. Occasionally one might get stuck and not roll out of the way, but when that happens, it's easy to just nudge it with your finger. When done, it goes right into the dishwasher!
I'm not big on gadgets anymore like I was years ago… over time, I have pared down to the bare minimum. This one is worth the little space it occupies in its box in my equipment pantry. If you love cherries, get yourself one. And watch for the short window of cherry season so you can load up! Stay tuned for some recipes once there's time to use all the cherries now in my freezer! I have so many ideas and inspirations… the hard part now is where to start.
To freeze… once pitted, just lay out on a baking sheet and freeze. Put into zippered freezer bags and flatten for easy stacking in your freezer.
Cherry-oh friends! Get yourself a cherry stoner and get your cherry ON!
Be sure to come join my fun Facebook community http://www.facebook.com/homeeconomics too!