So last week I shared my Arnold Palmer Chicken Wings with you. Today, I have another AP goodie for you. While here in the middle of watermelon season, you need to make a batch of Watermelon Arnold Palmers! This recipe was created way back in 2015 for Our State Magazine's August issue. And I just realized I've never put that here on my blog…
Visit your local farmers' market, pick out a watermelon and make the lemon ice cubes. Find a shade tree and plop yourself down… enjoy an ice cold Watermelon Arnold Palmer… and if so desired, throw in a splash of chilled vodka or similar adult spirit…
just make sure that is icy cold too!
Watermelon Arnold Palmer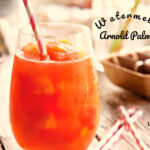 Icy cold… the perfect refreshment for a hot summer's day with fresh watermelon and green tea-lemonade ice cubes!
6 cups watermelon
1 1/2 quarts lemonade + 2 cups, (chilled)
2 lemons, (cut in small pieces)
1 quart green tea, (chilled)
2-3 ice cube trays,, (depending on size)
Puree watermelon in blender and strain. Add 1 cup of lemonade for every 2 cups of watermelon juice. Put 2 or 3 pieces of diced lemon into each cube section. Fill trays with melon-juice mixture. Freeze for several hours or overnight.

To serve, fill glasses with watermelon cubes. Top with half tea and half lemonade.