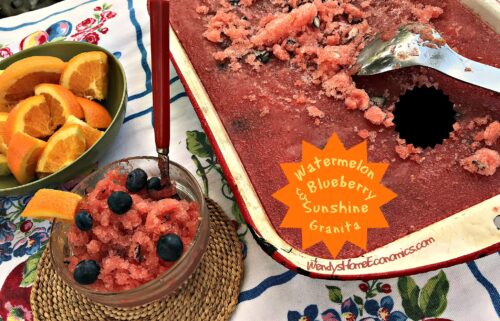 Published in Carolina Country Magazine June 2019
Ahhh… those lazy, hazy days of summertime!
Sweltering heat.
Humidity.
Mosquitoes.
UGH!
Time for something nice and cold and frozen! Like delicious Bogue Sound watermelons! Grown in the region of the sound and surrounding rivers and streams, these watermelons are bright red, sweet and juicy like no other. Their unique features come naturally from their sandy soil and really humid salty air! If in the area (or up for a road trip for a load), be sure not to miss out on grabbing a few! Find locations on the Bogue Sound Watermelon Grower's Association's web site.
For those not lucky enough to have those nearby, that's ok… you can still mix up a batch of this granita. Just pick up a locally grown seedless watermelon and some fresh local blueberries and make some. Be sure to read all about Bogue Sound Watermelons here too…
in June's Carolina Country Magazine.
Stay chill y'all! And here's to your best summer ever!
Watermelon and Blueberry Sunshine Granita
Ahhh… our muggy HOT summer North Carolina days call for something nice and cold to refresh us, and this granita, made with local watermelon and blueberries, is just fit'n for that. You can make it in a flash to keep on hand for a backyard or beach cottage treat. Just add a shade tree and you'll be all set.
Ingredients
¼

cup

sugar

1

pint

fresh blueberries

half

of seedless watermelon,

6-8 cups

½

cup

orange juice

zest

of one orange
Instructions
Combine sugar and blueberries in a small bowl to sit while preparing granita.

Put watermelon pulp and juice into food processor. Whirl until pureed. Pour into 13"x 9" dish* and stir in orange zest. Scatter with the sweetened blueberries.

Freeze several hours. Once frozen, scrape up the ice with a fork or spoon. Find that shade tree and enjoy your icy cold watermelon treat.
Notes
Variation: If you like creamy frozen desserts, once you pour into the pan, whirl in some half and half or whipping cream before freezing!
*If a large dish doesn't fit in your freezer, divide into 2-8"x 8" dishes.