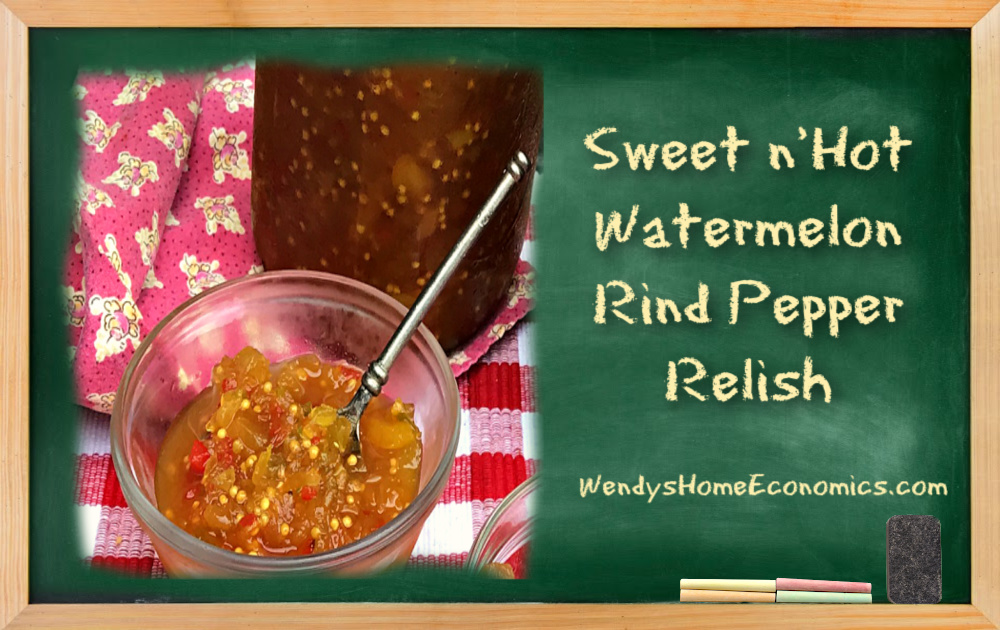 Published in Carolina Country Magazine June 2019
I remember as a little girl my grandmas always having some sort of homemade pickles on the table every time we ate. Summers were spent "puttin up" all sorts of their garden goodies to enjoy year-round. I've never been one to do much of that, but have become a bit obsessed with making fresh tomato sauce each summer… but more about that in another post on another day.
My daddy did love pickles… and I do too!  His favorite was peach pickle… or is it pickled peaches? Tater salad and chicken salad and deviled eggs need homemade cucumber pickle relish to shine their brightest.
And then there's the good old watermelon rind pickle! 
Except for finding somebody who makes them, these are rather hard to find.  And some are just way too spicy for my taste.  I like mine on the more lightly spiced end of things…
Last summer, in July 2018, when I started working on my tale of Bogue Sound watermelons for this summer while the melons were in season and plentiful, I decided to see what I could do with all the nice thick rind in the melons Sarah Winberry at Winberry Farms gave me to play with!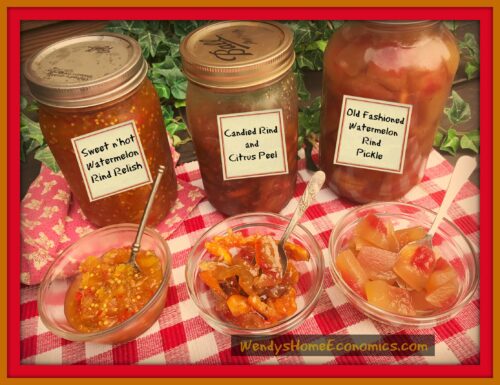 I made basic traditional watermelon rind pickles, candied some with some citrus fruits, and then this… a delicious relish that is good by itself or on greens or hot dogs or burgers or sandwiches or… on field peas… whatever you imagine!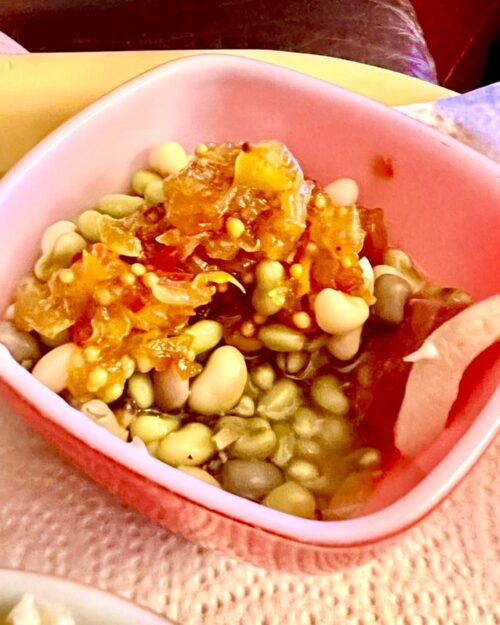 Not being very experienced with pickling, I really had no idea what I was doing so I asked a couple of old-timers for advice.  I will share the other recipes in other posts, but here is the relish I ended up with in my watermelon rind adventure.  I declare, this surely did turn out so much better than I imagined!  If you enjoy a good chow chow-relish, I highly recommend making yourself some of this!  I don't know that there is any way to tell if a melon will have a good rind or not… seems like most melons these days don't have much of one. But those Bogue Sound ones surely do!

Just grab yourself some locally grown watermelons this summer and enjoy them… in big cold chunks, in my watermelon granita, or by making some of this relish to enjoy for months to come!  I declare this is some good eat'n!    Don't forget your furbabies too… they'll love these Fur Baby Watermelon Colada Coolers. 
Take a look at this video to see how easily you can cut rind to use for relish and pickling.
Happy summer y'all!  
This recipe created for and published in Carolina Country Magazine June 2019.
Food propping/styling and photography © (copyrighted) by Wendy Perry.
Carolina Country Magazine Contributing Recipes Editor
Disclosure:  I only use and recommend products here I use myself. I may receive a small commission from affiliate links on this or other posts on this web site at no additional costs to you.
CLICK HERE TO SUBSCRIBE TO MY TABLE SCRAPS E-ZINE NEWSLETTER!
Find me on social media:
Wendy's HOME Economics! Page on FB    @culinaryadventuristwendy on IG
Aunt Dee Dee's Kitchen Page on FB            @auntdeedeeskitchen on IG
Credentials @ LinkedIn
Be sure to visit my online stores:
Aunt Dee Dee's Kitchen for my seasonings, dried goods, pickles, jams, preserves, kitchen linens and more! Lots of new goodies coming throughout 2022.
And for the best budget-friendly MADE IN THE USA by folks like you and me, my Rada Knives and Kitchen Tools online store.
THESE LINKS CAN ALSO BE FOUND ON SIDE MENU OF MY BLOG HOME PAGE.
Sweet n'Hot Watermelon Rind Pepper Relish
When you slice open a big old watermelon and see you have one with a nice rind, it's like an extra added bonus since it seems nowadays, that is a rare find. Making pickles and relishes with the rind is simple and canning them gives such tasty year-round treats. This relish is similar to chow chow, and great on greens, burgers, hot dogs and in egg or potato salad. Adjust jalapeno peppers for your personal heat level!
Ingredients
about 6 cups cubed watermelon rind

1

large

sweet onion,

cut into chunks

1

large

red bell pepper,

seeded cut into pieces

2

large

jalapeno peppers,

split and seeded

1

teaspoon

sea salt

1 ¾

cups

sugar

1

teaspoon

white pepper

1 ½

cups

cider vinegar

1

teaspoon

ground tumeric

2

tablespoons

mustard seeds

2

tablespoons

pickling spice,

tied in cheesecloth
Instructions
Put rind, onion and peppers into food processor. Pulse until relish consistency. Pout into non-metallic container and toss with salt. Cover and refrigerate overnight.

Drain in colander and rinse. Drain again, dabbing with paper towels to remove excess moisture.

Put into a large heavy pot and stir in remaining ingredients. Bring just to a boil, then cut back to a simmer for about 15 minutes.

The relish is done and can be stored in the refrigerator without processing for several weeks.

Notes
If planning to use later, ladle hot into sterilized jars leaving a small headspace. Place lids on and process for 10 minutes in boiling water bath.