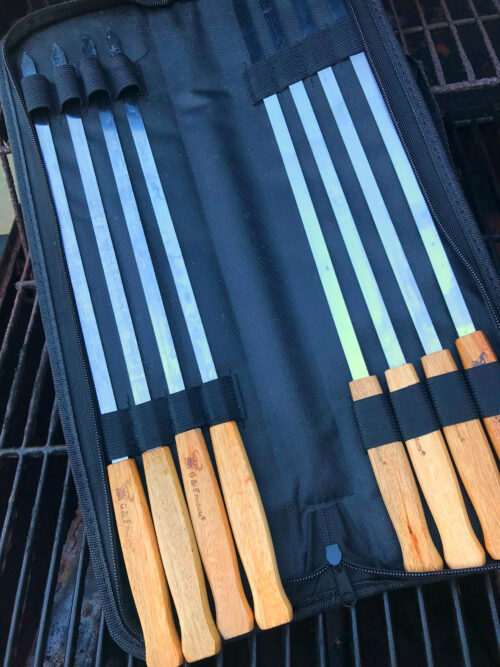 Sometimes I come across a new "thing" that makes like easier… or makes me wonder… "where has this been all my life?"
These skewers are one of those things! I have a drawer full of wooden toothpick skewers in every imaginable length… a damn mess is what they are! They sometimes will continue to have their function, and I will keep a few, but now that I have found these magnificent skewers, those damn toothpick things that need forethought to soak to keep from burning (yet still burn even after a 24 hour soak), are getting tossed into the yard sale pile!
I originally found these nice 1/2″ wide skewers on Amazon… but kept searching. Also saw on Home Depot site. My persistence paid off, and damn if I didn't find the exact same ones on Walmart… for less than $9… (while those on the 'Zon are 2-4 times as much for SAME THING)… plus FREE SHIPPING at Wally World!
People. Let me just tell you right now if you ever skewer meat, shrimp, scallops, veggies… you just must get yourself some of these right here! There are 8 skewers. The blades are 1/2″ wide so your food won't flop around or roll around, a real pain in the ass when turning on the grill! They are a great 17″ long with sturdy and easy to work with wooden handles! AND, they come in a really great heavy canvas zippered storage bag! When I bought mine, I didn't even see that part, so it was a bonus for me when they arrived!
Do you, like me, cuss when trying to turn your skewers… and the foods flip around, so part is as it should be, while other parts rolls over, so you have to manually turn those pieces? Grrrr!
As you can see, the blades on these wonderful skewers have width needed to keep foods in place. AND, they are nice and long so you can put the sturdy wooden handles over the edge of your grill to prevent from burning…. while keeping the food over the fire!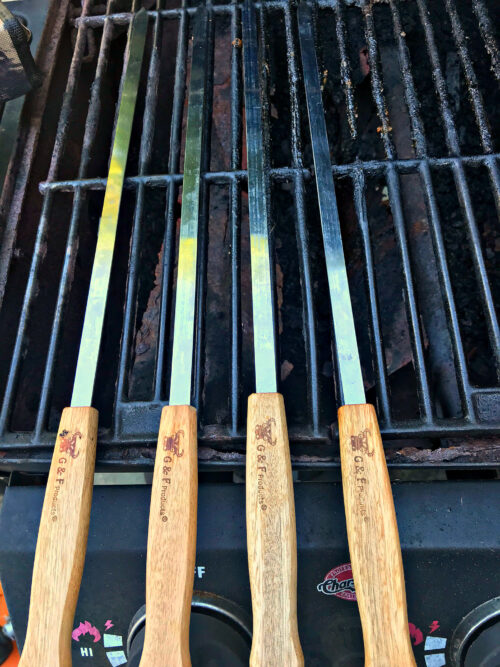 They are sturdy and dishwasher safe too. I have ordered a 2nd set for my happy place…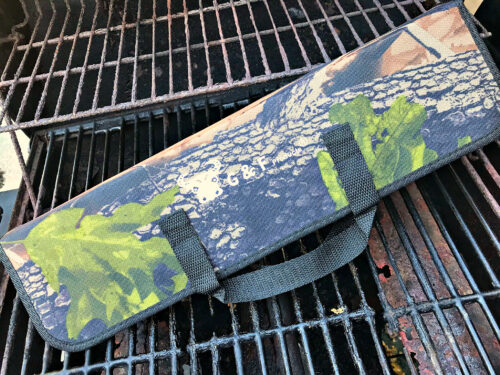 So my conclusion… if you grill kabobs, even "just now and then," do get yourself some of these skewers! You or your grillmaster will be glad you did. If you order now, you can get here in time for Father's Day… although grill'n mamas would love these too!