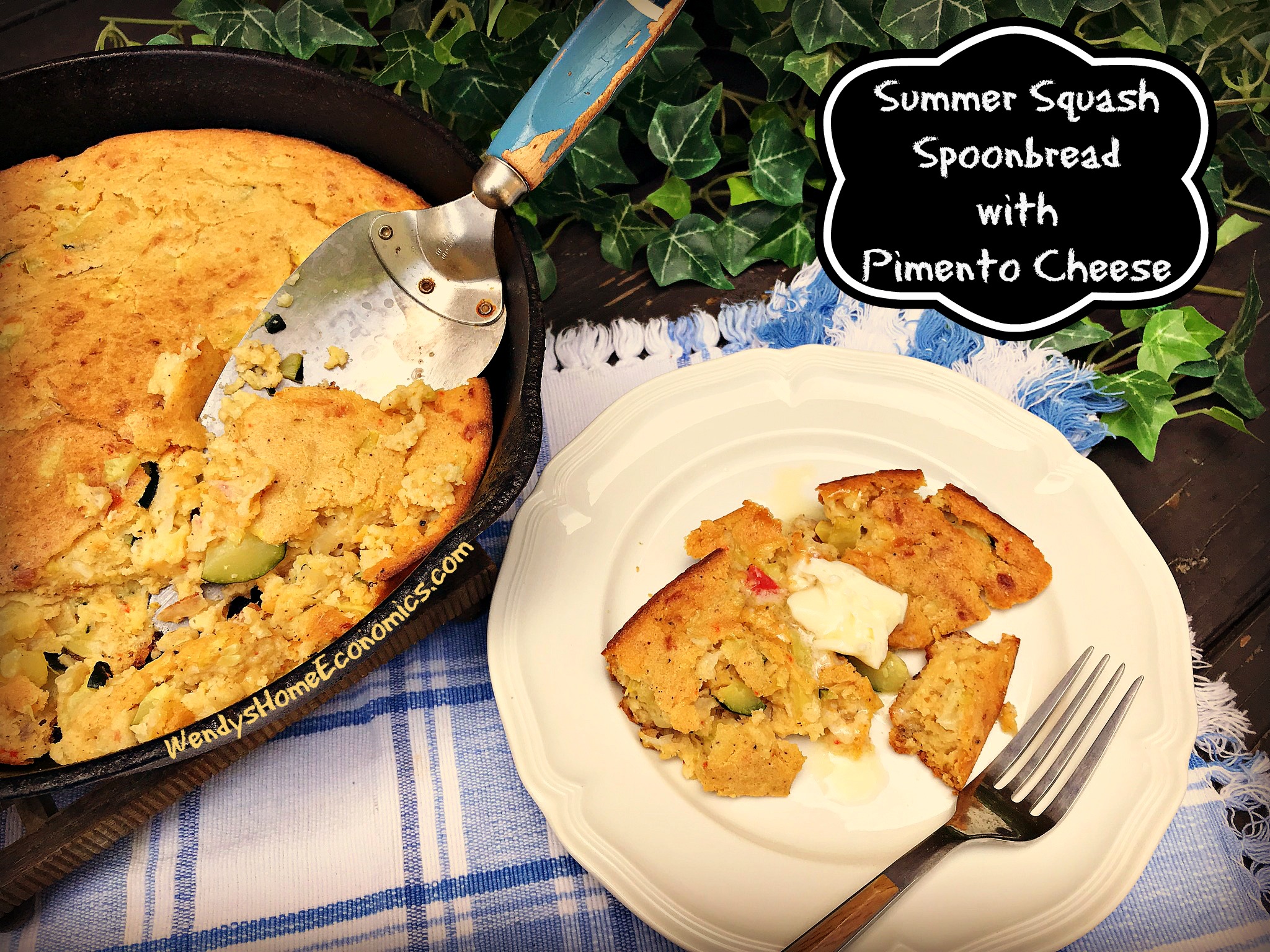 Published in Carolina Country Summer 2019
So, just what is spoonbread?
Spoonbread is a southern moist pudding-like dish made with cornmeal.  It's really not "bread" at all… but kinda like a souffle made with milk and cornmeal. It's soft and creamy, and needs serving with a spoon… thus, "Spoonbread!" 
You will find all sorts of variations, and spoonbread is a great dish to throw together and use up bits of this and that for something unique and tasty. And the best part… the basic ingredients are probably already in your pantry. 
I hope you enjoy my summer squash spoonbread… made even better with good old pimento cheese… store bought or your own.  Just one more way to use up some of the baskets of squash we have available this time of summer.
A little ditty about the server… years ago, I picked the thing up in some thrift store.  I had no idea what it was or used for but tossed it into my props to use one day.  Along with appearing to be some sort of kitchen scoop (due to the handle and shape), it looked sorta like a gardening tool, but the "wear" on it didn't look like it had been digging dirt.  I googled myself silly. I posted it in facebook pages. I finally had luck in a vintage kitchen tool/equipment facebook group when a gal saw my post and said her mother had one, but with an orange handle.  Turns out, it is an English Cake/Pie Server!  And antique Ecko (that's recognizable by the colored wood handle) pie server!  So once I knew this, I was eager to make and shoot something with it that was appropriate.  Turns out it was a pretty kewl "find" in my culinary adventures.
Have you ever seen one?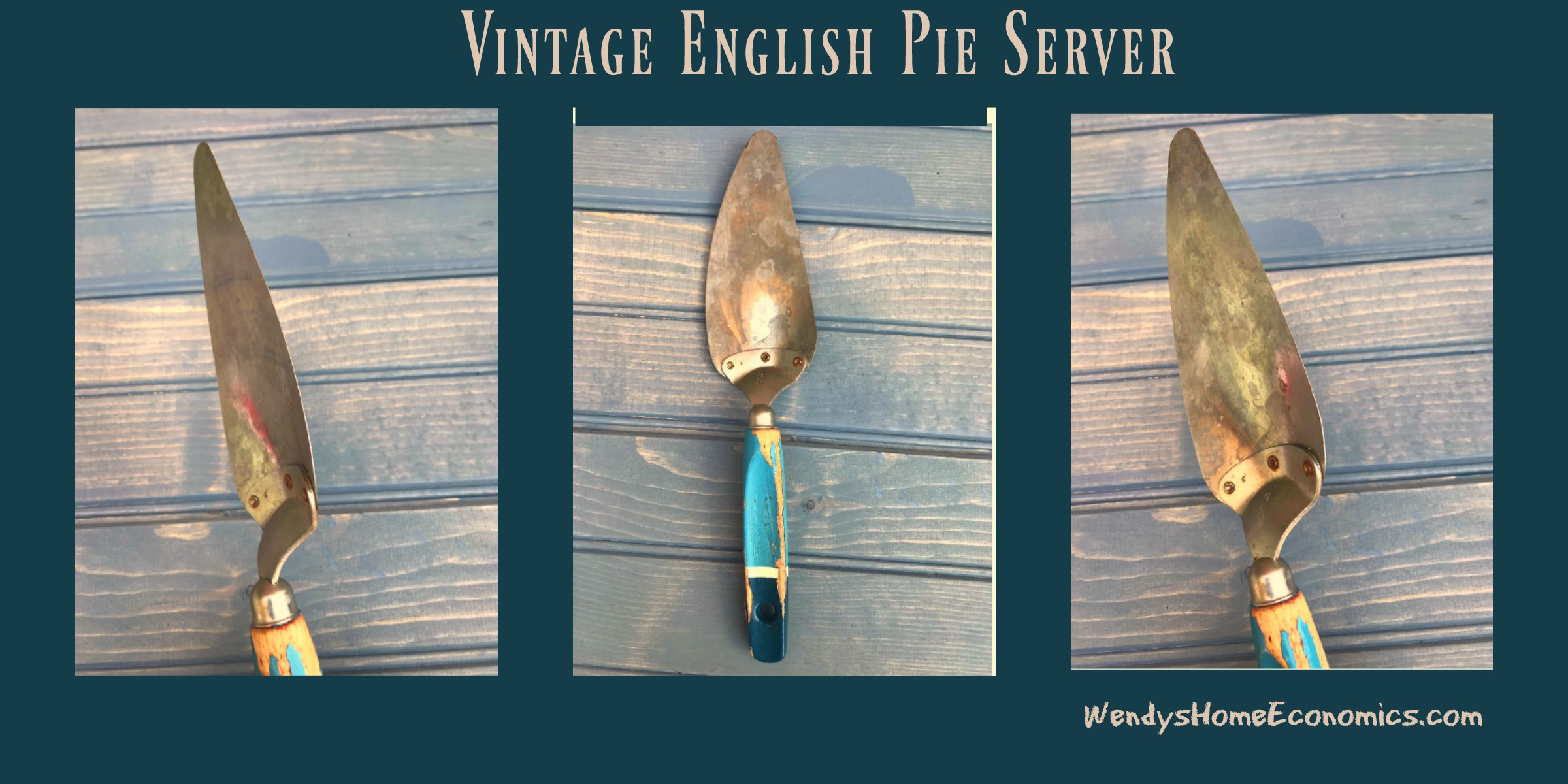 This recipe created for and published in Carolina Country Magazine Summer 2019.
Food propping/styling and photography © (copyrighted) by Wendy Perry.
Carolina Country Magazine Contributing Recipes Editor
Disclosure:  I only use and recommend products here I use myself. I may receive a small commission from affiliate links on this or other posts on this web site at no additional costs to you.
CLICK HERE TO SUBSCRIBE TO MY TABLE SCRAPS E-ZINE NEWSLETTER!
Find me on social media:
Wendy's HOME Economics! Page on FB    @culinaryadventuristwendy on IG
Aunt Dee Dee's Kitchen Page on FB            @auntdeedeeskitchen on IG
Credentials @ LinkedIn
Be sure to visit my online stores:
Aunt Dee Dee's Kitchen for my seasonings, dried goods, pickles, jams, preserves, kitchen linens and more! Lots of new goodies in 2022.
And for the best budget-friendly MADE IN THE USA by folks like you and me, my Rada Knives and Kitchen Tools online store.
THESE LINKS CAN ALSO BE FOUND ON SIDE MENU OF MY BLOG HOME PAGE.
Summer Squash Spoonbread with Pimento Cheese
'Tis the season … for scores of squash! Our spoonbread pairs pimento cheese with squash to create an all-in-one, veggie-laden cheesy bread. Add a cool summer salad and serve alongside some grilled goodies on the porch, along with an icy glass of lemonade.
Ingredients
3

tablespoons

butter

3

cups

diced summer squash,

any will do

2

cups

diced onion

1

cup

boiling water

1 ¼

cups

cornmeal mix

⅔

cup

pimento cheese

2

eggs

lightly beaten

1

teaspoon

salt

½

teaspoon

black pepper
Instructions
Place an 8" x 8" casserole dish or a 10" skillet in oven to warm as oven heats.

Melt butter in skillet over medium-high heat. Add squash and onion and sauté about four minutes until slightly tender. Remove from heat.

In a mixing bowl, pour boiling water over cornmeal mix and stir until the consistency of wet mush. Mix in remaining ingredients. Fold in squash and onion.

Remove heated baking dish and coat with nonstick cooking spray. Pour batter into dish and bake 25–30 minutes or until lightly browned. Serve warm with a pat of butter.