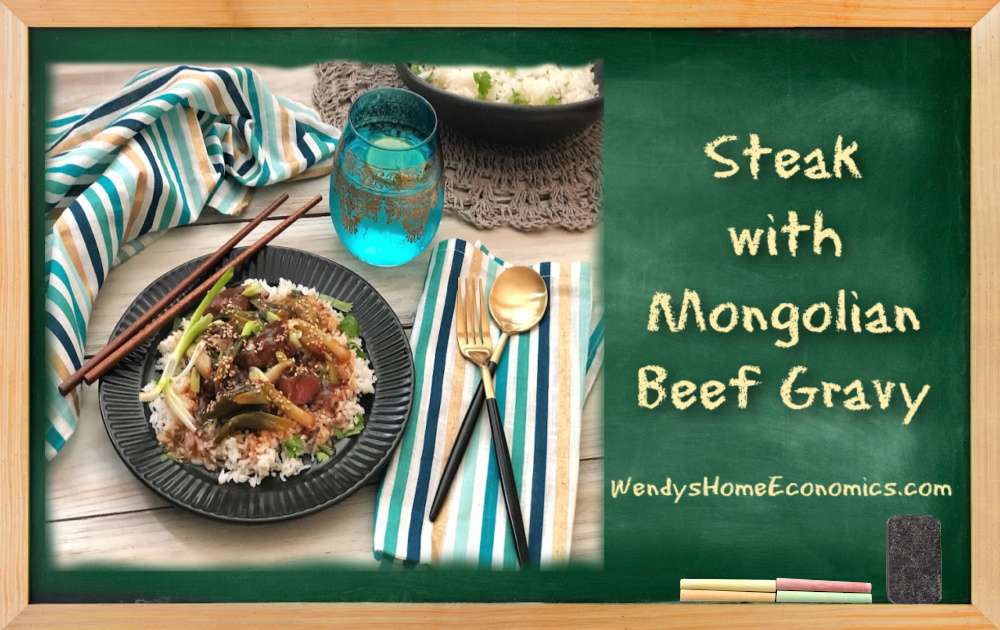 Sometimes I create a recipe that right out of the gate becomes a personal favorite. Now I like all the recipes that come to me, but a few jump to top of the list and are "loves." This recipe, for me, is one of those!
What's not to love?  Tender steak! Garlic! Green onions! Asian flavors! And sesame seeds!  Those check all my boxes… not to mention it's quick and easy.  And oh… there's g.r.a.v.y.
I prefer using rib-eye for this dish and buy them and stock my freezer when my local favorite meat grocers have on sale.  Just be sure whatever you use, it's a tender cut. If not, you'll be super disappointed with chewy tough meat!  As you'll see in the recipe, you can cook and serve whole steaks with the gravy ladled over, or in slices to enjoy with chopsticks for fun.
I hope you will make and enjoy this and come let me know what you think on my facebook post!
This recipe created for and published in Carolina Country Magazine December 2021.
© (copyrighted) 
Propping/styling and photography  by
Wendy Perry Carolina Country Magazine Contributing Recipes Editor
Credentials @ LinkedIn
Disclosure:  I only recommend products here I use myself. I may receive a small commission from affiliate links on this or other posts on this web site at no additional costs to you.
CLICK HERE TO SUBSCRIBE TO MY TABLE SCRAPS NEWSLETTER!
Find me on social media:
Wendy's HOME EConomics! Page on FB    @culinaryadventuristwendy on IG
Aunt Dee Dee's Kitchen Page on FB      
@auntdeedeeskitchen on IG
Be sure to visit (and share) my online stores:
Aunt Dee Dee's Kitchen my unique seasonings, kitchen doodads & more!
Rada Knives and Kitchen Tools  USA made budget-friendly cutlery (great for gifting)
Watkins 1868 Store. Did your mama and grandma buy from "the Watkins Man?" The best vanilla…

LINKS CAN ALSO BE FOUND ON SIDE MENU OF BLOG HOME PAGE.
Steak with Mongolian Beef Gravy
A favorite at many Asian restaurants, I've switched up Mongolian Beef with a little bit of "Southern" by making the sauce into … gravy! Use your favorite steak — rib-eye, filet, sirloin, or any cut suitable for grilling or broiling. My preference is nicely marbled ribeyes. Serve whole or in bite-sized pieces with chopsticks for fun. Spoon over rice with a bit of fresh cilantro.
Ingredients
4

beef steaks of choice

3

cups

low sodium beef broth,

divided

1

tablespoon

cornstarch

2-3

tablespoons

cooking oil

2

tablespoons

minced garlic or garlic paste

2

teaspoons

freshly minced ginger

½

cup

low sodium tamari or soy sauce

¼

cup

dark brown sugar

3

bunches

green onions, trimmed and sliced diagonally in 1½-inch pieces

3

tablespoons

sesame seeds,

toasted

4

cups

cooked jasmine rice

½

cup

loosely packed cilantro,

chopped
Instructions
Broil, grill or sear steaks on stovetop to desired doneness.

For the gravy, whisk ½ cup of broth with cornstarch to make a slurry. Set aside.

Heat the oil in a saucepan over medium heat. Add the garlic and ginger and cook about 30 seconds to season the oil. Stir to keep from burning.

Add remaining broth and tamari or soy sauce. Whisk in sugar until dissolved. Bring to a slow boil. Cut back to medium low and simmer 3–4 minutes. As the mixture thickens, add slurry and whisk. Let cook several minutes to thicken into gravy. Stir in onions the last 1–2 minutes until they "wilt."

Combine rice and cilantro. Serve steak over rice and spoon on gravy. Sprinkle with toasted sesame seeds. Garnish with a few chopped green onions if desired.