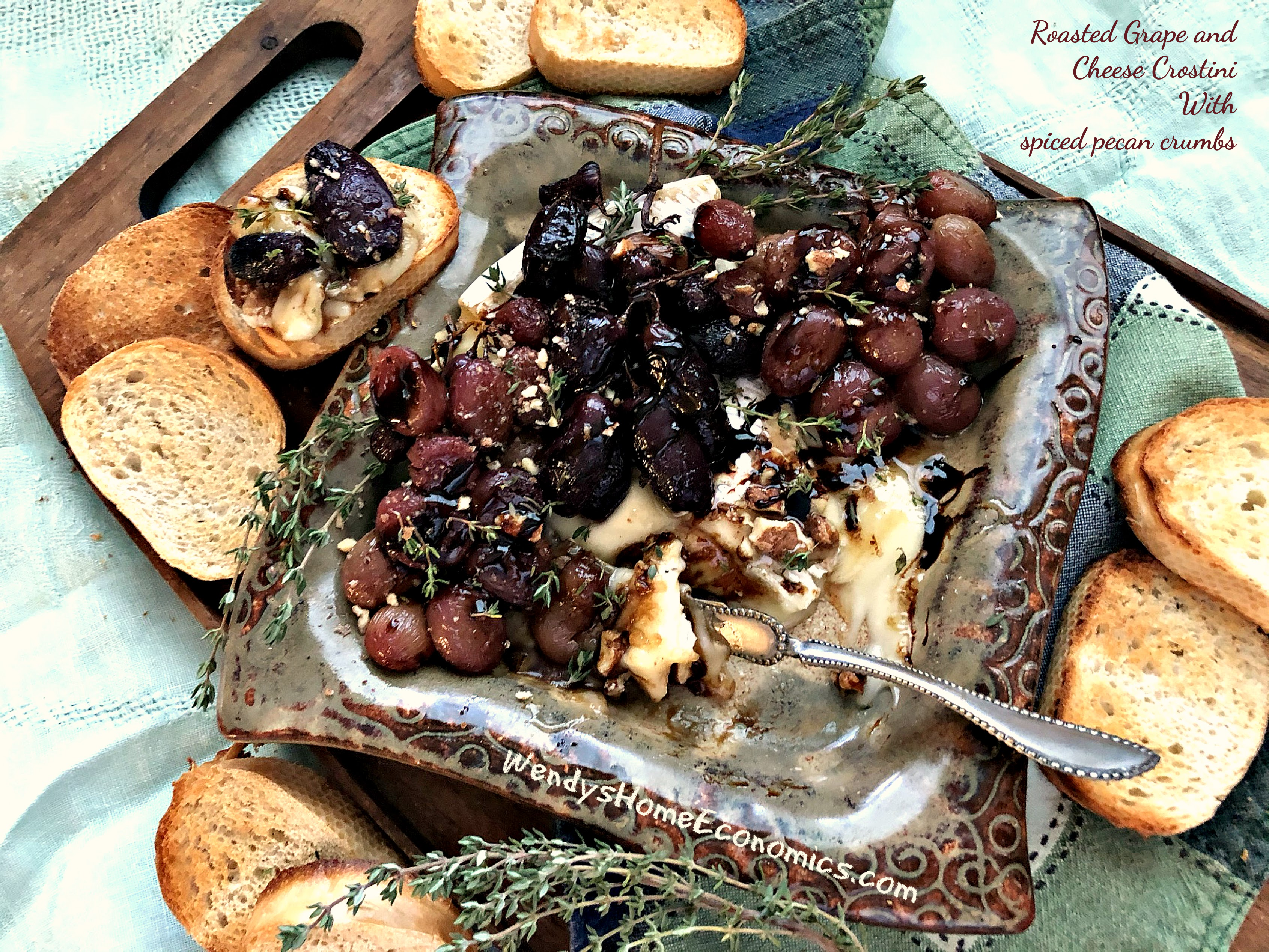 Published in Carolina Country January 2020
Have you ever roasted grapes?  Y'all.
So I wanted to create something nibbly for the January issue of the magazine and had read about roasted grapes, had on my "to do" radar… just had never taken the time.  Till now.
This is such a simple "recipe"… actually just more of a "how to" that doesn't actually need specific measurements.  These grapes are so good, you can just roast and eat 'em all by themselves, BUT… spooned over some soft cheese after roasting doesn't hurt.  Give this a try and let me know what you think!
You'll need:
about 1/2 pound seedless table grapes, same or mixed variety
favorite oil for roasting*
sea salt
balsamic vinegar or glaze
honey
crumbled sugar spiced pecans
earthy creamy rind cheese (like Brie or Camembert)
fresh thyme, optional
baguette, sliced thin and toasted

Preheat oven (or toaster oven like I do) to 400F.  Wash and dry grapes. Pull from the vine or leave on as preferred. Place grapes in roasting dish and drizzle with a little oil. Scatter with a light dusting of salt. Roast 35-45 minutes, shaking a little along the way. Grapes will shrivel and skins will split as they roast.  This can be done ahead of time.
When ready to serve, warm cheese in 350 oven (or toaster oven) for about 10 minutes, until soft and oozing. Using spatula, move onto serving dish. Place grapes over and around cheese. Drizzle with vinegar and honey. Scatter with pecans. Serve with toasted bread.
*We used NC's Carolina Gold (Sunflower) Oil Italian    www.CarolinaGoldOils.com
Other suggested cheeses: blue, goat or ricotta.
Come on over to my Wendy's Home Economics facebook page for this and more!
This recipe created for and published in Carolina Country Magazine January 2020.
Food propping/styling and photography © (copyrighted) by Wendy Perry.
Carolina Country Magazine Contributing Recipes Editor
Disclosure:  I only use and recommend products here I use myself. I may receive a small commission from affiliate links on this or other posts on this web site at no additional costs to you.
CLICK HERE TO SUBSCRIBE TO MY TABLE SCRAPS E-ZINE NEWSLETTER!
Find me on social media:
Wendy's HOME Economics! Page on FB    @culinaryadventuristwendy on IG
Aunt Dee Dee's Kitchen Page on FB            @auntdeedeeskitchen on IG
Credentials @ LinkedIn
Be sure to visit my online stores:
Aunt Dee Dee's Kitchen for my seasonings, dried goods, pickles, jams, preserves, kitchen linens and more! Lots of new goodies in 2022.
And for the best budget-friendly MADE IN THE USA by folks like you and me, my Rada Knives and Kitchen Tools online store.
THESE LINKS CAN ALSO BE FOUND ON SIDE MENU OF MY BLOG HOME PAGE.