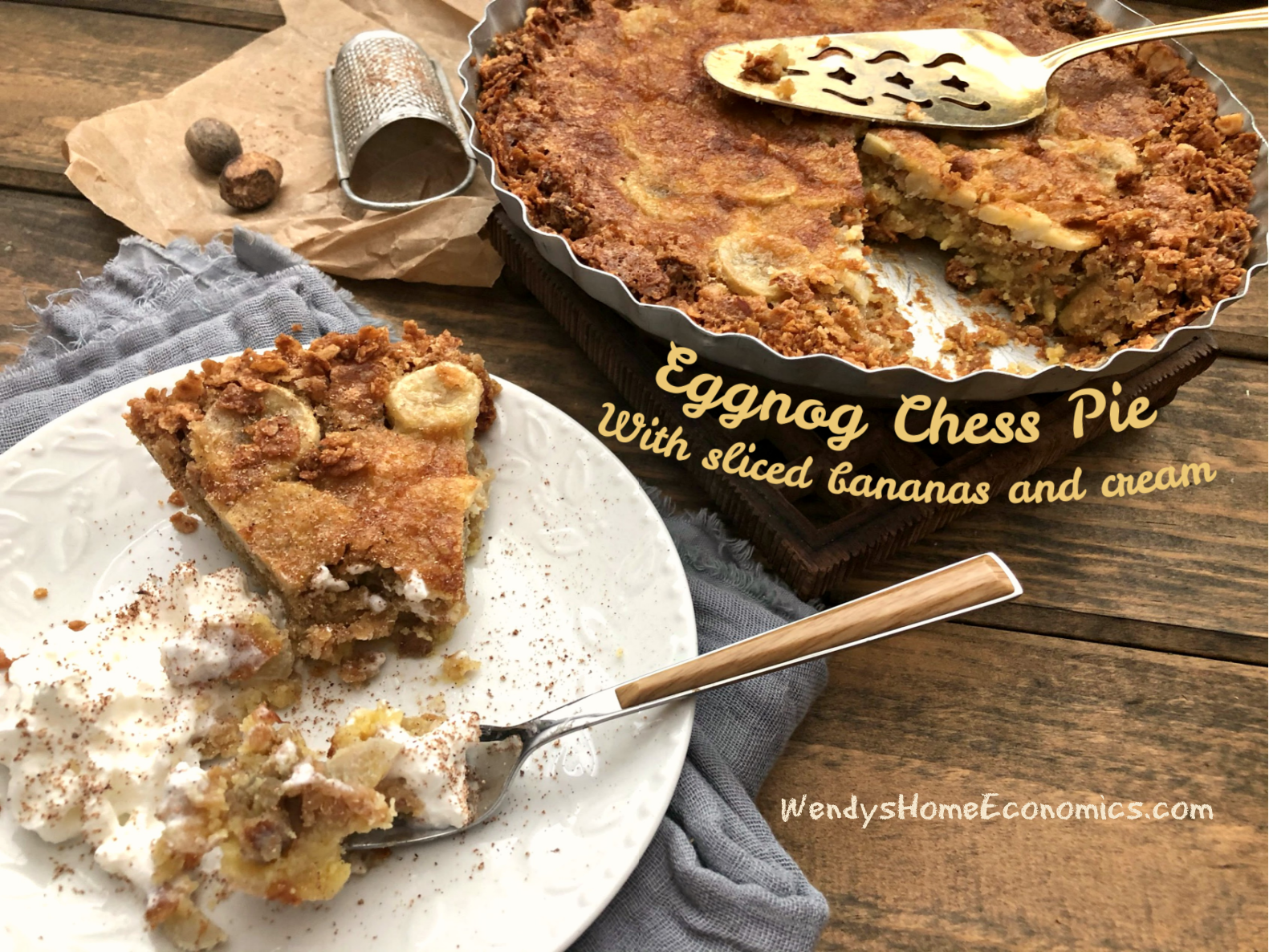 Published in Carolina Country January 2021
Got a tad of egg nog hanging out in your fridge from the holidaZe?  Tired of sipping on it and moving it around and wish it would just get gone?  Well here you go. Fix this simple Egg Nog Chess Pie (with bananas and cream) to be rid of it.  Those that get to eat the pie will thank you for it.
So nog be gone!  A great pie to indulge in for New Year's Eve… might even pair nicely with a bubbly dry champagne?
PS… what's your favorite egg nog?  I'm a huge fan of Simply Natural Creamery here in NC, like used in this pie… theirs is a really good choice… for sip'n and pie'n too.
Don't forget to come on over and hang out with us on my Wendy's Home Economics FB community (and on IG as culinaryadventuristwendy).
This recipe created for and published in Carolina Country Magazine January 2021
Food propping/styling and photography © (copyrighted) by Wendy Perry.
Carolina Country Magazine Contributing Recipes Editor
Disclosure:  I only use and recommend products here I use myself. I may receive a small commission from affiliate links on this or other posts on this web site at no additional costs to you.
CLICK HERE TO SUBSCRIBE TO MY TABLE SCRAPS E-ZINE NEWSLETTER!
Find me on social media:
Wendy's HOME Economics! Page on FB    @culinaryadventuristwendy on IG
Aunt Dee Dee's Kitchen Page on FB            @auntdeedeeskitchen on IG
Credentials @ LinkedIn
Be sure to visit my online stores:
For the best budget-friendly MADE IN THE USA by folks like you and me, my Rada Knives and Kitchen Tools online store.
THESE LINKS CAN ALSO BE FOUND ON SIDE MENU OF MY BLOG HOME PAGE.
Egg Nog Chess Pie with bananas and cream
It seems fittin' to use up that last bit of holiday eggnog in a good old southern chess pie. 'Nog and bananas go together like mac and cheese, so partake of pie while toasting toes in front of a cozy fire as you settle into the New Year.
Ingredients
7

cups

banana-nut, granola-type cereal

1

stick

butter,

softened

4

large

eggs

1 ⅔

cup

sugar

2

tablespoons

cornmeal

1

stick (8 tablespoons)

butter,

melted and slightly cooled

½

cup

egg nog

1

tablespoon

apple cider vinegar

1

teaspoon

vanilla extract

pinch

salt

1

ripe banana

whipped cream,

optional

grated nutmeg,

optional
Instructions
Preheat oven to 350 degrees.

To make the crust, roughly crush cereal in a food processor. Combine with butter by hand. Place into a 10-inch pie plate. Refrigerate at least 20 minutes.

For the filling, use a mixer to blend eggs, sugar and cornmeal together. Add butter, eggnog, vinegar, vanilla and salt. Mix until thoroughly combined.

Thinly slice the banana over bottom of crust. Pour the egg mixture over banana. Bake about 40 minutes, until filling is set. Chill. Serve as is or with a dollop of whipped cream and dusting of nutmeg!

(The bananas will float up as the pie bakes so you'll see some of them in the pie.)