Cucumber sandwiches.  They cover all the bases… a little creamy, a little crispy. When was the last time you enjoyed some?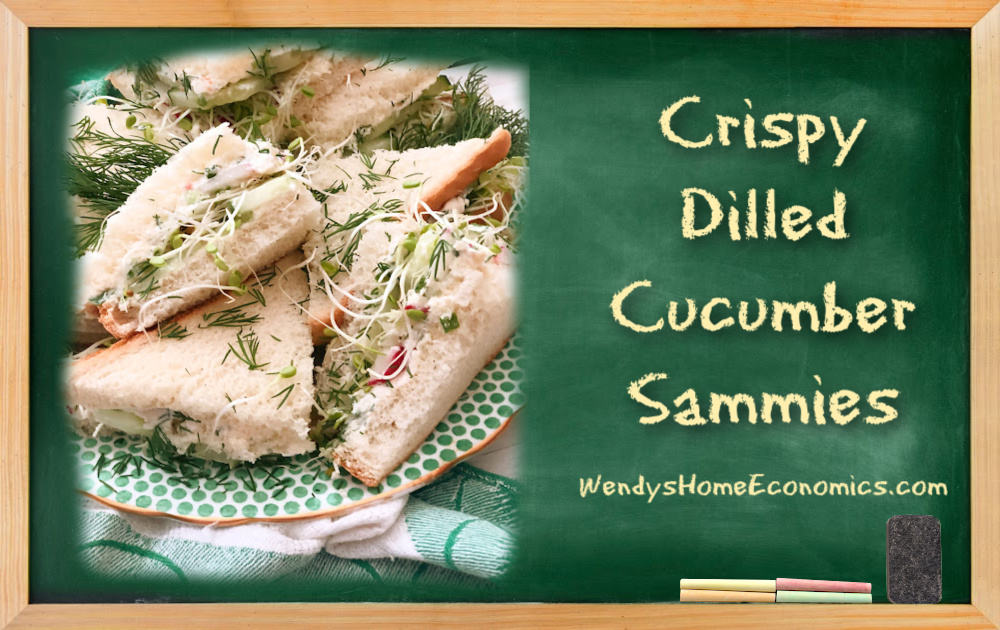 Yummy!
What's not to love about little cuke sandwiches?  Many of us here in the south grew up with them being staples at any sort of gathering like baby and bridal showers… and wedding receptions.  I guess they could be officially called "Reception Sandwiches."
Although we can find cucumbers year-round, keep an eye out now as our local farmers are starting to harvest.  Shop local with them as much as you can. This supports our local economy… farm families that are active in our communities and nothing as good as produce touched by only 1 or 2 hands!
As we are here at Memorial Day weekend, make up a big batch of these and keep wrapped in fridge for quick snacks that will make everybody happy.  Eat along… with soups… poolside… and at picnics!  Lovely with a nice chowder… you can make and have on hand to simply add fish or seafood with my Farmers' Market Spicy Seafood Chowder.  And a glass of Frothy Brazilian Lemonade... 
Perfect when you need "a little something" late morn or mid-afternoon with a cup o'coffee or ice cold sweet tea!  A nice snack with a few salty peanuts.

Adding some fresh dill with take these old favorites to another place… and gives you a "bright" taste.  Fresh dill just isn't used often enough… it gives so many things new life… like my old favorite Dilly Swiss Tomato Pie.  Can hardly wait for summer tomatoes… and all the delicious produce on the way!
This recipe created for and published in Carolina Country Magazine May 2022.
Food propping/styling and photography (copyrighted) by Wendy Perry. 
Credentials @ LinkedIn
Disclosure:  I only recommend products here I use myself. I may receive a small commission from affiliate links on this or other posts on this web site at no additional costs to you.
CLICK HERE TO SUBSCRIBE TO MY TABLE SCRAPS NEWSLETTER!
Find me on social media:
Wendy's HOME EConomics! Page on FB    @culinaryadventuristwendy on IG
Aunt Dee Dee's Kitchen Page on FB      
@auntdeedeeskitchen on IG
Be sure to visit (and share) my online stores:
Aunt Dee Dee's Kitchen …my unique seasonings, kitchen doodads & more!
Rada Knives and Kitchen Tools  USA made budget-friendly cutlery (great for gifting)
Watkins 1868 Store. Did your mama and grandma buy from "the Watkins Man?" The best vanilla…

LINKS CAN ALSO BE FOUND ON SIDE MENU OF BLOG HOME PAGE.
Crispy Dilled Cucumber Sammies
How many of us were introduced to cucumber sandwiches growing up at showers and church receptions? They're such simple little snacks with vibrant flavor and opposing textures, soft and crispy. Pair these with our chowder or salted nuts as a light snack after working in the yard on a hot day. The spread works well on crackers or as a veggie dip
Servings:
16
little sandwiches
Ingredients
1

large

English cucumber or other thin-skinned variety

1

small bunch

radishes (about 6)

1

7 oz.

cream cheese with vegetables, softened

4

tablespoons

butter, softened

4

scallions, finely minced

2

tablespoons

mayonnaise (Duke's preferred)

¾

cup

fresh dill, minced and loosely packed 

½

teaspoon

white pepper

½

teaspoon

garlic powder

pinch

salt

8

slices

white bread

salad sprouts,

option
Instructions
Thinly slice cucumbers and place between paper towels to drain.

Finely mince the radishes and set aside.

Using a fork, smash together remaining ingredients except bread and sprouts.

Spread evenly on all 8 slices of bread. Layer 4 slices with cucumbers and sprouts. Scatter the others with minced radishes, pressing lightly into the spread. Close each sandwich and slice in quarters. Garnish with snips of fresh dill and serve chilled.