This sweet and tangy Frothy Brazilian Lemonade is most refreshing…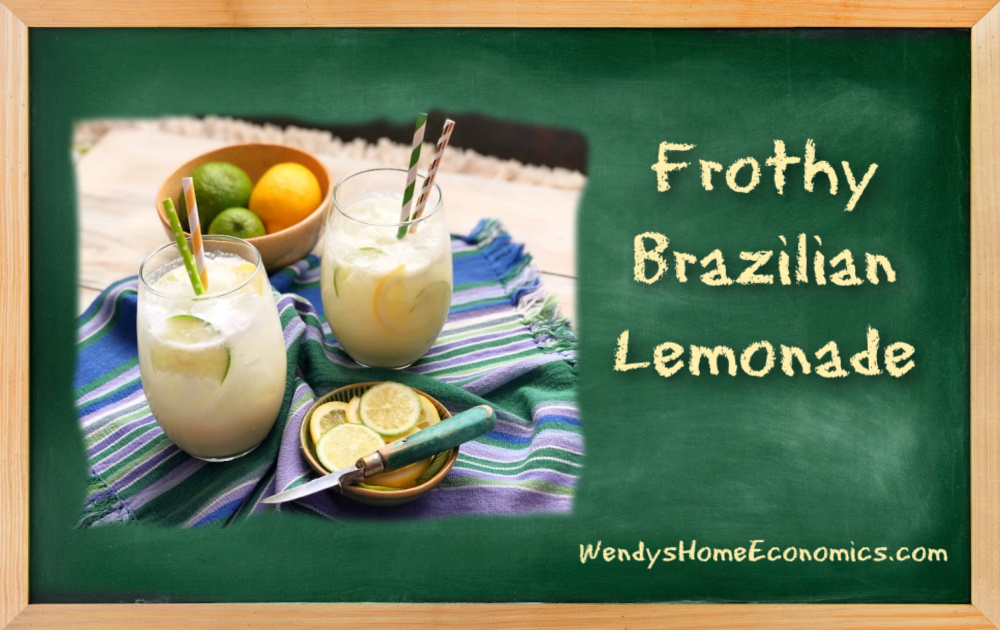 When the humid hot dog days of summer arrive, you'll want to whirl up a bunch of these… sweet but tart and tangy Brazilian Lemonades.  There are thousands of this recipe out there, so I concocted with a little twist. A gal who loves fizzy drinks, I topped off with a bit of seltzer and voila… "froth!"  
If you're an adult beverage consumer… you'll want to try this with a splash of your fave… particularly tasty with coconut rum… but works nicely with other rums… tequila… vodka and more.  This makes a simple base recipe to add your own twists for what may be your new favorite refreshing sultry day treat.  
Should you need great USA made knives (since 1948!) for slicing the fruits, visit my online Rada store and have delivered right to your doorstep.  All of the paring knives are perfect… I especially love the tomato knife.  (Nice gifts at nice prices for housewarming and wedding gifts too.)
Cheers!
This recipe created for and published in Carolina Country Magazine May 2022.
Food propping/styling and photography © (copyrighted) by Wendy Perry Carolina Country Magazine Contributing Recipes Editor
Credentials @ LinkedIn
Disclosure:  I only recommend products here I use myself. I may receive a small commission from affiliate links on this or other posts on this web site at no additional costs to you.
CLICK HERE TO SUBSCRIBE TO MY TABLE SCRAPS NEWSLETTER!
Find me on social media:
Wendy's HOME EConomics! Page on FB    @culinaryadventuristwendy on IG
Aunt Dee Dee's Kitchen Page on FB      
@auntdeedeeskitchen on IG
Be sure to visit (and share) my online stores:
Aunt Dee Dee's Kitchen …my unique seasonings, kitchen doodads & more!
Rada Knives and Kitchen Tools  USA made budget-friendly cutlery (great for gifting)
Watkins 1868 Store. Did your mama and grandma buy from "the Watkins Man?" The best vanilla…

LINKS CAN ALSO BE FOUND ON SIDE MENU OF BLOG HOME PAGE.
Frothy Brazilian Lemonade
Traditional Brazilian Lemonade is made with limes (the name for lemons and limes there where limes are more plentiful). As delicious is that is, I've added lemon with the lime for extra robust citrus flavor. You can enjoy without the seltzer but we like the froth that adds. This also makes a nice mixer for adult cocktails.
Ingredients
2

small limes

1

large lemon
NOTE: look for fruits with thinner smooth skin that will be less bitter and juicer
⅓

cup

condensed milk

we used coconut condensed milk but regular will be fine

⅓

cup

sugar

2

tablespoons

honey

about 2 cups ice water

3 if not using seltzer

lime seltzer or plain
Instructions
Wash fruit and cut into small pieces making sure to remove seeds from lemon and white pith in the center.

Combine in blender with milk, sugar and honey. Add the cold water to blend, no more than 30 seconds. Strain out pulp. Add more water if not using seltzer. Taste and add a bit more honey or milk if needed as fruits will vary in juiciness and tartness.

Pour over crushed ice and top with about a cup of seltzer water per serving.

Garnish with slices of lemon and lime.

Serve immediately as mixture will become bitter after sitting due to pith.
Notes
To quickly make crushed ice:
Put ice cubes in a heavy zippered bag. Bang with a meat cleaver or can about 30 seconds until crushed!
Great with tequila, vodka or rum for refreshing cocktails.