Oinkers!! …"South In Your Mouth" skillet Barbecue Drop Biscuits
with BBQ Gravy Dip   ©Wendy L. Perry, Inc.
(feel free to publish and share with credit please)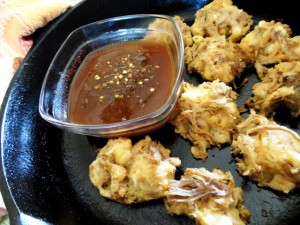 Recipe By:  Wendy Perry
Yield:    About 4 dozen snack-size biscuits.
For the whole Biscuit Day story… scroll on down below this post!
It's tailgate time, and all across America, particularly around the south, that means it's time to EAT…BARBECUE!  Stadium parking lots are bustling with football fanatics who need tasty, yet quick and easy treats for themselves and guests.  BBQ restaurants thrive and the long lines of "tailgate traffic" waiting for drive-through BBQ has already begun.  BUT, if you swing by your local BBQ establishment the day or two before game day, you can toss these biscuits up faster than you can sit in that line on your way to the game… and grin as you zip on past those folks on your way to your pigskin party! Oinkers! are the perfect nibbler to pair with your favorite cold beverage and much easier to juggle than a sandwich, not to mention way more fun to eat. These are great warm or at room temp too… (just be sure to throw in your cooler during game time for safe post-game bites, IF you have any left.)  Instead of messy BBQ sandwiches, surprise your tailgaters with these tasty alternatives… with bread, bbq, slaw and sauce IN the biscuit bite…with some BBQ Dip'n Gravy on the side!  Great for skillet camping too!  Happy Fall Y'all… and GO (insert fav Team here)!
OINKERS

Biscuit Ingredients
2 cups NC's Midstate Mills Southern Biscuit® Formula L Biscuit Mix
1/2 cup buttermilk
1/4 cup vinegar based BBQ Sauce (eastern NC Style-I use George's)
1 teaspoon crushed red pepper (or to taste)
1 Tablespoon sugar
1 pinch salt
few dashes black pepper
few shakes hot sauce (NC's Texas Pete preferred)
1 1/4 cups  firmly packed eastern NC barbecue, snipped with scissors if in big pieces
2/3 cups chopped slaw (yours or purchased)
BBQ Gravy Ingredients

1 bottle of your favorite vinegar based BBQ Sauce-I use 1/2 George's original and 1/2 George's Special sauces
1 Tablespoon brown sugar (if using a BBQ sauce that has no sweetener)
OR…use one of our many great "Western NC Style BBQ" sauces for a thicker dip!
To make BISCUITS:
Preheat oven to 425.  Place cast iron skillet into oven to preheat.
In mixing bowl, combine all biscuit ingredients.  Gently fold mixture until blended.  Drop by heaping teaspoon size mounds onto hot greased cast-iron skillet. Mounds should be near, but not touching each other.  Quickly place skillet back into oven.  Bake about 9 minutes until tops are lightly browned.
To make GRAVY:
Pour 1 bottle of your favorite vinegar based BBQ sauce into heavy-bottomed saucepan.  Bring to a boil; reduce to rolling simmer and continue cooking until reduced into thick sauce.  Or, use your own recipe and reduce as well.  If you use a sauce with little to no sweetener in the ingredients, add about 1 tablespoon per bottle (or per 1-2 cups of sauce) of any one of the following:
Honey

Brown sugar

Molasses
Serve biscuits, warm or at room temp, with BBQ Gravy in bowl for dip'n!
©Wendy L. Perry, Inc. (feel free to publish and share with credit please
For printable recipe, click here!