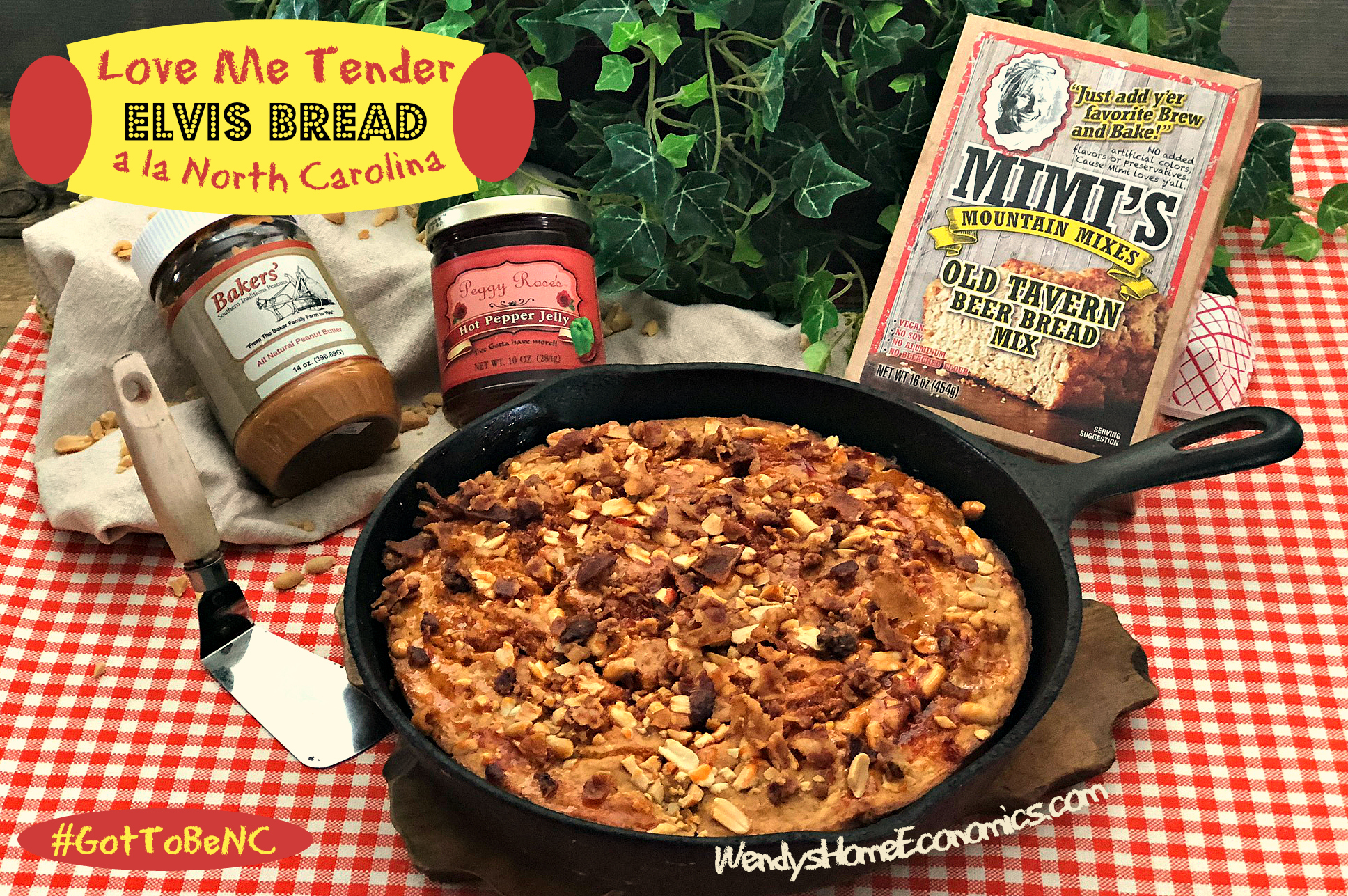 Folks that know me know I have always been an evangelist when it comes to singing the praises of so many of our #MadeInNC #GotToBeNC goodies. And I have so many ideas of recipes to create with many of them… and will never get them all done in this lifetime.  Sometimes they stand alone, and sometimes, like this one, I end up combining several into one tasty treat!
My pantry is "cluttered" with things I pick up here and there to have on hand for when an idea strikes… or is already simmering in my head! So when we had a snow day last week, I went "shopping" in my pantry to find stuff to cook… because that's what I must do on such days.  
I started with a box of Mimi's Mountain Mix Tavern Bread.
And those 2 bananas staring me in the face needed "doing something with." Or they needed to g.o.

So, I get to thinking "banana bread!"  But of course it can't be "just" banana bread if I'm fix'n it.

As I looked around at my stash, this idea quickly came to happen.
Now being that Elvis' favorite sandwich was banana, peanut butter and bacon, it was just a given to get at it, and of course, give this banana bread creation the name "Elvis Bread!"   
And what's a peanut butter sandwich… without jelly?  So realizing it is #NationalBananaBreadDay… today is the perfect day to debut this new recipe creation!  I do hope you will gather up these goodies and make some.  The bananas make it super moist, and it freezes great, so enjoy, then if any is left after a couple of days (unlikely!), slice, wrap and freeze for an out-the-door breakfast to enjoy with your coffee on the way to work… or for a snack, anytime of day.
I met Mimi Lin, the creator of Mimi's Mountain Mixes, years ago when she was doing her first Got To Be NC Festival in her space beside the one I was manning for a client at that time. Bless her heart… she'd made "mountains" of samples but they were gone within hours on the first (of three!) days… and having traveled to Raleigh from the mountains, was staying in town with friends.  Her helper went outside to the flea market to buy a toaster oven (best I remember) and a couple of dishes, and they made batches of bread, one after the next… handling out samples fast as they made 'em!  And I think they probably didn't sleep all weekend making more samples all night long for the next 2 days!  Her mixes (and pretzels and brownies and more!)  are delicious… and all you have to do is add… a beer (or carbonated water)!  How easy is that?  I have made them in several ways over time but never took the time to write up, photograph and blog about, till now! Lin's company has grown over the years, and her products can be found across America… find locations and more information on her web page!

I mostly pick some up at Lowe's Foods.
Next… I grabbed a jar of my friend Dani's peanut butter from Bakers Southern Traditions Peanuts in Roxobel, NC!  I met Dani years ago working in a local Raleigh meat market when they opened.  Dani would drop by to stock her many yummy peanut goodies and we became friends way back then, and have remained so for years.  Dani's company offers all sorts of peanut yummies… year round, and her peanuts can be found in many outlets and ordered from her web page too.  Check out her web page for more on all she has to offer… gift boxes for year round and so much more!!
To round out the trio of delicious NC made goodies for this recipe is my friend's hot pepper jelly!  I met Ms. Peggy of Peggy Roses Jellies somewhere along my adventures years ago and have been a huge fan of her jellies ever since, and call her my friend too.  They are all delish as is, but are so versatile for many uses… from giving meats and veggies a quick glaze, to swirling into baked goods like this one!  Most folks love it simply over cream cheese with crackers or ginger snaps. You can find Peggy Rose's Jellies, cranberry pepper spread and mustard in many locations throughout the southeast.  Check out the "buy here" page on her web site to find in so many grocers and other stores throughout the southeastern US!  
The crown jewel to this tender bread is a scattering of crumbled bacon!  I can't always get my hands on it and use a variety of other bacons, but it's hard to beat Heritage Farms Cheshire Pork bacon.  Their bacon can be found at many locations so look for it, drop by the Heritage Farms General Store if in Goldsboro, and check out their web site for places to buy.  It's the #BaconBomb!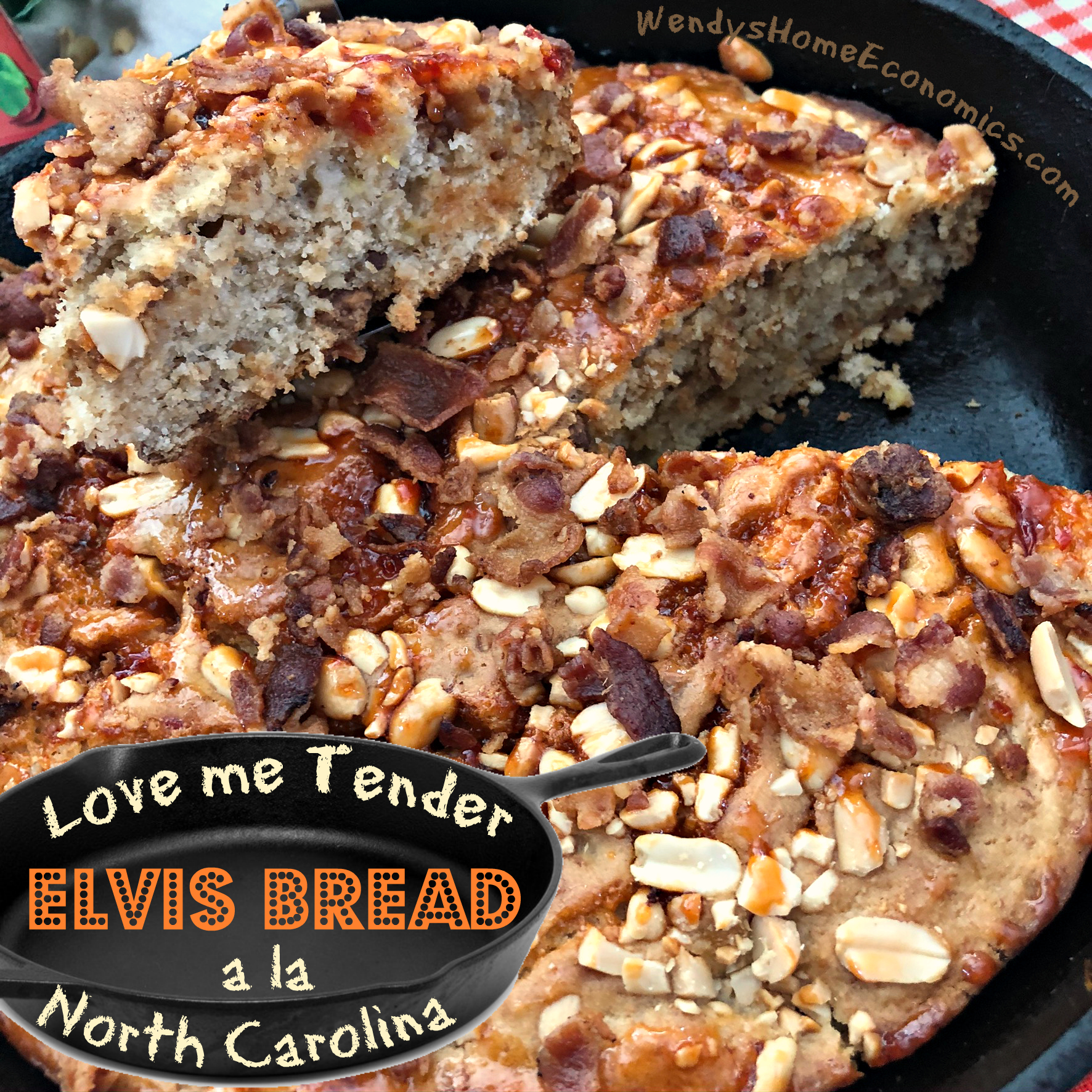 If you can't find these exact products, improvise and substitute what you can get your hands on.  And hop over to my facebook community where we chat about this and all sorts of fun stuff!
Do you need a few recipes and use ideas for your products?  Freelance Recipe Development, styling and photography available.  I would love to hear from you!

Disclaimer:  Peggy Roses Jellies is a social media client of mine.
Love Me Tender Elvis Bread... a la North Carolina!
This tender banana bread/cake features 4 North Carolina made/grown goodies.
Ingredients
1

box

Mimi's Mountain Mixes Tavern Bread Mix

1

12 ounce

beer or carbonated water (per mix instructions)

2

large

bananas, mashed (about 1 cup)

½

cup

Baker's Southern Traditions Peanut Butter,

softened

¼

cup

bacon drippings,

optional

½

cup

Peggy Rose's Hot Pepper Jelly,

melted

½

cup

crumbled Baker's Southern Traditions peanuts

½

cup

cooked and crumbled Heritage Farms Cheshire Pork bacon
Instructions
Mix bread per package instructions.

Mix in bananas, peanut butter and bacon drippings, if using. Pour into sprayed 12" cast iron skillet. Pour half of the warmed jelly over batter and swirl in with knife.  Bake about 35-40 minutes till done to touch. 

As soon as removed from oven, brush with remaining melted jelly and scatter with peanuts and bacon crumbles!
Notes
"Love me tender, love me true, all my dreams fulfill. For my darling, I love you, and I always will."
– Elvis Presley
You're gonna LOVE this banana bread... and I think Elvis would have too!