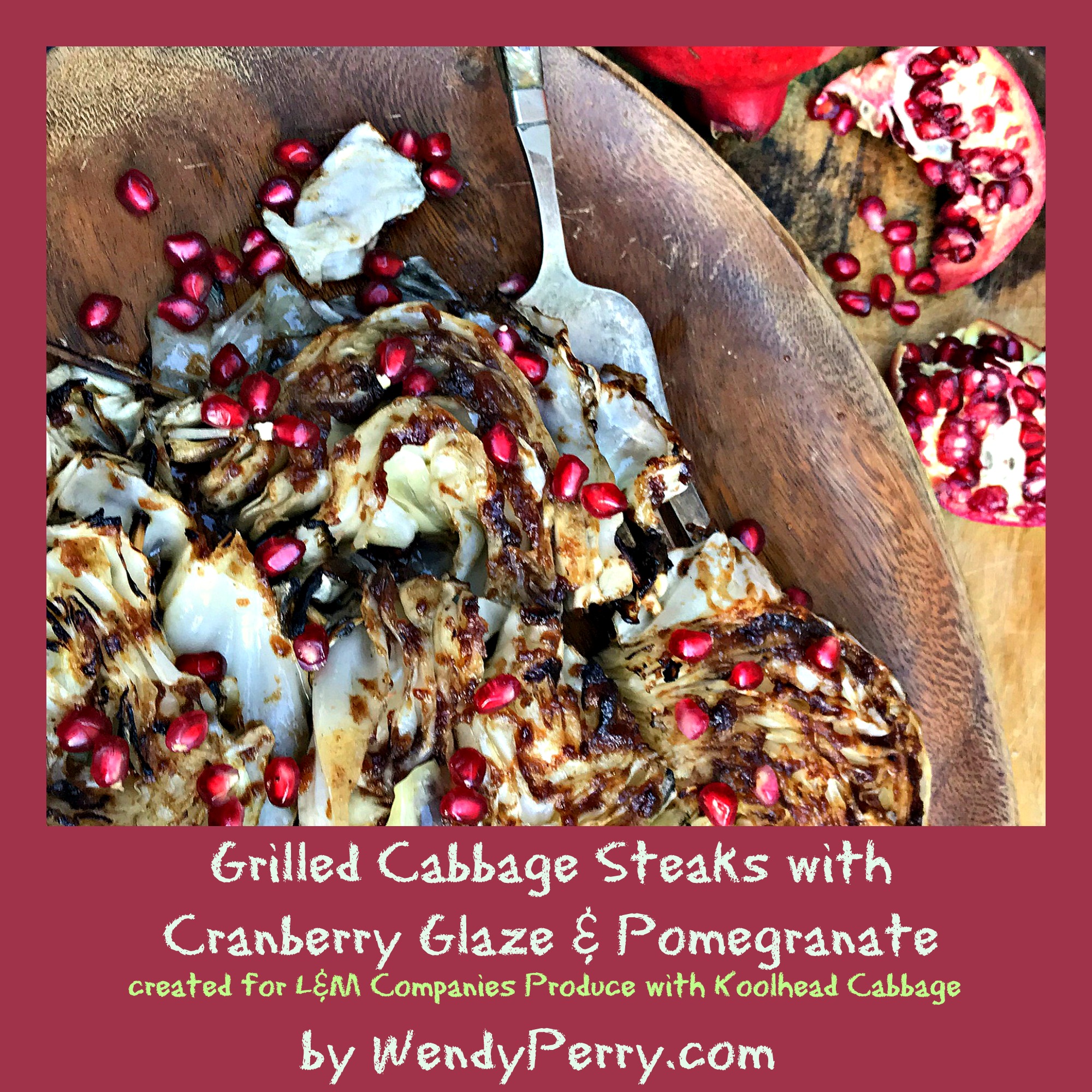 Created for L&M Companies Produce with Koolheads™ Cabbage!
Y'all know my favorite thing is creating recipes and on occasions, I have had the fun pleasure of doing that with produce from L&M Companies!*  One of my personal favorite vegetables is cabbage. And from my trend newsletters, 2020 is going to be "the year of cabbage!"  So long kale… see ya!  Bring on the cabbage.  I will share the others I did for them in the coming weeks and months.  But today, on #NationalCabbageDay, enjoy this one while you can still find a few pomegranates.

Be sure to come over and join my fun facebook community too!
*Compensation was paid for creating this produce recipe.
Grilled Koolheads™ Cabbage Steaks with Cranberry Glaze & Pomegranate
Ingredients
1

head

cabbage

1

8 ounce can

cranberry sauce

1

teaspoon

dried sage

1

tablespoon

molasses

pinch

salt

butter pan spray

arils of 1 medium pomegranate

8

8" skewers
Instructions
Preheat grill to medium heat while preparing cabbage.

Slice cabbage into eight ¾" thick "steaks." Slide a skewer all the way through
to hold in place. (If very large cabbage, cut rounds in half.)

In a microwave-safe glass bowl, heat the cranberry sauce about 1 minute until
"melted."  Stir in sage, molasses and pinch of salt.

Spray each side of the steaks with butter pan spray. Brush one side with the sauce and gently place steaks onto hot grill, brushed side down.
Cover, and let cook on first side about 2 minutes or until cabbage has light char and getting tender. Brush top side with sauce, carefully turn and repeat on the other side. 

Place onto serving platter and brush with any remaining sauce mixture. Scatter with pomegranate arils. Serve warm or at room temperature.