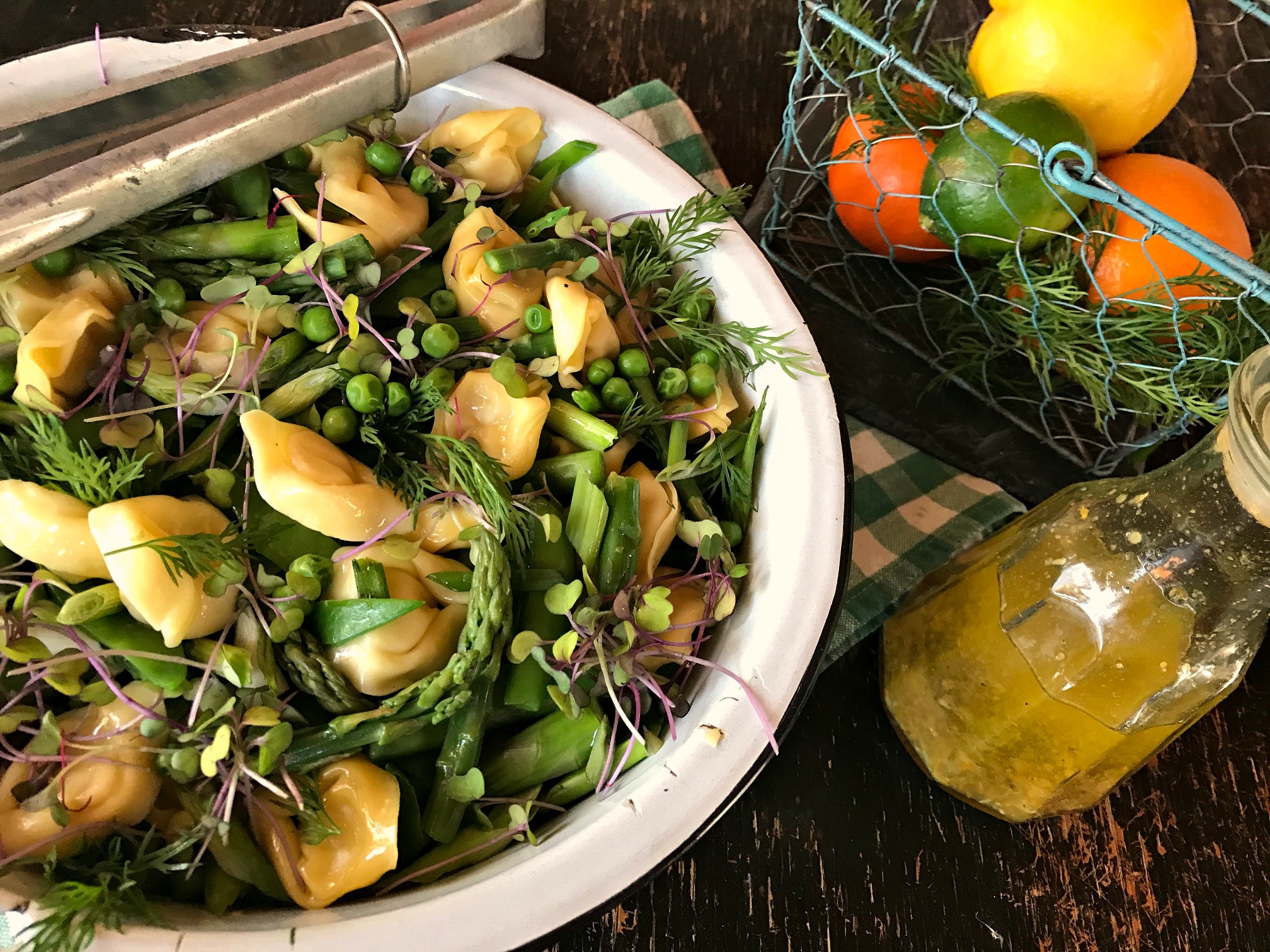 'Tis the season when we see asparagus literally "springing up" from the ground.  Folks usually either love it or hate it…
Growing up, my mama (the non-cook as discussed before) could open up and drain a mean can of asparagus. Looking back, that was a kinda fancy food for her… a gal who would have been happy living on banana sandwiches. 
She did usually make a Hollandiase Sauce. That seems to be a very 50's/60's sort of thing and was going way outside the box for her. Sometimes it was nice and creamy as it should be, while other times, it would just be a big thick blob of white stuff. Didn't bother her one bit, and we ate it.  I don't ever remember her "cooking" any actual real fresh asparagus. That would probably have thrown her over the line as her culinary prowess didn't reach that far.  It wasn't until way later in life I was exposed to "real" asparagus and how delish it is.
I still keep cans of asparagus in my pantry.  It's nostalgic for me. Sometimes, I'll just open a can, drain it, and eat it right from the can.  All by itself.  It takes me back to the shit brown melamine bowls mama dumped ours in for the supper table.  And I wouldn't have had it any other way!  OH, what I would give for her to be here to open us a can of asparagus and dig in!
So for those of you who do love asparagus, give this simple salad a try.  This vibrant make-ahead green salad is crispy, a little bit cheesy and exact measurements aren't necessary. Citrus dressing is just right to let the salad ingredients shine too.  The salad will keep up to a week so you can easily make ahead.  It's a great salad to take to pot lucks and would be nice on your Memorial Day cookout tables.
Featured in Carolina Country Magazine!   Salad   Dressing 
Propping/styling and photography  by
Wendy Perry Carolina Country Magazine Contributing Recipes Editor
Credentials @ LinkedIn
Disclosure:  I only recommend products here I use myself. I may receive a small commission from affiliate links on this or other posts on this web site at no additional costs to you.
CLICK HERE TO SUBSCRIBE TO MY TABLE SCRAPS NEWSLETTER!
Find me on social media:
Wendy's HOME EConomics! Page on FB    @culinaryadventuristwendy on IG
Aunt Dee Dee's Kitchen Page on FB      
@auntdeedeeskitchen on IG
Be sure to visit (and share) my online stores:
Aunt Dee Dee's Kitchen …my unique seasonings, kitchen doodads & more!
Rada Knives and Kitchen Tools  USA made budget-friendly cutlery (great for gifting)
Watkins 1868 Store. Did your mama and grandma buy from "the Watkins Man?" The best vanilla…

LINKS CAN ALSO BE FOUND ON SIDE MENU OF BLOG HOME PAGE.
Spring Green Veggie-Pasta Salad with Citrus Vinaigrette
This vibrant make-ahead green salad is crispy, a little bit cheesy and exact measurements aren't necessary. The salad will keep up to a week so you can easily make ahead.
Ingredients
1

20 ounce package

refrigerated cheese tortellini

2

tablespoons

oil

2

cups

fresh sugar snap peas

2

cups

fresh snow peas

1

bunch (about 1 lb.)

fresh asparagus,

sliced into 1-inch pieces

1

13 ounce bag

frozen sweet garden peas,

thawed

2

bunches

green onion,

sliced

sprigs of

dill, sprouts or pea shoots for garnish,

optional
Instructions
Cook pasta according to package directions.

Remove from the water with slotted spoon into colander and let water continue to boil. Drain well and toss with 2 tablespoons of oil (to prevent sticking together) and refrigerate.

Put sugar snap peas into the boiling water and blanch for about 2 minutes. Remove into colander with slotted spoon and cool with cold running tap water. Repeat blanching/cooling process with the snow peas, then asparagus. When snow peas have cooled to touch, slice into slivers. Blot all with paper towel then refrigerate several hours or up to 2 days before assembling. Blot thawed peas with paper towels to remove any moisture (but do not cook).

In a large mixing bowl combine pasta with all peas, asparagus and onion. Garnish and toss with a vinaigrette at serving time.
Citrus-Dill Vinaigrette
This dressing is light and tasty over just about any vegetable salad or fruits with nuts. It's so quick and easy to make, you'll give up the bottle.
Ingredients
Zest and juice of 1 lime, 1 lemon and 1 orange

¾

cup

grapeseed or preferred oil

3

tablespoons

rice vinegar

2

tablespoons

honey

2-3

cloves

garlic,

minced

¼

cup

chopped fresh dill

½

teaspoon

salt

several turns

fresh ground black pepper
Instructions
Zest fruits over small mixing bowl. Add juice and remaining ingredients.

Whisk and cover. Dressing can be used immediately, but best if sits several hours or overnight (in refrigerator). Bring to room temperature before tossing into salad.