Here in central North Carolina, it's a BIG deal when there's "weather" forecasted.  We hoard bread, milk and carb laden ANYthing we even THINK we might need… or just want… as if calories simply evaporate like melted snow during these events.  We hear the fun poked at us from those Northerners, but rumor has it, THEY do the same thing.  Read it on the internets myself… a few of "them" are coming out of the closet to fess up.  But me, I go into Neurotic Inclement Weather Cook'n mode.  I have no family and live alone, but could open a restaurant when we have "weather."  Just can't help myself.  So this time, my head has been a spin'n in another direction…
Now I do luv me some Mimosas… so as "the weather" was falling last night, I was diggin' up in my big collection of alcoholic beverages (yep, I could open a bar too)… looking to see what I could throw together.  My head started spinning… and I couldn't wait to get up this morning and start harvesting fresh snow for these concoctions.  I still have a head full… but will save those for next time, which around here may be next week, or years from now.
So since I have folks chomping at the bit for these recipes I've been teasing about, let me just get on to it.  Happy Winter wherever you are… and watch out for that yellowish snow, unless, of course, it has champagne and OJ in it!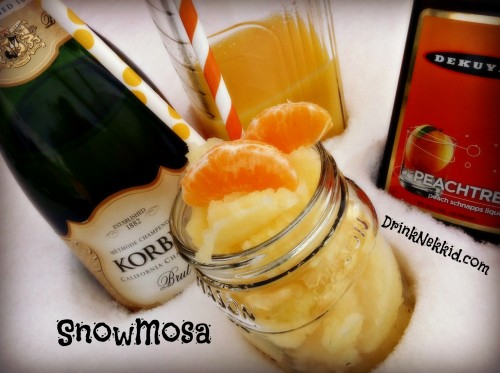 My personal fav… Mix together chilled champagne, orange juice and peach schnapps (optional).  Drizzle over fluffy snow until nICE and ICEy… stick in a straw and go to your happy place…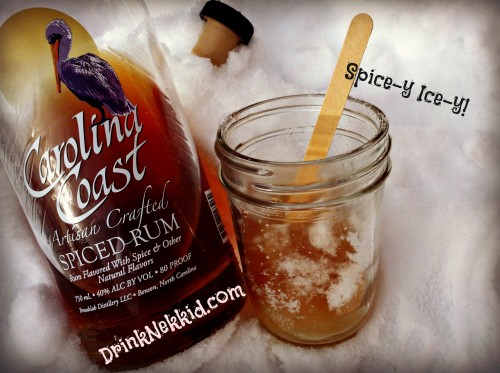 Spice-y Ice-yThrow some fluffy snow into your fav sip'n glass or jar.  Drizzle with chilled Johnston County's Carolina Coast Spiced Rum.  Sip away as your imagine yourself on a sandy beach in HOT August!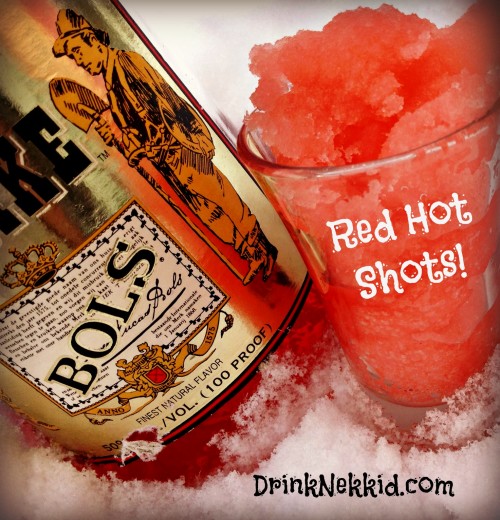 This is just fun… fill a tray of shot glasses with fluffy snow… drizzle with Cinnamon Schnapps… throw back and feel the warmth flow through ya!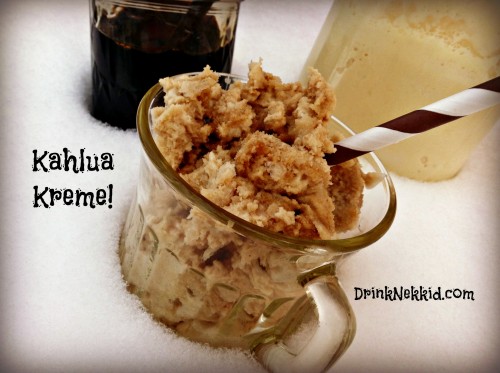 Kahlua and Kreme… I had some homemade kahlua sis made me for this one… just use my basic Snow Cream Custard concoction… mix some of that with kahlua and stir about with fluffy snow… toss in a straw and kick your feet up by the fire… luscious!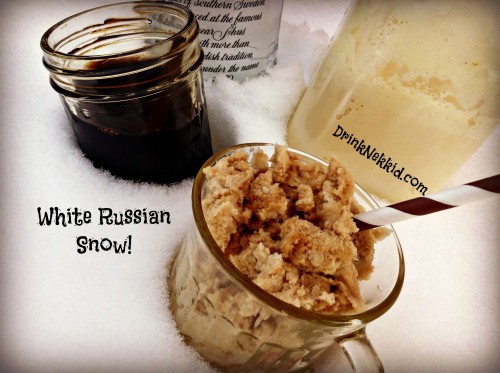 White Russian Snow… this is just a high test version of the Kahlua and Kreme… just add in your fav chilled vodka.  Just perfect when snowed in and you have nowhere to go, but by the fireplace!
Hope you enjoy all these… share your fav snow cocktails too…