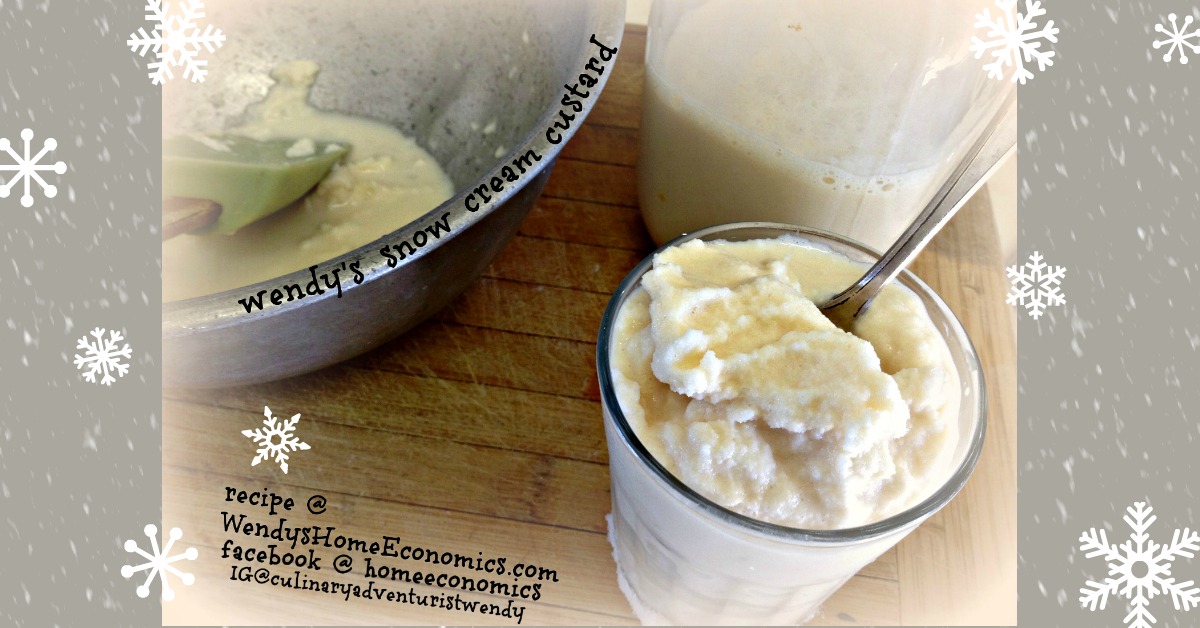 My first recipe ever published in Carolina Country Magazine…. years ago! 
Well it's about time to throw out a blog post… from the world's slowest blogger.  I get so wrapped up in just cooking and finding new adventures I don't take the time to say howdy and pass goodies along to you.  So as I sit here in my kitchen with a nice class of vino, intoxicated by all the cooking going on as the first snow of the year for us falls feet away, I decided to throw you one of my old favs folks start asking me for on days like today.  My "creamy snow cream custard."  This surely does bring back sweet memories of my mama who loved this as much as I do… and was one of few things she actually 'made' in the kitchen.  I have all my goodies outside chilling with a nice clean snow catchin' pan.  This time, I'm gonna try and make a "Mounds" Snow Cream with some toasted coconut and chocolate syrup… stay tuned!  I hope you will go see what you have on hand and get creative and send me your funky snow cream recipes (with a picture if you can) to share with everybody…
Stay warm… have fun and LET IT SNOW!
And remember… this is a post from years ago…
Please do leave me your snow cream memories down below in the comment box or come over to my fun facebook page!
Be sure to see my Snow Cocktails too!
Wendy's Creamy Snow Cream Custard
Although we don't have snow right now(thank goodness!) here in my spot of North Carolina, others of you have plenty to make up for our shortage. This is one of my most requested recipes and I thought with the SnowPocolypse going on across America, it would a good time to share here on my blog. Readers of Carolina Country Magazine were treated to this story in the Jan.2011 issue that just happened to fall in their mailboxes a few days before our Carolina Christmas snow… so it was fun to get emails from folks all over the place I never knew who ate themselves silly with this while housebound with chilluns' and remnants of Christmas strewn about.
Growing up, we could hardly wait for snow here in North Carolina. Seems it was rarer back then than now! My mama (bless her soul) would n.e.v.e.r. allow snow cream to be made with the first snow, because she said that first one "cleaned the air," (?) which meant we may not get ANY snow cream if there wasn't a second snow. She was far from being any sort of culinarian and I suppose she was just passing along old tales from her mama. Whatever the reason, I didn't take too kindly to such nonsense, but not being one to sass back at mama, I would sadly look out at that beautiful blanket of snow and anxiously wait for the next one!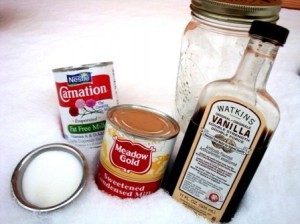 Nowadays, the first sign of snow and I'm making Cream plans and the neighborhood kiddos are call'n to make sure I'm ready. My logic is that the first inch or so does that 'air cleaning' making subsequent inches… *"pure as the driven snow!" lol…whatever that means… Here's to all my friends 'snowed under' this week… with all the snow some of you are having, you could make a living selling this stuff if you could get out the door!!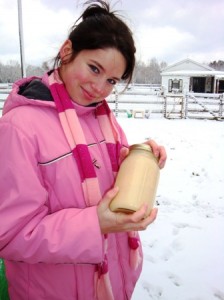 Make this nectar in a jar so you can make small batches or a cup of Snow Cream at the time… just keep the jar sit'n out in the snow till you need another cup!
Exact measurements are not important.
Start with a BIG Mason Jar…
• Pour in condensed milk (no sub for that!) along with a can of evaporated milk or equivalent amount of ½ and ½. (Milk will 'do' but won't be nearly as good.)
• Add in a capful of vanilla… might want more… just taste and adjust…
• a little sugar…. (a couple of tablespoons at the time to taste)
…put the lid on and ShaKe sHakE ShAKE!!! (Note: You can combine this with shaking of one's booty as to incorporate physical activity to burn off calories in order to make room for those you're about to ingest lest you should harbor any guilt about such an indulgence.)
• Gather bowl of fluffy snow….
• Put a few scoops of snow into bowl or cup.
• Pour a little of the cream at the time over fluffy snow (icy snow won't do)….
• Mix in as added… Stir till as thick or thin as YOU like it… I like mine sorta custard-y and thick enough to eat with a spoon… but just as dang good if thinner and sippable…
Now that, my snow bunny friends, is DEE-lish!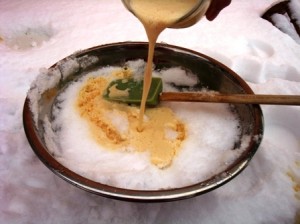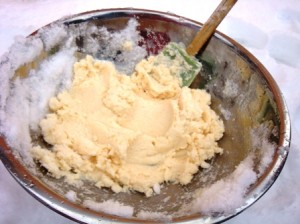 NOTE: Since it came up, I just has to google the origin of 'pure as the driven snow' and although there were a LOT of versions, seems the majority point back to Shakespeare…so if interested, you'll just have to google yourself, because way TMI for this post!
Don't forget to share a comment below… and I'd LOVE it if you tweet/share on facebook and invite friends here to subscribe.  THANKS!