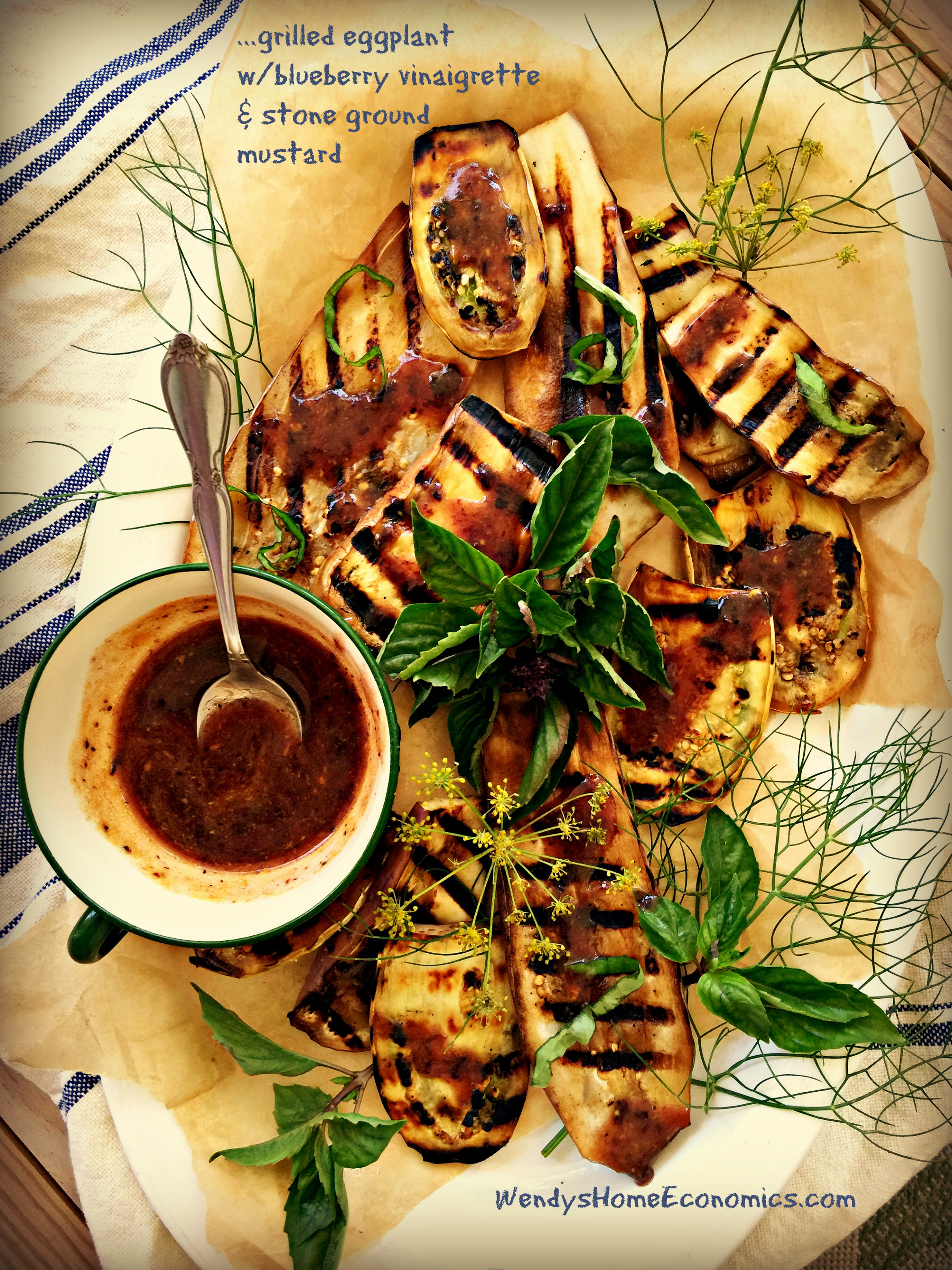 In addition to creating recipes, I offer social media services. One of my clients, my "oldest" one, is a small farm… originally only a blueberry farm that now has 2 high tunnels and grows organically produced veggies year round. I always challenge myself to create simple recipes for her newsletter offering fresh new, yet quick and simple, ideas for her farm fans to use them all.
During the season, she has ample eggplant. A few years ago, I figured out how to freeze eggplant for enjoying during the off winter months… in all sorts of stews and casseroles. I also enjoy finding simple ways to use in the lazy days of summer.
This recipe is one of those. It uses not only her eggplant, but the blueberry vinaigrette she offers as one of several products from the farm. I know not everyone has that, but look at your local farmers' market to see what your area farms have to offer that is similar… or see what you can find in your grocery store. I really love the sweetness of the vibrant blueberries with the bit of stone ground mustard drizzled over the grilled eggplant, so do look for blueberry or something fruity if you can. That pairs well with the eggplant. Surely use your own favorite vinaigrette… and heck, you can macerate some blueberries and add in too.
Either way… do make this. It's so simple to do, and a great side for all sorts of things, and great over a bed of greens too!
HOW TO FREEZE EGGPLANT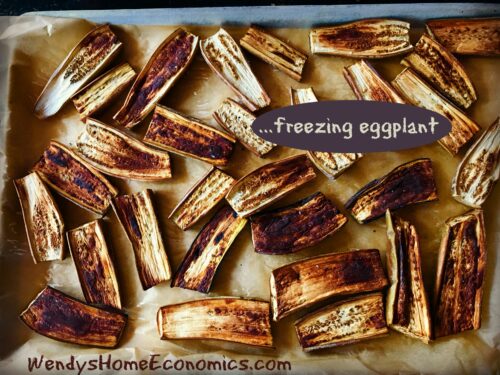 Slice/cube and toss with salt and a little oil. Place on baking pan in single layer into preheated (350) oven. Roast about 40 minutes. Cool and freeze in single layer. Bag pieces once frozen.
Repeat the same method above, but rather than roasting in the oven, grill over medium high coals/heat until lightly charred and moisture has cooked out (as in image). Freeze and bag as noted above.
Grilled Eggplant with Blueberry Vinaigrette & Stone Ground Mustard
Enjoy the bounty of eggplant, grilled, and drizzled with blueberry and mustard vinaigrette
Notes
There's no need for a "formal" recipe... here's how you simply throw this together!
Prepare gas or charcoal grill to a high heat (or indoor grill pan to medium-high heat). Remove stem end of eggplant. Slice vertically into 1/4" pieces. Brush with your favorite oil. Place onto hot grill grates and cook several minutes until lightly cooked and grill marks are visible. Brush and turn to cook the other side. Remove to serving platter.
In a small cup, whisk any sort of mustard into some of our Blueberry Vinaigrette. Drizzle over slices of grilled eggplant. Garnish with fresh herbs of choice! ...eat!!