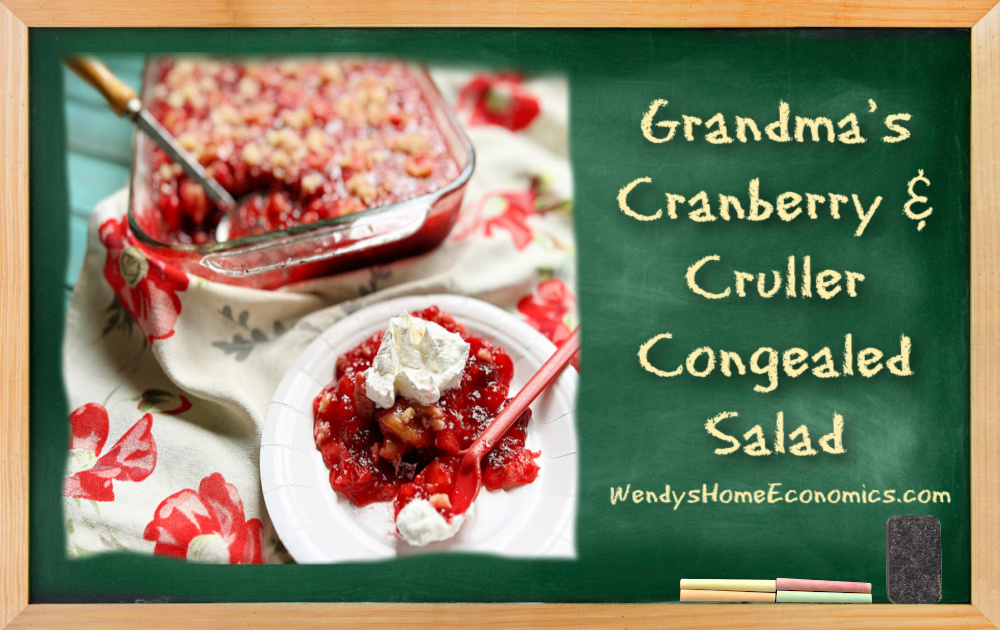 Food is such a connecting factor… to our past and fond memories of those we miss and would to talk to "just one more time."  I had 2 great grandma cooks, but didn't have a lot of opportunity to cook with either of them for long. My maternal grandma (Ma Hocutt) was "crippled" when I was only 8 in a terrible accident with my Daddy Hocutt. Driving through the mountains of Virginia on their way home from visiting our nation's capitol, he had a heart attack and they went off the side of a mountain. My idol died instantly, and had it not been for a mountain lady up the hill out hanging clothes on her line to hear her calls for help, she would have too.  She did, after many years, get to a point of being able to cook again so I absorbed as much as I could from her.  My paternal grandma (Ma Per… pronounced "purr") left us when I was 12. I do have a small collection of her recipes published in my first cookbook a couple of decades ago… some you can find here on my blog.
Oh what I'd give to have a few days in their kitchens with them!
I love to do their recipes, ones I remember and family had on paper, to honor them.  This is one of those recipes.
Now let me tell you right here and now, I detest congealed salads. And pretty much anything "gelled." Or is it "jelled?"  Either way, not going on my plate. It's a texture thing.
I struggle to down jello when sick, but only if it's cherry!  However, my Ma Hocutt always had this salad in her GE refrigerator.  In a big 13×9 dish.  That refrigerator had shelves that swiveled out! Do you remember those? Why don't they make 'em like that anymore?  My mama loved this stuff and would head right to her mama's fridge to get some when we were there.
Ma Hocutt loved Krispy Kreme cruller doughnuts!  So much so, we had a special floral arrangement made when she passed away IN a Krispy Kreme doughnut box alongside a bag of crullers to sit by her coffin on a stand.  Pretty much everybody knew this about her.  Back then, they were "full size," not minis like now. She bought fresh ones every week on her Friday shopping trips to Mr. Frank Wall's Piggly Wiggly right after she got her hair and nails done at the beauty parlor next door. I would go with her there sometimes to see Ms. Hazel, her beautician.  I can still smell that place… the aroma of hairspray!  You could smell it before going inside… nowadays, the EPA would probably shut that place down!
My first public job was at this Piggly Wiggly… where my love of grocery shopping was nurtured.  No scanner back then. And I loved seeing what folks were buying… I could be nosey right out in public because that was my job! 
Most of my friends think I'm CRAZY because I love grocery stores and grocery shopping!  As a young girl, pre-teen, I would "pretend" grocery shopping in my Daddy Per's country store… where I'd get things off the shelf into my cart, he'd "ring them up."  Then I'd have to go put them all back on the shelf!  Which was just as fun to me.
When I travel, I don't really care to go see monuments and historical things bore me to tears. I seek out local grocery stores that I don't have at home to browse around and see what new goodies I can find. And I love to find markets to see what local foods artisans are making and selling.  For years, as a busy personal chef, I got to grocery shop several times a week, with other people's money!  How great is THAT?  Sometimes now, I've been known to be bored on a Saturday night so I'll take off to a different-than-usual grocery store and spend and hour or so browsing the shelves, to see what's new.
Yes. I realize this.is.not.normal.behavior.
So, back to this salad.
At week's end, if she/we had not eat all of her previous week's crullers, she would make this salad using any leftover ones. (Or buy new ones to make it.) Because being a child of depression times, she never wasted one thing. Once, along with my sister and her hubs, we got up in her attic where she couldn't go anymore after the accident, opened a window and tossed out no telling how many old Duke's mayo, Miracle Whip and gallon vinegar jars!  She was just down the steps and had no idea what we were up to!  She'd never thrown one away, nor a margarine or Cool Whip container!  We thought the ceiling might cave in on her one day.  LOL  My BIL took 3 or 4 truck beds full of jars to the dump that day… the man at the dump asked him, "sir, where are you getting all these jars from?" 
I have taken on traits like her as I've grown older (like stuffing stuff in my bra when out and about… things like money and my car key!) and wouldn't DARE throw all those away now! My canning friends would surely love to have those jars now and I keep a box in my pantry of all sorts of jars for a canning friend (I cannot stand to throw away an empty jar!) and she drops by periodically to grab them. And sometimes brings a few back with scrumptious things inside.
Again… back to this salad.
If you're looking for a firm and "slicable" congealed salad, this isn't the one for you. Ma Hocutt's salad was "spoonable" and not one you'd slice pieces of like many others. That's how she made 'em. However, if you omit the pineapple juice, I think you will get a denser firmer gelled salad. (It's a scientific thing with the collagen and enzymes not marrying well that causes this looseness she preferred.) Whichever you make, it just must always be crowned with a dollop of Cool Whip!  Because back in the 60's and 70's, didn't everything get topped with Cool Whip?  
If you like this sort of thing, I hope you will make it and come back here to comment or do that over on my facebook page. Do you have congealed salad memories?  Please do share. And enjoy… just don't invite me to eat it with you… no.can.do. jelled stuff!
P.S.  Be warned, it's super sweet…
This recipe created for and published in Carolina Country Magazine July 2023 © (copyrighted)
Propping/styling and photography  by
Wendy Perry Carolina Country Magazine Contributing Recipes Editor
Credentials @ LinkedIn
Disclosure:  I only recommend products here I use myself. I may receive a small commission from affiliate links on this or other posts on this web site at no additional costs to you.
CLICK HERE TO SUBSCRIBE TO MY TABLE SCRAPS NEWSLETTER!
Find me on social media:
Wendy's HOME EConomics! Page on FB    @culinaryadventuristwendy on IG
Aunt Dee Dee's Kitchen Page on FB      
@auntdeedeeskitchen on IG
Be sure to visit (and share) my online stores:
Aunt Dee Dee's Kitchen my unique seasonings, kitchen doodads & more!
Rada Knives and Kitchen Tools  USA made budget-friendly cutlery (great for gifting)
Watkins 1868 Store. Did your mama and grandma buy from "the Watkins Man?" The best vanilla…

LINKS CAN ALSO BE FOUND ON SIDE MENU OF BLOG HOME PAGE.
Grandma's Cranberry Congealed Salad With Krispy Kreme crullers
Growing up, I can never remember a time my Grandma didn't have a dish of this in her refrigerator. She loved cruller doughnuts and hated waste, breaking up the stale ones into her Jell-O salad. This dish would shine at a summer picnic — don't forget the Cool Whip!
Ingredients
2

cups

cranberry juice

2

3-ounce boxes

red Jell-O

I used cherry and strawberry

1 ½

cups

cold water

1

20 ounce can

crushed pineapple

with juice

2

14 ounce cans

whole berry cranberry sauce

1

cup

toasted walnuts, chopped

(pecans work, too)

6

mini

Krispy Kreme cruller doughnuts

Cool Whip
Instructions
Heat the juice to boiling in a large microwave safe bowl. (I used an 8-cup glass measuring cup.) Whisk gelatin into hot juice to dissolve. Add cold water and mix well.

In another bowl, combine pineapple (including juice) with cranberry sauce. Stir into gelatin mixture.

Pour into a 9-by-13-inch dish. Scatter with the nuts. Break four doughnuts into pieces and distribute evenly into mixture. Crumble the other two and dust the top of the salad. Chill overnight.
Notes
Note: This isn't a firm gelled salad — it's more 'spoonable' than sliceable. If you prefer a denser consistency, omit the pineapple juice.