Hey y'all…. happy fall!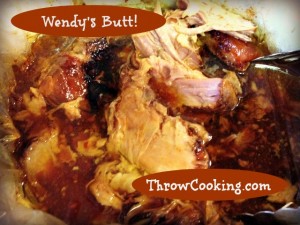 The world's slowest blogger dropping by today.  I made folks salivate all morning on Facebook with pics of my Boston Butt I cooked overnight in my crock pot and started enjoying for breakfast this morning.  After questions of how I cook it, I realized I have never shared how I throw that together.  As with most of my cook'n, there is no specific recipe (I'm a Throw Cooker, remember?!?)  This is one of my personal FAV foods and I cook one almost weekly.  It's quick, easy and flat out tasty hot cold or cold.  It works for breakfast, lunch, supper around my house… or just when you need a pinch of "a little something" to tide you over till next meal.  And protein will satiate and satisfy for a while…. a good thang!
Once you have the meat cooked, you can use it in so many ways… sandwiches and wraps with slaw, in pot pies with leftover veggies (with mashed sweet potatoes on top), burritos and tacos, on salads, with eggs for breakfast, on Hawaiian Rolls for sliders (a fav of mine) and in my Oinkers too!
I keep an eye out and buy a few when on sale to hold me till the next sale!  Sometimes the butts are GINORMOUS so I have them saw in half for me and package to throw in the freezer when I get home.  I also LOVE pork butt steaks.  Sometimes the store will have them and sometimes I  get them cut…. a 3/4″ cut is perfect for me.  Since I like mine a tad pink inside (yes, that IS safe!), the thicker cuts let me get a good char on the outside when grilling yet keep that pink middle.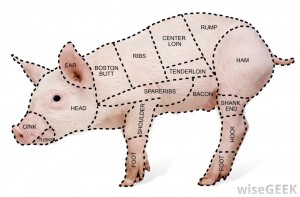 So did you know, Butt ain't "butt" at all?  That's right… pork butt (or Boston Butt, same thing) comes from the upper shoulder of the piggy.  There is more marbling there (AKA Fat!)… which (IMO) makes it better than a piece labeled "shoulder"…. although not really enough difference to matter for most folks.
So without further ado, here, is my yummmmy BUTT!
[amd-zlrecipe-recipe:15]